Philadelphia 76ers Rumors: Team Interested in Trading for Tyus Jones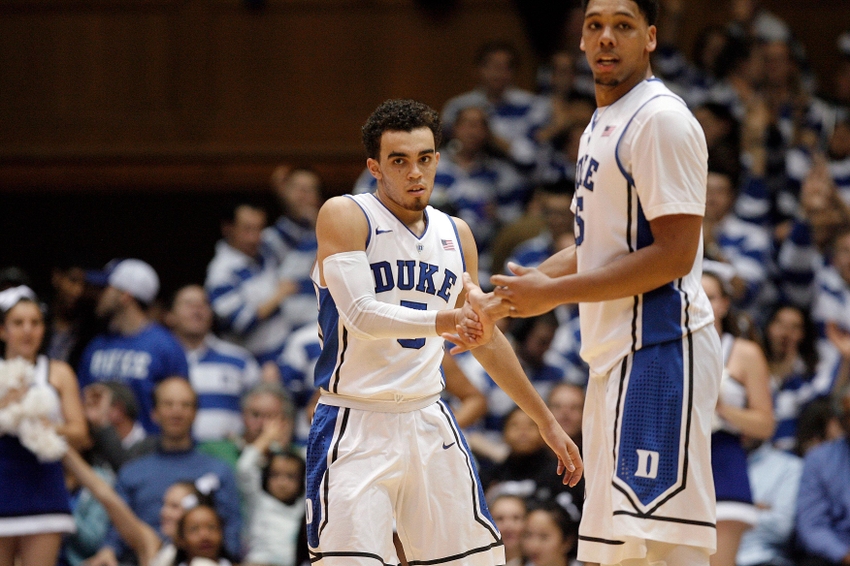 The Philadelphia 76ers are interested in trading to acquire Minnesota Timberwolves point guard Tyus Jones, former teammate of Jahlil Okafor.
The Philadelphia 76errs are approaching their final preseason game, and very soon, their final 15-man roster will be set. It was indicative that the Sixers were going to have to choose between the 20 players currently on their roster, but according to recent reports from Yahoo! Sports' The Vertical, it looks like there may be more at play.
The Sixers are reportedly interested in acquiring Minnesota Timberwolves point guard Tyus Jones, according to a report from Adrian Wojnarowski. Woj also reports that the Wolves are more open to moving Jones than they are to moving point guard Ricky Rubio.
Jones is 20 years old, and there is quite a bit in play here. Jones is a sophomore, just like Jahlil Okafor, and he was a part of the Duke team that won a National Title alongside Okafor. So their interest in Jones definitely leads us to believe that perhaps the Sixers are looking to bring in players that work alongside Okafor.
More from The Sixer Sense
The Sixers most obvious thing they would like to clear up is their frontcourt logjam. If they make a trade for Jones, it doesn't make sense to trade Okafor, so I would assume that the Sixers try to move Nerlens Noel in a situation such as this.
Additionally, a move like this would likely make the Sixers have to cut one of their guards, and it looks like T.J. McConnell would be the man out. Based on what McConnell been able to do in the preseason, that doesn't seem all that smart. McConnell has arguably shown more growth in his career than Jones.
Much of that, however, is due to context and playing time.
Moving one of the Sixers guards to make room for Jones, who has yet to prove much in the NBA, seems like it would not be a smart move.
Of course, what determines a smart or not smart move is all dependent on what the Sixers give up in return for Jones. If they can get a really good deal — and they may be able to, with the Wolves having both Rubio and Kris Dunn in the point guard slot — then perhaps it would be worth it for the Sixers. Knowing Bryan Colangelo's tendencies so far, I would say that the Sixers are not going to take a bad deal.
Jones, in his sole NBA season, averaged 4.2 points, 1.3 rebounds, and 2.9 assists per game in 15.5 minutes per night.
This article originally appeared on