Philadelphia 76ers Robert Covington Struggles Worrisome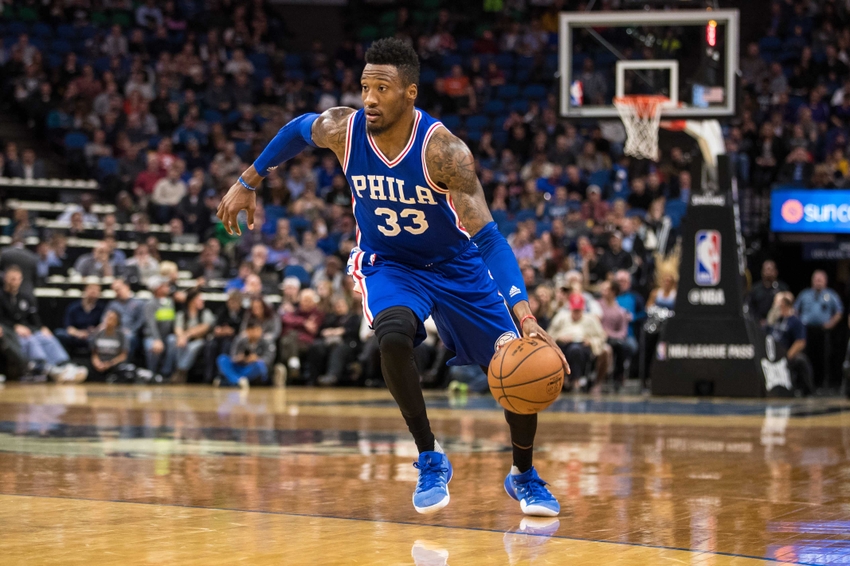 Robert Covington is the NBA's version of the classic case of one man's trash turning into another man's treasure.
Philadelphia 76ers Robert Covington was the perfect "Sam Hinkie Guy". After a short stint with the Rockets, Hinkie's former team, Covington signed with the Sixers.  He joined the NBA as the first overall pick in the 2014 NBA D League Draft.
Live Feed

robert covington
It wasn't long that Covington stood out as an athletic wing that could shoot on a team that needed it desperately. A tall, lengthy forward with a long frame to defend big wings, Robert Covington looked like a bargain for the first two years of his 3 year / $3,015,696 contract with the 76ers. A 6'9', 215 pound 3-4 combo forward, Covington holds the ideal size and to be a key role player for the team for years to come.  He can type to shoot 40 percent from beyond the three-point line and D up against a tough wing when needed.
He started off his Sixers career averaging right around 13 points per game over his first two seasons, shooting a marginal 36 percent from the three-point line and establishing himself as a player to watch on the 2016-17 Sixers. Many expected Covington to improve as the roster improved around him.  Likewise he has the versatility to thrive in a more supplemental role, leaving him open looks and less attention from the opposing defense.
Best Laid Plans
Unfortunately, so far this season, the additions of Joel Embiid, Dario Saric, Gerald Henderson & Sergio Rodriguez have not proved this theory accurate. Covington has struggled mightily on the offensive side of the ball, shooting an abysmal 30.9 percent with field goals and 30.5 percent from the three-point line, good for 8.5 points per game.
The player many expected to improve has instead taken a step backward this season. While he's had some injury concerns with an on and off knee sprain dating back to the preseason, Sixers fans must hope that the knee is responsible for his poor play thus far this season.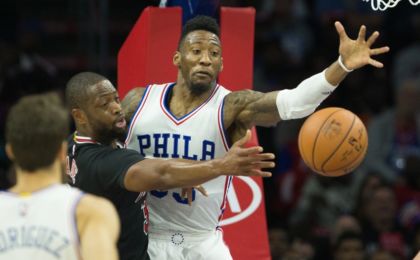 Brett Brown has had his starting small forward's back, citing Covington's defensive prowess and ability to stretch the floor. Yet 19 games into the season (almost ¼ into the year), Covington hasn't awoken from his slump that has pretty much become the norm from the start of the season.
Still Time To Turn It Around
It's understandable that nagging injuries can affect a player and that adjusting to new teammates can take time.  But one has to start to wonder how much longer coach Brown will allow Covington to misfire almost nine field goals a game with guys like Dario Saric and Ersan Ilyasova in the line up. Hopefully sooner rather than later, Ben Simmons will vie for playing time at the three and the four spot (as he adjusts to the point guard role). It's far too early to  give up faith in Robert Covington.  So, I'll be really rooting for him to figure out his offensive struggles sooner rather than later.
Covington fits the tall ball big wing who can hit open three's and create once Ben Simmons is around to create at the one. For the betterment of the Sixers, he'd be a key player if he could be that 40 percent 3-and-D guy that Brett Brown envisions for him.
Unproven, Not Impossible
Unfortunately, he just hasn't proven he can be that reliable shooter night in and night out in the NBA yet. The potential and opportunities have been there in the early going.  It remains up to Robert Covington to get over the bad start and show the Sixers the investment is still paying its dividend.
Time waits for no man.  Rookies become veterans.  Eventually, "process" players such as Richaun Holmes and Nik Stauskas will mature and look for their own opportunities. The Sixers must eventually decide their roles and importance to the team as well.
The Circle Of NBA Life
So too,  the wave of top draft picks will become the core and the eat up minutes and playing time. Ultimately, these players must earn playing time as well.  NBA teams afford players just enough time to "come into their own", and that window has continued to shrink. Eventually, Robert Covington is not immune to this either.
I think if you asked any Sixers analyst/fan at the beginning of the season which player of the above three (Covington Stauska or Holmes) would have the greatest chance at being a long term player here in Philadelphia, almost all would agree upon Covington.
That may no longer be the case.  Right now, the gap has been decreased dramatically, indicative of how poorly Covington has played early in the season. I can now only now ask, will the real Robert Covington please stand up? For the sake of the Sixers and RoCo's future with the team, I hope his offensive struggles disappear with his knee sprain.
More from The Sixer Sense
This article originally appeared on