The Philadelphia 76ers missed a great opportunity, and it didn't matter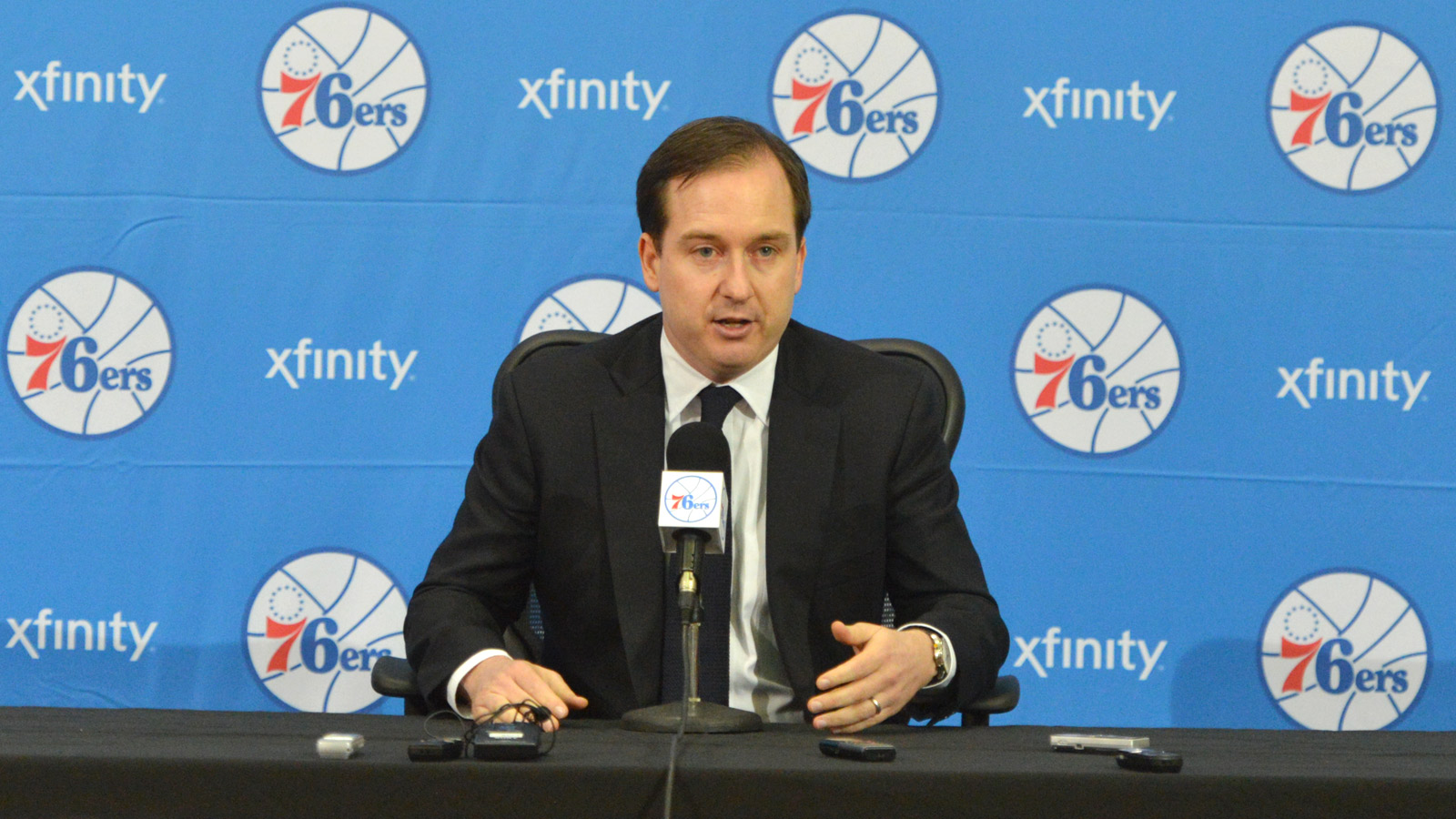 Nothing revelatory can be said or written about how Philadelphia 76ers general manager Sam Hinkie is building his basketball team. It's unprecedented. It's dramatic. It's controversial. It's sad. It's inspiring. Yes. All that.
Two years in, the Sixers are a gliding train with no destination or ETA, and there's a decent chance it breaks down and bursts into flames in the middle of nowhere. Or maybe, someday, it coasts down Broad Street, below floating confetti, parade-related noise and a wave of bonafide relief.
Whether you agree or disagree with his ideology is an argument for another day, but it can't be debated that over the past few weeks we saw unwavering loyalty by Hinkie to his own blueprint. His laserlike focus is arguably the most admirable and unparalleled part of the whole damn process.
If there was a time for the Sixers to take a slight detour away from their plan, it was this summer. With the salary cap rising to approximately $90 million in 2016, money spent now is worth more than money spent next year. LaMarcus Aldridge, Kevin Love, Greg Monroe, DeAndre Jordan, Kawhi Leonard, Jimmy Butler . . . and on the list goes, all free agents who left tens of millions on the table by instead (understandably!) securing long-term guaranteed millions this summer.
This doesn't just apply to stars. It goes for every free agent in the league, and the 76ers had as much flexibility as anybody to take advantage. But instead of acquiring valuable contracts, Hinkie chose to twiddle his thumbs and play the waiting game, believing his cap space was better suited as a dumping ground for teams sucked into the spending spree. The Sacramento Kings walked right into his trap, like a fly into a spider's web, reaffirming Hinkie as the cold savant he is.
Sacramento reportedly sent Nik Stauskas, Jason Thompson, Carl Landry, a top-10 protected first-round pick and swap rights on two other future first-rounders to Philadelphia for Arturas Gudaitis, Luka Mitrovic and a future second-round pick (insert GIF of Hinkie laughing at those who don't understand why he's so obsessed with second-round picks).
It was arguably the most lopsided deal of the past 10 years; a transaction so unfair and shortsighted that NBA commisioner Adam Silver's first reaction should've been to enact a mercy rule to keep Kings owner Vivek Ranadive from harming himself in the future.
For Philly, though, it was Christmas. Their decision to sit out free agency and wait for another team to unload bad contracts (and highly coveted assets) on their lap paid off in a huge way, allowing them to land last year's No. 8 overall draft pick and a bag full of ping-pong balls from one of the most incompetent organizations in professional sports.
Imagine you're walking in a wealthy neighborhood and spot an open briefcase in the bushes, crammed full of $100 bills. Pretty nice, right? Sure, your chances of finding that money are presumably higher in an area where people have lots to lose, but it's still an extremely lucky turn of events. This type of deal doesn't happen every year, where one team utterly fleeces another.
The Sixers knew teams looking to clear cap space would call them and ask to take on a bad contract or two. What they wound up falling into is a different prize that surely goes beyond Hinkie's wildest dreams.
Point being: How should we judge Philadelphia's decision not to engage in a free-agency period that could've kicked their rebuild into another gear? Discounting what actually transpired for the sake of argument, how logical was it not to add a talented player or two on a contract that will look extra cheap over the next few years?
Why didn't they at least offer three-year maximum offer sheets to the likes of Butler and Leonard just to see if they'd sign them? What harm is there asking Danny Green to take more money than he's agreed to play for in San Antonio? Or courting a promising young point guard (something Philadelphia needs) like Cory Joseph at a fair price?
Is it simply a matter of principle? The most psychotically disciplined process of all time? Sure, adding good players will make them a better team and decrease their odds of winning next year's lottery. Boo hoo. Short of LeBron James, no free agent can drag their current roster to the playoffs.
And if their own pick isn't high (Remember: there's a 75-percent chance the worst team in the league doesn't end up with the No. 1 overall pick), Hinkie will probably still have three other first-round selections in the 2016 draft. (The Sixers are owed a top-3 protected pick from the Los Angeles Lakers, a top-10 protected pick from the Miami Heat and a top-15 protected pick from the Oklahoma City Thunder.)
The immediate future is bright regardless of Philly's record in 2016, so why not diversify the portfolio by dipping into free agency? It's a special occasion! At some point, Philadelphia will need to add players who are good at basketball, and build a team around said players that makes sense. This felt like a convenient time for the Sixers to have their cake and eat it too.
Hinkie is as intelligent as they come, with keen vision and tremendous foresight. He also has all the time in the world to get where he's trying to go. In this line of work, patience is a rainbow, but his plan wouldn't work without it.
If this summer tells us anything, it's that Hinkie plans to collect assets for a little while longer. Please bear with him.