Philadelphia 76ers Head Coach Brett Brown Is Proving He Deserved To Keep His Job
Lee Wakefield/FanSided via The Sixer Sense

Fansided
Philadelphia 76ers Head Coach Brett Brown is showing critics and fans that GM Bryan Colangelo made the right choice in keeping him to lead the team.
Coming into this season, many critics inside and out of the city of Philadelphia questioned as to whether Philadelphia 76ers Head Coach Brett Brown should keep his job.
With the team's play as of late, he has shown the 76ers seems to have made the correct choice in retaining him as their leader.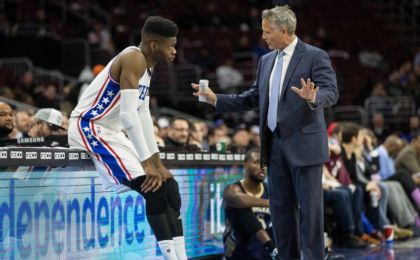 The last few seasons were ones that made coach Brett Brown's squad the laughingstock of the NBA. The losses were frustrating. The team ended the year with a 10-72 record last year. The first two years of his head coaching career he had 19 and 18 wins in the 2014 and 2015 seasons. While on paper, that's not acceptable to any GM, you can't always just go by wins and losses.
The amount of talent on the Philadelphia 76ers in those years was an extremely low amount. Sometimes as a head coach, you can't control that. You've got to work with what you have. There was never a question that the players he did have, played hard every single night for him.
Mentor, Friend, Player's Coach
More from The Sixer Sense
Brett Brown has this way of getting your focus with the details he gives when speaking in his Boston accent. On one-on-one conversations, he is extremely candid. His players love him. That shows by the way they play. Guys like Nik Stauskas, T.J. McConnell, and Robert Covington go in all out hustle mode for their coach.
Coach Brown has been in a bind with having 4 quality big men in Nerlens Noel, Jahlil Okafor, Richaun Holmes, and Joel Embiid. It's not an easy situation for a head coach but has handled it quite well.
Each center has been a team player when not getting as much playing time. In a recent interview withCSNPhilly's Jessica Camerato, Jahlil Okafor was very candid about his coach.
"Coach Brown has been phenomenal with communicating with me, and I know in the long run I'm going to be fine. I just try to come in here every day and work as hard as I can. I know that he doesn't have to tell me anything. He could just go out there and coach, I could just be on the bench unaware of anything. He's done an amazing job. I'm appreciative of that."
The huge amount of knowledge he shows talking about the game is evident after hearing him speak just for a few minutes.
That's Pop's Boy
Brown spent 9 years serving an assistant coach under San Antonio Spurs legendary coach Gregg Popovich. That stint included four championship teams.
"He's done an amazing job. I'm appreciative of that." – Jahlil Okafor describing head coach Brown
Now it's the 2016-17 season. Joel Embiid is almost halfway into his rookie year.
Dario Saric has finally come over from native Croatia to join the team.
Ersan Ilysova joined the team via a trade with the Oklahoma City Thunder at the beginning of the season.
Veteran guard Gerald Henderson was signed as a free agent in the offseason. Things are starting to shape up for the team. Coach Brown now has some real NBA talent to work with. All of the losing seasons has enabled them to stockpile high draft picks and now have an abundance of high end talent ready to speed up the process.
Brown Trusts The Process
Former GM Sam Hinkie is responsible for a huge portion of that. Not to mention the 1st overall selection in this past NBA draft Ben Simmons is nearly ready to make his debut after sitting out the beginning portion sitting out with a foot injury.
As a matter of fact, the wins are coming more regularly now. A big part of that is Brett Brown. He's showing that with more talent and more time working with his guys, he can build a winning culture. The fans see it. The league is beginning to see it. No longer are they being laughed at for "trying" to lose games to better their draft pick.
There's no more clamor for 76ers now GM Bryan Colangelo to bring in his own head coach after taking over this past offseason. Brown deserved the chance to continue what he started. He got that chance and it's starting to show that was the right choice in keeping him on board. The future is bright for the Philadelphia 76ers, and this head coach deserves to be the one leading them on to the playoffs in the coming years.
This article originally appeared on