Phil Jackson: Carmelo Anthony Can Play Kobe Bryant, Michael Jordan Role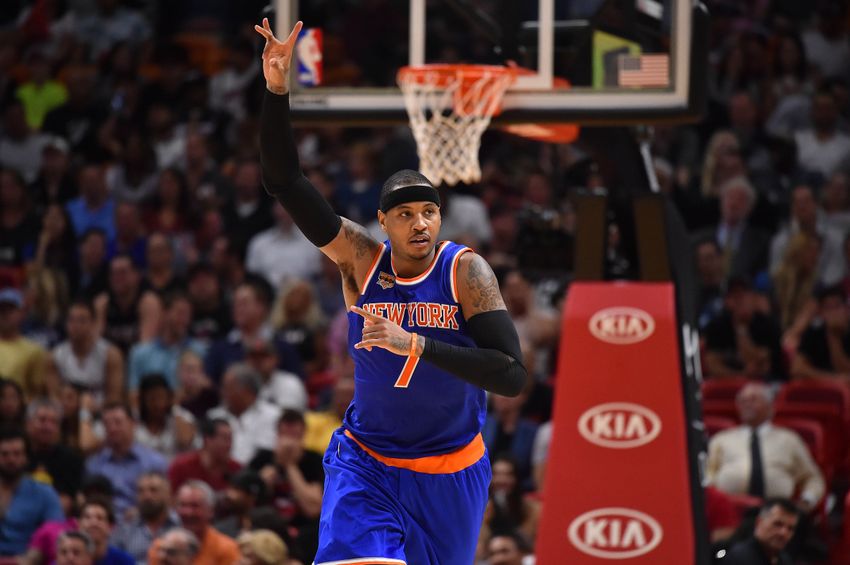 New York Knicks team president Phil Jackson believes Carmelo Anthony can play the Kobe Bryant or Michael Jordan role if he makes a key change to his game.
---
The New York Knicks are building the future of the New York Knicks with a wise formula. Both the short-term and the long-term will require depth and teamwork, but the responsibility of being the No. 1 player will shift over time from Carmelo Anthony to Kristaps Porzingis.
In the short-term, team president Phil Jackson believes Anthony can play the Kobe Bryant or Michael Jordan role—if he makes a necessary change to his game.
Anthony is currently averaging 23.0 points, 6.1 rebounds, 2.5 assists, 1.0 steal, and 2.1 3-point field goals made per game. He's helped the Knicks get off to a 12-9 start, but there's an area in which Jackson hopes to see him improve.
During an appearance on the CBS Sports Network, Jackson stated what Knicks fans have been saying in unison: Anthony's tendency to hold the ball is hurting the Knicks (h/t Ian Begley of ESPN New York).
"Carmelo a lot of times wants to hold the ball longer than — we have a rule: If you hold a pass two seconds, you benefit the defense. So he has a little bit of a tendency to hold it for three, four, five seconds, and then everybody comes to a stop," Jackson said in an interview with CBS Sports Network that aired Tuesday. "That is one of the things we work with. But he's adjusted to [the triangle], he knows what he can do and he's willing to see its success."
There's no rational way to dispute what Jackson is saying.
Anthony may be one of the best scorers of all-time, but his tendency to hold the ball allows opposing defenses to reset. Instead of standing still, Anthony needs to keep the ball in rotation or attack without hesitation.
It's then and only then that the Knicks will be able to keep the opposition on their heels and exploit the openings that a motion offense presents.
Anthony is more than capable of attacking a set defense and scoring, but that's making the game unnecessarily difficult for both himself and his teammates. The purpose of a motion offense is to catch the defense off guard and find openings.
When Anthony stands still with the ball in his hands, Madison Square Garden boos him; not out of disrespect, but out of an understanding of how that hurts the team.
If Anthony is more decisive with the ball, the offense will continue to move. That would benefit him as much as it would his teammates, as he'd be receiving significantly more open looks and one-on-ones on the weak side against outmatched defenders.
If Anthony commits to keeping the ball in motion, Jackson believes he could play the Kobe Bryant or Michael Jordan role in the triangle offense.
"He can play that role that Michael Jordan and Kobe Bryant played," Jackson said. "It's a perfect spot for him to be in that isolated position on the weak side, because it's an overload offense and there's a weakside man that always has an advantage if the ball is swung."
If anyone can recognize a player fit for the Bryant or Jordan role, it's Jackson.
Jackson is breaking this down from a pure basketball perspective, and his 13 championship rings suggest he knows what he's talking about. His point about the Bryant or Jordan role is that Anthony can consistently get favorable matchups if he plays within the flow of the offense.
Anthony can then capitalize on the fact that he's 6'8″ and 240 pounds with a scoring skill set that's comparable to any and every scoring legend in NBA history.
Stellar from midrange, capable from beyond the arc, unstoppable in the post, and lethal on the drive, Anthony has it all.
Anthony proved as much against the Miami Heat. He started the game by shooting 2-of-9 and relying upon his isolation tendencies, but quickly realized that he needed to change his approach.
Anthony made a change, played within the flow of the offense, and shot 11-of-18 the rest of the way. He finished with 35 points and led New York to victory.
The triangle offense, like any system, requires the No. 1 player to fully buy in. If Anthony does so, Jackson believes he could fill the Bryant and Jordan role.
This article originally appeared on