Former Kansas Jayhawk Perry Ellis is now endorsing … Perry Ellis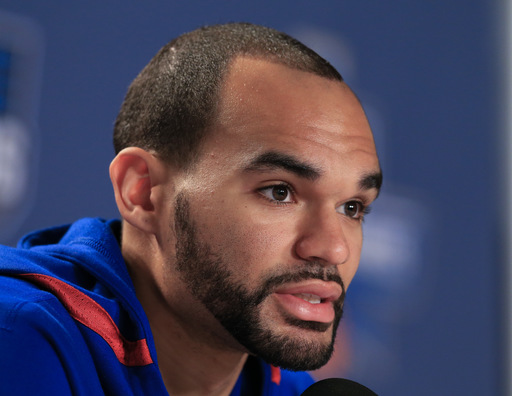 It's not often we'd write about marketing deals signed by undrafted NBA players, but in the case of the news that came down Wednesday it's too good not to.
That's because on Wednesday, former Kansas Jayhawk Perry Ellis (who has since signed with the Dallas Mavericks to play on their summer league team) has signed an endorsement deal with…. yep, you guessed it: The Perry Ellis clothing brand.
Ellis, the basketball player (not fashion mogul) announced the deal on social media.
And of course, Twitter had a field day with the announcement.
Wait Perry Ellis got sponsored by the clothing brand Perry Ellis this is everything pic.twitter.com/X7QQz1gT31

— rach (@racharends) June 29, 2016
The official sportswear of 50+ year old men who shop at Kohl's https://t.co/O10AkEo7Zf

— Kami Mattioli (@kmattio) June 29, 2016
I busted up when I heard about this… Always wondered if Perry Ellis ever wore the clothes that share his name: https://t.co/LQB8rB6XEX

— Matt Riedl (@RiedlMatt) June 29, 2016
i mean, i think we all knew the perry ellis/perry ellis collabo had to happen.

— court. (@courtmcox) June 29, 2016
Perry Ellis is kicking themselves that they aren't named Stephen Curry. https://t.co/6O2mRXAqVW

— EvanZ (@thecity2) June 29, 2016
It's nice to know that I'll see Perry Ellis' face when I go to buy a belt at Ross.

— Andrew Ungvari (@DrewUnga) June 29, 2016