Pelicans, Nuggets, Magic, and Jazz: Tracking post-superstar rebuilds
When a star player is trapped on a bad team, there's almost always some degree of public speculation that the team will attempt to — or should — cut bait and move on, liquidating the asset and receiving various younger, cheaper parts in return. It feels like we've seen that particular conversation enveloping the Sacramento Kings as it relates to DeMarcus Cousins for years, for example.
It's not just a recent development, though. Ever since LeBron James left the Cleveland Cavaliers in the summer of 2010, there's been intense speculation about the free agency future of nearly every superstar player, with the prevailing consensus being that the ones stuck in bad situations and/or small markets would leave for greener pastures and larger cities once they hit the free market. That speculation fuels the trade rumor market for a year or more ahead of the player actually hitting said market.
There have been a few star players to change teams via free agency since that point, including James himself yet again; but there have also been several players whose impending departure actually did force their teams into trades, so intense did the speculation become. Now years removed from many of those deals, it's interesting to check back in on what the stars' former teams received in return, as well as where they stand now and what their future looks like.
Read More: Nylon Calculus — Are NBA superstars better than ever?
The rules affecting "home" teams' ability to retain their own star free agents have been altered to give them an even bigger advantage than they held before, but even if they hadn't, the history of teams acquiescing to stars' desires to ply their trade elsewhere would likely be enough to give teams like the Kings (or any other team whose star appears to be agitating for a new home) pause before pursuing a deal.
2011: Denver Nuggets trade Carmelo Anthony to New York Knicks
Denver's haul: Danilo Gallinari, Wilson Chandler, Raymond Felton, Timofey Mozgov, 2014 Knicks first-round pick (traded to Magic, traded to 76ers –> Dario Saric), 2016 swap rights to Knicks first-round pick (Jamal Murray), two second-round picks
Denver held the Knicks over a barrel and forced them to essentially empty their cupboard bare of assets in the Carmelo deal. The Nuggets received four rotation players (two of whom are still with the team), two first-rounders, and two second-rounders in the exchange, and those assets have shaped what the team has become ever since.
Chandler and Gallinari are still in Denver and playing well when they're on the floor, but they've both been prone to injury. Felton was quickly dealt for Andre Miller, who piloted the early post-Melo teams to playoff berths. Mozgov was shipped off to the Cavs in 2015 in exchange for two more first-round picks. New York's 2014 first rounder was used to acquire Andre Iguodala (more on that later) and he helped the Nuggets to one of their best seasons before departing for the Golden State Warriors. The latter first-round pick the Nuggets received from the Knicks was used on Jamal Murray, and he has the look of a possible foundational piece.
Still, after two years of playoff berths, the Nuggets have been hovering around that dangerous "middle" of the league, stuck between playoff contention and outright tanking. They're neither good enough for the playoffs nor bad enough to pick at the top of the draft. They have a cupboard loaded with assets acquired elsewhere, but no clear direction just yet. If Murray and Nikola Jokic continue on their development paths and the Nuggets can fill in around them, they can get back into the playoffs sometime relatively soon, but the way forward from there is difficult to see right now.
The Nuggets did extremely well in the actual Anthony trade and even found great success soon after it, but six years on, they're still searching for how to get back to where they were.
2011: Utah Jazz trade Deron Williams to Brooklyn Nets
Utah's haul: Derrick Favors, Devin Harris, 2011 Nets first-round pick (Enes Kanter), 2013 Warriors first-round pick (Gorgui Dieng, rights traded to Timberwolves to acquire Trey Burke), cash
The Jazz are set up better than any other team that traded a star recently, but much of that good fortune has little to do with the haul from the Williams trade.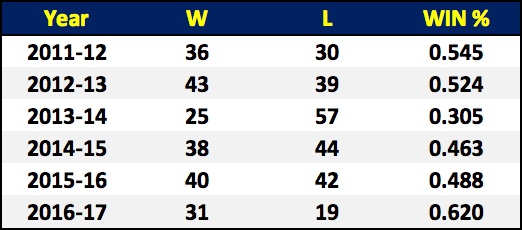 Favors is still a foundational player for this Utah team when at his best, but the Jazz are having their best season in years despite his being injured for parts of the season and carrying a minute load far lighter than he had during his previous seasons. Harris lasted a year in Utah before being traded for Marvin Williams, who had two mostly blah seasons with the Jazz and then signed with the Charlotte Hornets. Kanter flashed here and there for the Jazz, but his biggest contribution to the team came when he was traded for almost nothing in return in order to clear the way for Rudy Gobert to become a monster.
Gobert's emergence, along with that of Gordon Hayward and Rodney Hood, and the hiring of coach Quin Snyder, have fueled Utah's rise back toward the top of the Western Conference.
2011: New Orleans trades Chris Paul to Los Angeles Clippers
New Orleans' haul: Eric Gordon, Al-Farouq Aminu, Chris Kaman, 2012 Timberwolves first-round pick (via Clippers, used on Austin Rivers)
Okay, so none of the four pieces the Pelicans acquired in the Chris Paul deal are with the team anymore. Gordon struggled through four injury-plagued years in New Orleans and is now healthy and killing it for Mike D'Antoni in Houston. The Pellies let Aminu walk away for a minimum deal in Dallas in 2014, and he proceeded to have a solid season before becoming a much richer man and important starter for the Blazers. Kaman lasted a year in New Orleans, played for three more teams over the ensuing four years, and is out of the league. Rivers was traded in a deal that netted Quincy Pondexter, who has been injured basically ever since.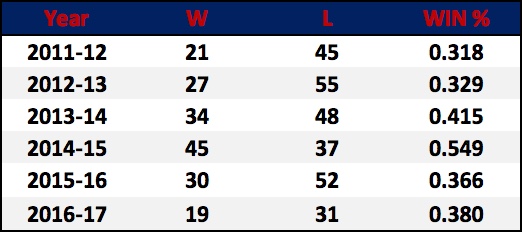 On the bright side, the team was so bad the year after it traded Paul that it put them in position to win the Anthony Davis lottery. But they've done almost nothing else right since that point. Luckily for them, as mentioned above, the rules have changed to make it easier for teams to keep their stars. Davis will likely spend his entire career in Louisiana, giving the Pelicans a bunch more time to figure out where the heck they're going.
2012: Orlando Magic trade Dwight Howard to Los Angeles Lakers
Orlando's haul: Nikola Vucevic, Moe Harkless, Arron Afflalo, Josh McRoberts, Al Harrington, Christian Eyenga, 2013 Nuggets second-round pick, 2014 Knicks first-round pick (via Nuggets), 2015 Lakers second-round pick (top-40 protected), 76ers first-round pick (protected, traded back to Philly), Lakers first-round pick (two years after Lakers send protected first-round pick to Suns – now belongs to 76ers)
The Magic got everything you want to get when you trade a star player. Nikola Vucevic was a young potential stud. Moe Harkless looked like a nice rotation piece. Arron Afflalo became a high-level starter. (McRoberts, Harrington, Eyenga… whatever.) They also got three first-round picks in the deal and were bad enough each of the next three years to pick No. 2, No. 4, and No. 5 in the draft.

And yet, here they are five years later, floundering around with no idea what they are or where they're going. That's a result of hitting only singles and doubles in the draft without scoring a home run, cycling through coaches like the Cleveland Browns of basketball, and changing courses in free agency on a seemingly annual basis.
The Knicks pick the Magic received from Denver was packaged with the return of Philly's own pick from this deal so Orlando could move up and select Elfrid Payton, who has flashed in fits and starts but who the Magic are still internally torn about. Victor Oladipo, the player selected at No. 2 the year after the Howard trade, was packaged with this past year's draft pick for Serge Ibaka, who has been good but not great and may leave in free agency. Aaron Gordon, No. 4 in 2014, broke out as a small-ball power forward a year ago but the presence of Ibaka and 47 other big men pushed him to the wing this season and it's slowed (but not necessarily stalled his development). Mario Hezonja, No. 5 in 2015, is still searching for a place in the rotation.
Orlando had a ton of chances to find the next star to build its team around but was unable to hit. It happens.
2014: Minnesota Timberwolves trade Kevin Love to Cleveland Cavaliers
Minnesota's haul: Andrew Wiggins, Anthony Bennett, 2016 Heat first-round pick, trade exception
The only piece of note the Wolves got in the Love deal wound up being Wiggins, but he's worked out quite nicely — even if he won't quite live up to the ridiculous "best prospect since LeBron" hype that surrounded him before his year at Kansas. His rookie season was also poor enough that the Wolves ended up with the No. 1 pick in 2015, landing franchise pillar Karl-Anthony Towns, which is pretty great. Team those two up with Zach LaVine, 2016 No. 5 pick Kris Dunn, and new coach Tom Thibodeau, and Minnesota is on the right track.

It just might take the Wolves a while to get where they're headed is all. That's fine for a young team on the rise.
This article originally appeared on