Pelicans Fly Close to the Suns, but Survive in OT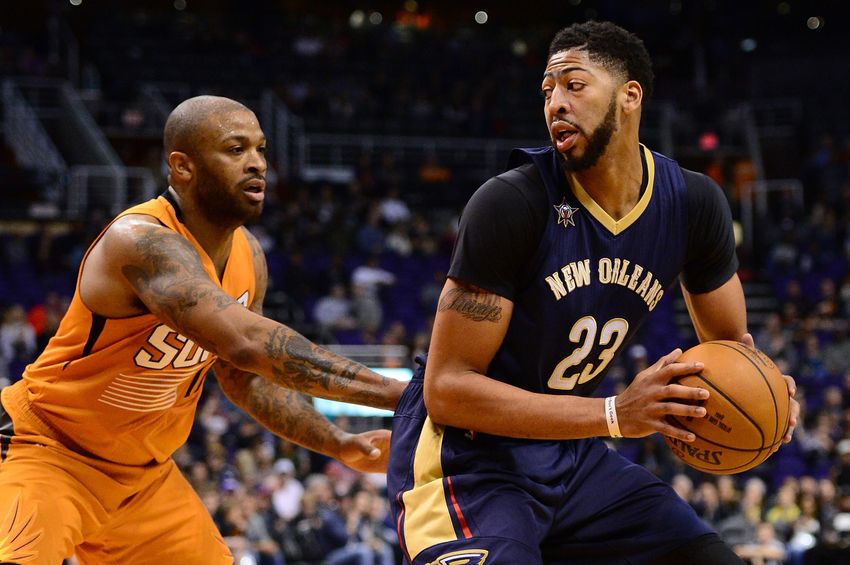 Thoughts from the Valley of the Suns
VS.
| | | | | | | |
| --- | --- | --- | --- | --- | --- | --- |
| | 1 | 2 | 3 | 4 | OT1 | T |
| Suns | 31 | 27 | 24 | 28 | 9 | 119 |
| Pelicans | 25 | 26 | 25 | 34 | 10 | 120 |
Adam Maynes – Site Editor
So many reasons to like what happened in tonight's game against the Pelicans, and yet for them to still leave the arena with a loss is a total disappointment, in a 120-119 overtime loss.
Granted the Pelicans were 7-17 heading into this game –  a half a game behind the Suns, and they too are playing a little short-handed – the Suns played for the most part like they were the better team.
Heading into the fourth quarter, there was no reason to believe that the Suns weren't going to find a way to win this game. And yet somehow, as will happen from time-to-time with a young team, they instead found a way to lose.
What is so unfortunate about tonight's loss was the couple of huge games by Suns starters that have been fairly common this season.
Starting with Tyson Chandler's back-to-back double-double, Chandler was a monster on the boards. His 21 rebounds was not only a season high for he and the Suns this season, it was his highest rebounding game since November 4 against the Pelicans, and the most a Suns has grabbed since he tore down 27 against the Atlanta Hawks on November 23 of this calendar year.
Chandler coupled his 21 rebounds with 14 points on 5-6 from the field and 4-5 from the free throw stripe.
Eric Bledose too had a great game scoring 32 points (the second game in a row he has scored at least 30 – a first for him in his career) before fouling out with 7.1 seconds remaining in the overtime. His 8 assists and 3 rebounds, helped round out a solid line, although his 3-11 from beyond the arc is a regularly glaring blemish.
Jared Dudley was also exactly what the Suns want offensively from a stretch-four coming off the bench, nailing 4-5 from beyond the arc. Dudley is not going to wow anybody (or stop many people) on defense, nor is he going to fill the stat line in any other category regularly. But his energy is contagious, and his presence is felt on the court, regardless if everything is falling for him or not – which this season, the shots have been falling.
No move was exciting to me to see the Suns make this past offseason as the signing of Leandro Barbosa. Seeing The Blur back in his familiar purple and orange is still something that brings me regular joy in an otherwise poor season. His 18 points on 57.1% shooting is something I honestly believe he could do every night if he were unleashed. And if Brandon Knight is eventually traded, depending upon what the Suns receive in return (and if Barbosa doesn't happen to be in the
More from Valley of the Suns
package) than I do think that at least for the remainder of the season, he could be a solid backup PG, at least keeping the bench from letting the team get blown out.
After making his first three threes from the corner, Tucker went oh-for the rest of the evening. His 10 rebounds, two blocks, and stellar defense on Anthony Davis, helped keep the Pelicans from running away with the game, had The Unibrow been able to unleash offensively.
Booker was decent tonight on offense, making 2-8 from three (he and Bledsoe combined for 5-19 in that category) but still scored 16 points, snagged 5 boards, and recorded five assists.While we all expect him to score 23+ every game, that l hopefully come someday since it is not happening this season. If Booker can consistently have a stat line similar to this (although preferably with much fewer missed threes) than the 2016-17 season will be one to be built upon.
Phoenix improved upon their NBA-low assist average, earning 21 on the night and is the second game in a row that they have breached the 20 assist mark. This is definitely a plus to see, and hopefully is a sign of offensive changes implemented by Head Coach Earl Watson.
However, that paragraph just caused my brain to quickly begin percolating…I have a post idea that I have been sitting on, but I believe I just began fully formulating the concept more articulately in my mind…More to come, maybe tomorrow?
Stay tuned on that.
Rod Neal – Site Contributor
I spent some time with my grandson today; he's only 2-years-old.  And I thought, maybe he will get to see a Suns NBA championship in his lifetime…maybe.
Actually, after another heartbreaking loss Sunday night, there is some reason for optimism.  Eric Bledsoe is playing some of the best basketball of anyone right now.  And you have to like what you see from Leandro Barbosa and Tyson Chandler.  They are two veterans who are giving it their all in the face of mounting adversity.  It's a lesson the youngsters have to notice.
But a loss is a loss.  It's going to be another long season.  One can only hope that some of these lessons sink in, and the Suns can at least have a good second half run in them.  It would be nice to see the team respond positively in the second half of the season, instead of folding the tent again.
The Suns have been in a lot of close losses this season, right up until the end.  Sunday night's overtime loss to the Pelicans is no exception.
Anthony Davis' block on a long attempt at the end of overtime is another example of what separates the Suns from other re-building programs.  They need a power forward.  Just when are they going to get one?
Follow Valley of the Suns on Twitter at @ValleyOfTheSuns and on Facebook at facebook.com/PhoenixSunsBlog
Want your voice heard? Join the Valley of the Suns team!
Phoenix Suns Trivia Question
Tonight's loss as the second time that the expansion New Orleans franchise has defeated the Phoenix Suns in overtime.
When was the first?
Follow Valley of the Suns on Twitter at @ValleyOfTheSuns and on Facebook at facebook.com/PhoenixSunsBlog
Want your voice heard? Join the Valley of the Suns team!
Phoenix Suns Trivia Answer
2007-08
Then the New Orleans Hornets, they defeated the Suns 132-130 in overtime, in Phoenix. Chris Paul finished with 42 points, 9 assists, and 8 steals in the victory, and Steve Nash countered with a quasi-triple-double, 2 points, 12 assists, and 10 turnovers.
This article originally appeared on