Pelican Debrief Podcast: Talking New Orleans Pelicans and Milwaukee Bucks with Matt Cianfrone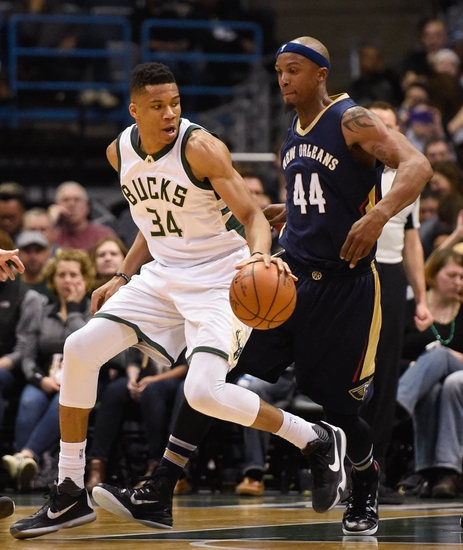 The Young Rivals miniseries continues with a breakdown of Point Giannis, Jabari Parker, and a new perspective on the New Orleans Pelicans with former Pelican Debrief Editor Matt Cianfrone.
A 2020 NBA Finals matchup between the New Orleans Pelicans and Milwaukee Bucks is unlikely, but these teams provide nice contrast for one another. In the backcourt, the Bucks figure to overwhelm nearly every team they face who lack the length and talent to match Giannis Antetokounmpo and Matthew Dellavedova. The New Orleans Pelicans are no exception.
Thon Maker, Jabari Parker, and Khris Middleton are the right sort of positionless, and Jason Kidd has the goods to maximize them. Similar to the Pelicans, this team is desparate for shooting, but if any of these core young players can become a plus from outside, everything opens up a bit and begins to make more sense. The Bucks will be a devastating opponent for years to come.
A mashed potato mountain of thanks go out to Matt Cianfrone (@Matt_Cianfrone), current editor for FanSided's new NBA vertical The Step Back, for taking the time to come back for a visit. The pair delved into the teams' respective offseasons, what their futures hold, and how their talent stacks up. Let's say it wasn't pretty for the Pelicans.
Check back next week for a Season Outlook pod from host Brendon Kleen (@BrendonKleen14) and fellow Co-Editor Rick Stone (@RickStoneNBA), where we'll be sure to hit several reader questions and break down the beginning of the season. Of course, we'll check in on Rick and his new Buddy Hield shirsey.
The Pelican Debrief Podcast is available on iTunes here.
The season begins next Thursday on October 26th against the Denver Nuggets! Actual basketball is back! Get into it.
More from Pelican Debrief
This article originally appeared on