Paul Millsap Is Excited About Dwight Howard And The Hawks Season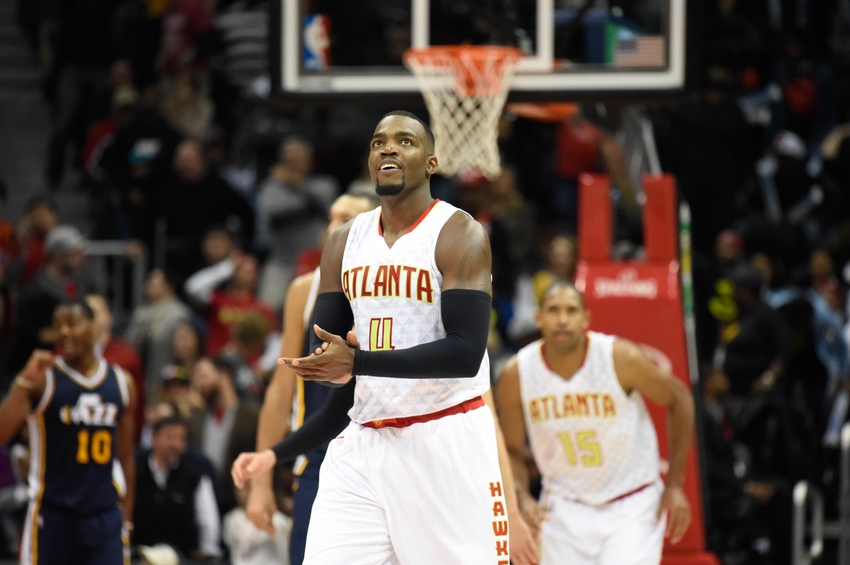 Paul Millsap was recently on Sirius XM NBA Radio talking about his excitement to play with Dwight Howard and his expectations for the Atlanta Hawks.
Paul Millsap has been one of the league's most consistent power forwards since he took on the starting role back in Utah in the 2010-11 season.
Since then, you can guarantee that every game he walks on the court, he's going to give you a stat line somewhere around 17 points and 8.5 rebounds. Last season for the Hawks, he led the team in points (17.1), rebounds (9.0), steals (1.8), and block (1.7.) while being named to the Eastern Conference All-Star team for the third consecutive year.
With Al Horford's decision to sign with Boston, Millsap will have a new frontcourt mate in Dwight Howard. Fortunately for the team, the drop-off from Horford to Howard isn't as extreme as it could've been had they struck out in free agency and would've had to start a player like Tiago Splitter.
Millsap was recently on SiriusXM NBA Radio talking about his excitement for the upcoming Hawks' season and his pairing with Howard.
Will They Work Together?
In any sport, but specifically in basketball, team chemistry is everything. There doesn't necessarily have to be chemistry between all 12-15 players, but the starters and key reserves must be able to work with each other well in order to maximize success.
From an early glance at what both players bring to the floor, Millsap and Howard should co-exist well together. Millsap has become more focused on doing his work from the perimeter. Since joining Atlanta in 2013, Millsap hasn't had a season where he has made than 74 three's.
In Utah, the most three's he ever made in a season was 13.
Mike Budenholzer's offensive system is tailored to Millsap's strengths of being able to score from anywhere on the floor.
With the addition of Howard, a big man who prefers to do his work in the painted area, it gives the floor a nice balance of an inside-out threat.
Paul Millsap tells us that he & Dwight Howard have been in the gym together & believes "they will have great chemistry" #Hawks

— SiriusXM NBA Radio (@SiriusXMNBA) September 9, 2016
It'll also give Millsap a partner to own the backboard with. Horford wasn't a terrible rebounder by any means, but for his size, you expect more than 7.3 rebounds per game. In a year that was largely regarded as one of his worst seasons, Howard still managed to pull down 11.8 rebounds per game.
Millsap and Howard are experienced veterans who knows what it takes to win consistently in this league. Even if the season gets off to a rough start, the both of them know chemistry isn't build overnight and eventually, they'll be rolling on all cylinders.
What Does Howard Bring?
As stated before, Howard is a completely different big man than Horford who brings his own unique strengths and weaknesses to the Hawks.
Millsap had two attributions come to mind.
Physicality is something this team has been missing for some time. Horford, while he is a big presence defensively overall, doesn't scare players with his size when they are attacking the rim. Even more, Horford is a finesse player when he gets the ball on the block whereas Howard is more of a banger.
Howard can also handle the more physical centers such as DeAndre Jordan and Andre Drummond in the post throughout a possession while containing them in the rebounding game. With that definitive anchor in the defense, Millsap can now focus solely on guarding power forward whether they are bigger, more post-oriented guys or a team throwing out their small-ball lineup such as Draymond Green.
Adding Howard may not keep the overall rotations from positions 1-5 as versatile as Horford did, but 1-4 can be more active in jumping passing lanes with the peace of mind that Howard is waiting under the basket to swat shots away and be an overall fearing presence on both ends.
Millsap's Mindset For 2016-17
If you asked any player on any team what their main goal was for the upcoming season, it would be to win an NBA championship.
It's well-known by now that most of the time, there are only a handful (sometimes less) of teams who can realistically accomplish that feat. Millsap is a strong believer that he can do so this season, and do it by being the leader of the Hawks.
In the sound clip, Millsap clearly states, "We want to win a championship, I want to win a championship. I want a championship in Atlanta. The community is definitely hurting for that whether it be us, the Falcons, or whoever, the community definitely needs a championship for whatever major sport."
From a league perspective, the Hawks weren't viewed as true championship contenders because of the Howard addition. However, they have gained some respect throughout the couple of weeks.
The good thing is, Millsap will do all he can to be the one to deliver the much-needed championship to Atlanta. It'll mean dethroning LeBron James and the Cleveland Cavaliers in the East first, who has been their biggest obstacle for the past two seasons, but Millsap wants to add a championship ring to his list of accomplishments and sooner rather than later, that window will begin closing.
Now is the time.
More from Soaring Down South
This article originally appeared on