Paul Millsap has Surpassed Carmelo Anthony in the East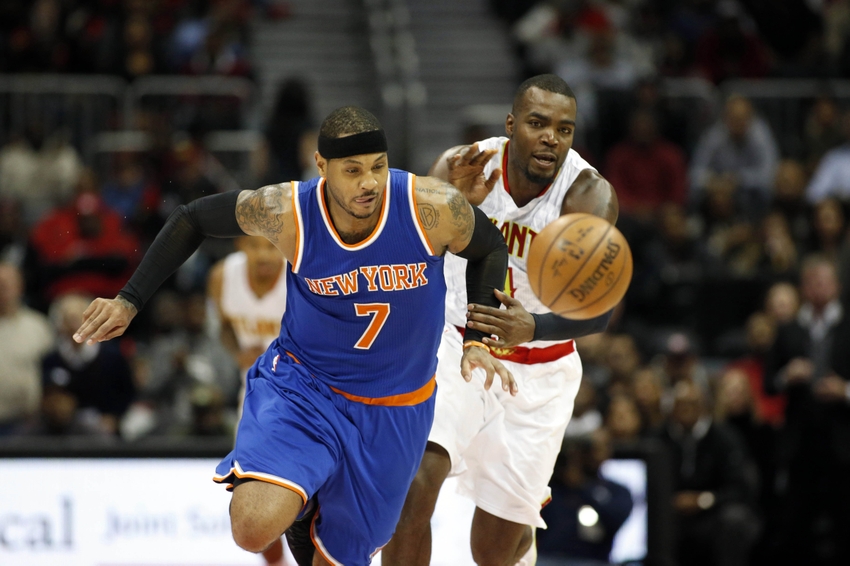 There are several exceptional power forwards in the Eastern Conference to choose from if you happen to be choosing who you want to represent in an all-star game. While Melo has for the most part been viewed as a small forward for the majority of his career, that's no longer the case in Times Square.
He has started to shift his game closer to the block and it has had a mixed bag full of results. The emergence of Kristaps Porzingis as a stretch big has made his presence closer to the rim all that more important for the New York Knicks.
Anthony has been a favorite player of mine for a while, accepting the starring role in the big apple and balling under the bright spot lights.
With Porzingis dropping in a considerable amount of three-pointers, Melo has looked to improve his offensive rebounding rate and perhaps increase his shot percentage as well. Initially the draft pick of Kristaps Porzingis was met with harsh criticism from media and fans, but his emergence has been a pleasant surprise for mainstream media and Knick fans alike. In just Porzingis' rookie season, Anthony has already started to take a back seat, posting the lowest scoring average since his sophomore season of 2005.
If someone were to ask me two years ago, who would you rather have on the Hawks, Anthony or Millsap, I would have given it a moment of thought, but would have ultimately picked Melo. Today however, I think Millsap would have to be the better choice.
Their games have a lot of similarities and they are both still great players. With the steady improvements to his skills, Millsap is now the better player between the two. Here is Millsap giving his best effort to slow Carmelo Anthony down way back in 2013. Let's just say it was a long night.
How beautiful were some of those moves? That there was the prime time, pound for pound, scoring champion version of a dominant Melo performance. You may have noticed that Millsap was covering him during that 35-point onslaught that ended in a loss for the Atlanta Hawks. On several occasions, Paul let Melo beat him on the offensive glass just in this highlight tape. On one of those, he actually got away with an obvious foul that should've sent Anthony to the free throw line for an and one.  At 32 years old, the 240-lb 6'8″ Brooklyn born, Baltimore bred forward has lost a step though.
So where does Millsap land in comparison at this stage of they're careers? During his first season with the Hawks, his game was still rough around the edges to the extreme. He shot at a success rate during his first season in Atlanta that was and still is, the lowest of his career at .461.
More from Soaring Down South
His turnovers were also higher than any other season that he has had. He did expand on his offensive game tremendously by making 80 three-pointers on the season and did manage to make his first of three all star games with the Hawks.
There are a lot of aspects that Millsap has gotten better at his craft that will not show up on any stat sheet. He was very limited creating any offense off the dribble in the half court sets or in transition. He used to be a liability when defending one of a teams better offensive perimeter players. That is now one of the strongest points of his thorough and evolving game.
Where he has started to pass Anthony as one of the top forwards in the east is his increasing ability and overall skill to score the basketball. Millsap is now a threat to do an extraordinarily amount of damage on offense all the way out to the three-point arch. The 31 year old, 6'8″ former second-round draft pick forward is as effective as ever attacking opposing defenses with his 246- lb frame and an active dribble.
During his 28 point, 6 rebound masterpiece first game of the season, Millsap shows why he is one of the top power forwards throughout the entire league. The advantage he has against his opposition in the triple threat position is almost laughable.
His ability and efficiency as a jump shooter is what forces defenders to respect any shot fake when spotting up from a pass or facing up off a pivot. Then his lightning quick first step allows him to size up any poor guy that has the unenviable assignment of guarding him.
At this point in time, Millsap has reached perhaps what is the highest level of his trajectory as an NBA player. He is in the final year of his contract and his worth is going to skyrocket when and if he reaches the open market. The Hawks are not going to be interested in trading this man anytime soon. As he continues to do his thing this season, he actually could get more dominant leading up to what is hopefully a first round home court advantage series in the playoffs.
Thus far, Millsap has got Melo beat when it comes to statistical production this season. He is averaging 22.0 points, 5.5 rebounds and 5.0 assists compared to Anthony's 19.5 points, 5.5 rebounds and 4.0 assists per game. That is a trend I fully expect to continue all year long.
The 4-time gold medalist for the USA men's basketball may have trumped Millsap as an Olympian, but in the NBA Paul Millsap is currently the cream of the crop.
This article originally appeared on