Paul George Decides that the Indiana Pacers Are Going to Win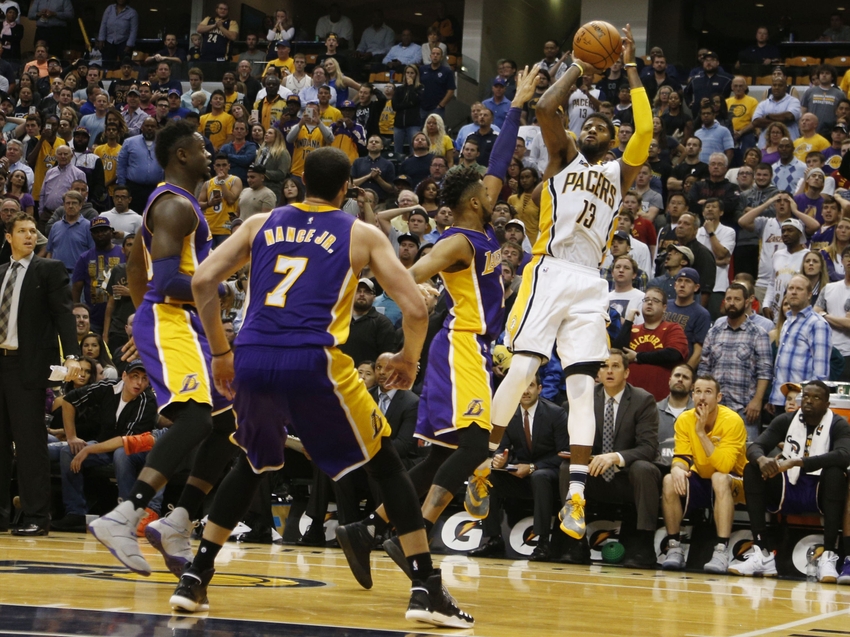 Paul George put the Indiana Pacers on his back to get the win over the Los Angeles Lakers on Tuesday night.
Halloween was a few days ago, but Paul George dressed up as a superhero on Tuesday night and saved the Indiana Pacers from the Los Angeles Lakers.
His team was in need of saving as they had allowed the Lakers to crawl back from a 16-point deficit and temporarily take the lead in the final minutes.
PG re-entered the game with 8:52 remaining and proceeded to go 4 of 5 from the field (and 4 of 4 on free throws) while grabbing two rebounds and a steal to close out the game.
PG was aggressive getting to the basket as he was fouled 8 times by the Lakers and went to the line 12 times, making all 12 free throws. He knew what his team needed and delivered.
As Jon R. LaFollette — now writing for Nuvo — writes, this was Paul George being the player we know he is capable of being.
With the Pacers trailing by one-point late in the game, George knew it was his moment. He's the three-time All-Star. He's the team's elite player. He's the one who is supposed to sink big-time buckets.

Consider it done. Not once, not twice, but on three consecutive possessions. The first coming from 18 feet, courtesy of Teague to put the Pacers up 107-106. Then came the turnaround jump shot from the same distance only 30 seconds later.

But the coup de grâce came with 1:08 to go when his stepback jumper over D'Angelo Russell met the bottom of the net. So amped was PG, he took a moment to trash talk the Lakers bench to remind everyone who the best player on the court was.
While PG's heroics reminded us he's one of the top 10 players in the NBA, the Pacers shouldn't have trouble putting away a younger and less experienced team like the Los Angeles Lakers. Hats off to Los Angeles though for not simply rolling over when they're behind on the scoreboard.
The Pacers hit the road on Friday to face the Milwaukee Bucks at 8 p.m.
More from 8 Points, 9 Seconds
This article originally appeared on