Paul George Apologizes to Fan He Hit in the Face With Basketball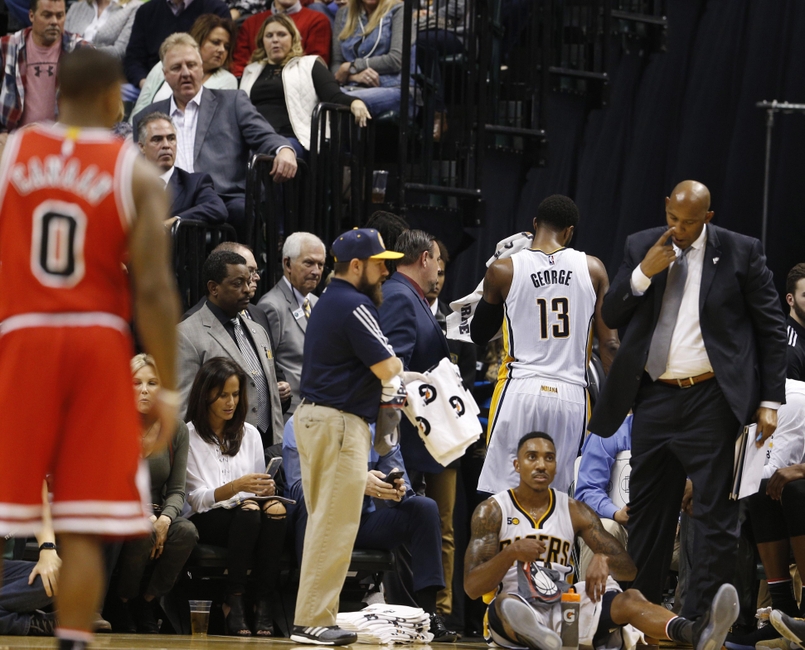 After kicking a basketball into the crowd in what turned into Paul George's first ever ejection during Saturday's Bulls game, the young superstar has provided an apology to his victim.
The saga is finally over for Paul George and the Indiana Pacers.
After Paul George mistakenly kicked a basketball into a poor woman's face in the third quarter of Saturday's Bulls game, closure was finally made in the form of a formal apology.
And flowers.
Scott Agness initially reported that George had asked for the woman's address during his quick apology after the incident, and now it's clear what that question was for.
The woman received flowers and a heartfelt note that read: "Lindsey, I'm sorry for the ball hitting you at the game on Saturday! It was not intentional. I hope you are feeling okay. Paul George."
Presumably, she's a season-ticket holder, and thus George didn't offer her tickets to another game.
Overall, though, it's good for the young star to handle a difficult situation with such class. His post-game comments after the event were quite mature, but his team did happen to win by almost 20 points that night.
He said he expects a fine for his actions, but it's unclear when or if that fine will be assessed. Head coach Nate McMillan hopes that a suspension won't be enforced, though a punishment that severe is possible but not as likely as a mere fine.
Either way, it's a relief to know that George's mistake remained just that, and was taken care of with dignity.
More from 8 Points, 9 Seconds
This article originally appeared on