Pac-12: Lonzo Ball Making UCLA Relevant, Again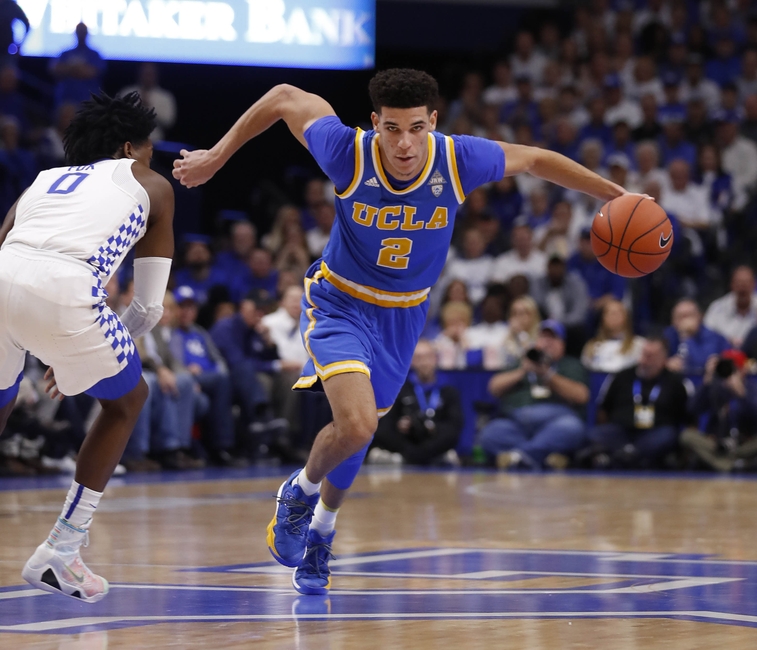 Lonzo Ball is one of the top freshman in the nation, and his play is putting UCLA back on the map.
It's been almost 45 years since John Wooden led the UCLA Bruins to 10 national championships in 12 seasons. UCLA won the championship in 1994-95 under Jim Harrick, but the Bruins are still a far cry from what they once were.
Now in his fourth season as head coach, Steve Alford, who made New Mexico a perennial contender in the Mountain West Conference, is slowly trying to put UCLA back on the map.
No one will ever be able to duplicate the level of success Wooden had, but UCLA's brand is not even close to what it once was even 20 years ago.
Programs out West like Arizona, Gonzaga and even California have surpassed the Bruins in recent years. Alford's been put on the hot seat, as his teams continue to win fewer games after winning 28 games in his first season.
Alford's been able to attract high-level talent to come play for the Bruins, but UCLA still finished 15-17 a year ago and hasn't made it past the Sweet 16 under Alford.
Five- and four-star recruits such as Zach LaVine, Bryce Alford, Kevon Looney and Isaac Hamilton, among many others, have graced the hardwood under Alford, yet UCLA still hasn't been a national contender or a media favorite.
UCLA Basketball: 5 Takeaways From The Win Over Kentucky
It's all changed this season with the arrival of top point guard recruit Lonzo Ball.
ESPN gave Ball a 96 grade, the highest for an Alford recruit since Looney in 2014.
With his nonchalant attitude, his funky jump shot that somehow goes in and his rare unselfishness that is almost never seen in star players today, Ball has everyone talking and has led the Bruins to a 9-0 start with a win over top-ranked Kentucky on Saturday.
As previously mentioned, Ball is far from the only top recruit to choose UCLA over the past five seasons.
Plus, he's not even the best freshman point guard in the nation right now with the way Markelle Fultz is playing in Washington.
Nonetheless, the nation is fixated on the Chino Hills, Calif., product that looks like he's good and poised enough to lead UCLA deep into the tournament come March.
Maybe it's the fact that he's shooting 55.4 percent from the field and 43.5 percent from three, despite owning a jump shot that is often times described as hideous.
Or it could be that he dropped 19 points, 11 assists and eight rebounds in his first collegiate game.
Sure it came at home against Pacific, but how often does a freshman almost drop a triple-double in his first game, not to mention only committing one turnover in 34 minutes while being the team's top ball-handler.
Besides, Ball's followed up his stellar debut with three more double-doubles and a 13-assist performance in which he showed his floor brilliance by attempting only three shots.
Ball's defense and odd-looking jump shot are reasons to question his maximum potential at the next level, but his innate ability to create for his teammates and not solely look for shots is incredible.
Even with some doubts, through his first eight games the legend of Lonzo Ball couldn't get much bigger. His draft stock rose from late lottery to the 3-11 range with some people thinking he could be drafted first overall.
Although, the true test came against Kentucky last Saturday, when he faced off with fellow top point guard recruit De'Aaron Fox.
Ball look rattled in the first half but was stellar down the stretch. He finished with 14 points, seven assists, six rebounds and six turnovers, while shooting 5-of-12 from the field and 2-of-8 from three.
It's not the game many hoped he'd have. In the first half, Ball turned it over five times, looked overwhelmed at times and was simply outplayed by Fox. Still, Ball stepped up down the stretch and led UCLA to a 97-92 win for its ninth straight win to start the season.
Whether UCLA or Kentucky led, all the talk surrounded Lonzo Ball's play, which shows the superstar level he's at. UCLA has had great players in recent years, but none have been a national focal point like Ball.
At the end of the game, the talk about Ball's performance overtook the fact that UCLA had six players score in double-figures.
Also, it overshadowed fellow star freshman T.J. Leaf, who had the game of his life with 17 points, 13 rebounds and five assists, while shooting 7-of-12 from the field.
When it comes down to it, the Bruins have a deep team mixed with upperclassmen and freshmen that can make a deep run in the NCAA Tournament.
While that will come to center stage eventually, there's no doubting that Ball's averages of 14.6 points, 9.3 assists and 5.0 rebounds per game is the focal point right now.
That and his NBA potential, which has mixed reviews, is overshadowing the multiple players UCLA could send to the NBA after this year.
Despite Ball unwillingly being put center stage, it doesn't seem like the rest of UCLA cares as they continue to win and show that they might be the best team out West.
Besides, Ball is the perfect freshman to have as a star.
His style of play is a fresh of breath air in an era where stars are all looking for their shots and trying to score 30 points every game.
Lonzo Ball's "go about your business" attitude, which showed him simply walking to the locker room with his head down after nailing a deep three to end the half to put UCLA up four or merely walking to the end of the handshake line without a smile or glimpse that UCLA upset Kentucky, is different than other players who would have showboat or gloated.
Lonzo Ball will likely leave after this season for the NBA. He has many strengths and he has flaws, but there's no doubting his play is amazing everyone to start the season.
As a freshman, he's led UCLA to its first 9-0 start since 2006-07 and barring a major upset they could be 20-0 facing Arizona at home.
It's more than just Lonzo Ball, and I'm sure he'd be the first to tell you that, but right now everyone wants to talk about his play, and in turn it's put UCLA basketball back on the map, again.
This article originally appeared on