Other than lack of offense, defense, Sixers look good against Clippers
So here's the good thing about how the Philadelphia 76ers shot in Sunday's 123-78 loss to the Los Angeles Clippers: At least they took exactly 100 shots, so when they made just 27, it was easy to figure out the percentage.
According to STATS, since 1986, the Sixers'€™ was worst shooting performance by an NBA team that took at least 100 shots in a game. The closest was the Memphis Grizzlies in 2002, when they went 28 for 100.
The Sixers can take comfort, however, in knowing they were nowhere near the NBA record for futile shooting. That was set in November 1954, .229 (22 of 96) by the Milwaukee Hawks (who next season would move to St. Louis before later moving to Atlanta).
The Sixers might have challenged the mark if not for Tony Wroten. In the midst of all the bricks being laid around him, Wroten shot 7 of 11.
In addition to being unable to shoot, the Sixers weren't playing any defense either, letting the Clippers go into full Lob City mode in Chris Paul's first game back after missing 18 with a shoulder injury. With about 11 minutes left in the first half, the Clippers led 52-15.
The Philadelphia Inquirer described it this way: "At times, the game resembled an And-1 mixtape tour stop instead of an NBA game."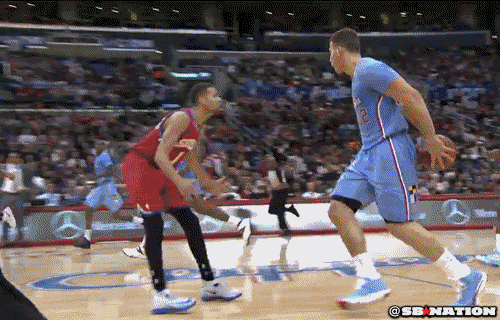 Yeah, that pretty much describes it.
So you think it's that the Sixers need some more, uh, practice?
Allen Iverson looks in on the Philadelphia 76ers getting DESTROYED by the Los Angeles Clippers! #Practice pic.twitter.com/LJvZNDMsxr

— NBA Memes (@NBAMemes) February 10, 2014