Orlando Magic: Time Running Out For Elfrid Payton?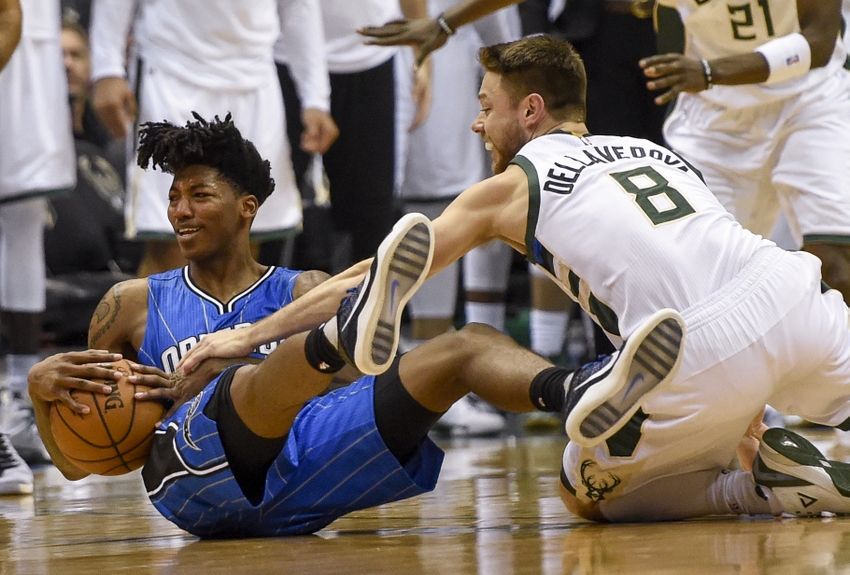 Although Elfrid Payton is not solely to blame for the Orlando Magic's inconsistent play, is his lack of improvement a concern for player and team?
It's still a frustrating time to be an Orlando Magic fan. Despite having an improved roster with more proven veterans, the team is still maddeningly inconsistent.
It's clear they're still finding their feet with a new head coach in Frank Vogel and a rotation that still looks unsettled.
Although many players have failed to find any sort of consistency, as well as an inability to take their name to the next level, the spotlight is now firmly on Elfrid Payton.
In his third year with the team, the guard has failed to improve his game significantly since being drafted by the team in 2014.
This is not all on him, however, as he's not the only recent Magic draft pick who has failed to live up to expectations (see Oladipo, Victor).
Given that the team has reached a critical juncture and offseason moves suggest they want to move from rebuilding to winning now, how much time does Payton have to prove his worth?
Before delving into the negatives however, there's still a lot to like about Payton's game. At 22 years old, he's leading the team in assists (5.4 per game), and steals (1.2).
That assists per game number puts him 21st in the league, ahead of guys like Damian Lillard, D'Angelo Russell and Kemba Walker.
Worryingly, however, it is the lowest mark of his career to date. It's not that Payton is a bad player and playing on this disjointed team isn't helping, either.
It's more he's not improving in the areas he should to make this team better. Although his Player Efficiency Rating of 14.3 is a career high to date, there hasn't been much improvement in the numbers.
His value over a replacement player is down to 0.2, the lowest mark of his career. Meanwhile his offensive plus/minus of minus-1.1 is a regression on last year's number (minus-0.9).
I wish all of our opponents could run their offense through Elfrid Payton

— #badboysremix (@badboysremix) October 29, 2016
Looking at the more basic numbers, his 11.0 points and 5.4 assists per game are right in line with career averages.
So too are the minutes he plays per game (29.8). In Payton's defense, it is harder to improve if you're not being given more responsibility and time on the court.
His usage rate of 20.3 percent (right in line with career average) would seem to back this up.
So if Payton isn't being given more time to shine, it then becomes about being more efficient with everything he does on the court.
This has not been the case either, as his effective field goal percentage of 45.3 percent mirrors last season as well.
One area where there is slight improvement however, is with his free throw shooting. Despite getting to the line slightly less than before (2.4 times per game), his 62.5 percent shooting is a career high.
Nick Johnson still trying to make his point
It's still not a convincing number, but it is at least trending in the right direction. This is especially true when you consider Payton does he best work when driving to the basket.
Really though there's much more to like about his offensive output, especially when it comes to jump shooting.
It gets under some people's skin with how much three-point shooting is spoken about these days, but it's done so for good reason.
If you can shoot the ball from deep, the floor opens up in ways it didn't before. Even Walker, the offensive savant that he is, said as much in a recent interview with The Ringer.
Payton is taking 2.4 three-point attempts this season, by far a career high. With a career average of 28 percent (not a good number), you would think at the very least he's scoring at a similar rate.
Not so, as so far this season he's averaging 19.5 percent from long range, a truly awful number.
For some context, Marc Gasol, a center who didn't attempt a three point shot in his first two years in the league, is shooting a sizzling 41.7 percent so far this year.
He's taking 3.5 attempts so far, before this season he had never averaged more than 0.2. If a 32 year old big man can improve that much, surely it's not too much to as for Payton to improve slightly in this category.
Payton is a player with a unique skill set, comparable to Dennis Schroder and Rajon Rondo. But even both of those players have evolved their game away from the basket.
Rondo swam upstream to spawn Dennis Schroder and Elfrid Payton. So, yeah, this is what happens after you swim upstream.

— Danny Chau (@dannychau) April 22, 2015
Wanting Payton to conform to the norm and become a better shooter may seem an obvious request.
But it's something he has not done to this point, and the points illustrated above show how it would help his game immensely.
Another development worth noting is the play of D.J. Augustin. A classy backup guard, inserting him to the starting lineup could possibly lead to more wins in the short term.
Given the moves made this summer to bring in more veterans, isn't that what this team is looking for?
As it stands, Augustin has a higher win shares per 48 minutes (0.79) than Payton does (0.65). It's still early in the year, but you know what you're getting with Augustin–steady play.
The same cannot be said for Payton, who in year three is still failing to improve in most of the key areas that matter.
This wasn't a problem before, when the team was collecting assets. But now that they want to win games, it is.
They also need to win them to ensure Serge Ibaka wants to play for this team beyond this season. We have also seen with the Oladipo trade that no young player is safe from being moved.
There has always been plenty to like about the game of Elfrid Payton and that's not going to change. Should his productivity levels remain the same, however, will that be enough?
This article originally appeared on