Orlando Magic still seeking balance with lineups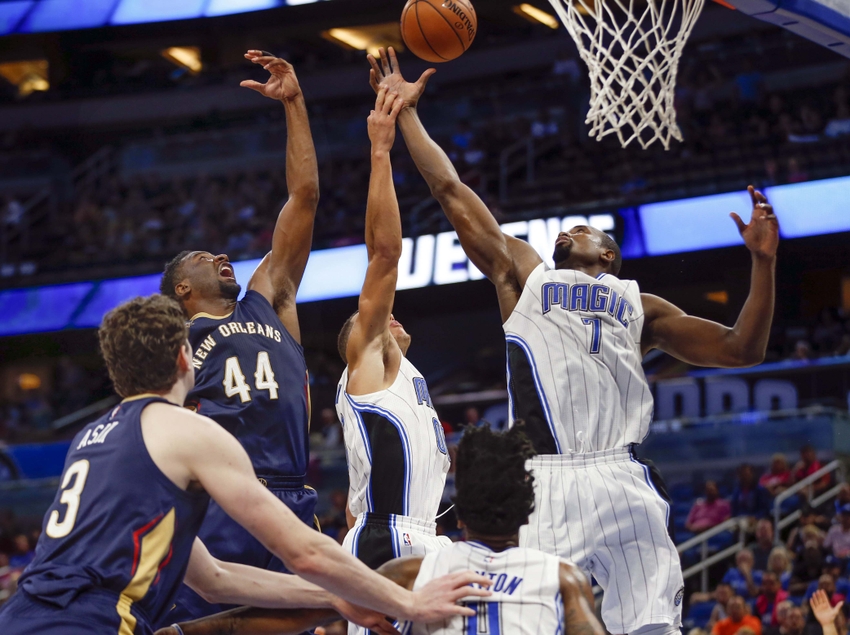 The Orlando Magic made a surprise lineup change last week to add more stability to the lineup. The results have been mixed as there are no perfect solutions.
Friday night, Frank Vogel took the somewhat drastic move of moving Aaron Gordon to the bench and starting Jeff Green in his place.
There was certainly a sense the Orlando Magic needed to make a lineup change. And there were a few iterations to go through that could have worked. But moving Aaron Gordon, perhaps the Magic's most promising young player, was not in the cards. Or at least not in everyone's mind.
Vogel rationalized the move saying he felt the team needed some stability and veterans tend to provide more stability than younger players do. The Magic are desperate for wins and desperate to get their identity to fit neatly into a box.
The results these last three games have been mixed. The Magic are 1-2 with two dreadful offensive performances against the Utah Jazz and Indiana Pacers and then one lightning-in-a-bottle game against the Oklahoma City Thunder.
The defense, at least, has been a bit better, but it is hard to attribute that to Jeff Green replacing Gordon. The only thing anyone might be able to say is that pairing Gordon with Damjan Rudez in the second unit has helped create more space for Gordon to work on the perimeter as a 3.
But that too has come with a price. Mario Hezonja is out of the rotation. And, while Vogel said he hopes to see Mario Hezonja back in the rotation soon, his push for more veterans to stabilize the lineup does not exactly describe Hezonja.
In some ways, pushing Gordon to the bench and Hezonja out of the rotation entirely is a sign the team is moving away from its youth movement. It is a clear and definitive sign the team is trying to win now. Period.
But in doing that, something is still off about this Magic team. They still find themselves facing long offensive droughts — regardless of whether the starters or the bench is in. The team still lacks completely and true balance.
As Kevin Yeung of The Step Back notes, there are still lineup possibilities to explore and lineups the Magic must explore — whatever it takes to give Gordon meaningful playing time as the team's best long-term prospect.
Right now, the Magic are not seemingly maximizing their players:
The Magic were never going to be a scoring dynamo. They hired Frank Vogel and added Ibaka and Bismack Biyombo this offseason, and those are very clearly the makings of a defensive identity. They thought Ibaka was the 3-point shooting and rim protecting unicorn that could stabilize Nikola Vucevic in the starting center role, but that reality hasn't taken hold yet.

Maybe Vuce is just too bad for even Ibaka to cover for on defense, sort of like Enes Kanter was previously, or maybe things will slowly come along as everyone begins to gel in Vogel's system. Elfrid Payton is a feisty defender at point and Evan Fournier passable. They're giving up a few too many 3s right now, but didn't look too bad in holding the Pacers to 88 points. So this thing might get to being OK.
And this is still the point for the Magic as they try to sort through their roster and make things work with all that is at stake this season.
Orlando's roster does not fit together. And in jamming everything together, players are not getting used to their maximum potential.
Nikola Vucevic is a perfect example of this.
Vucevic's shot distribution has not changed much. But he is making just 42.9 percent of his shots and averaging 10.9 points per game. His post-ups are way down — 2.7 per game according to Basketball-Reference from 5.4.
Serge Ibaka's presence has had some to do with it. He receives about the same number of post-ups per game. And the Magic have tried using Vucevic some at the elbow as a passing and screening fulcrum. But taking away his post game limits some of his effectiveness.
And Vucevic's presence and the lack of shooting has hurt Serge Ibaka too. Ibaka has taken just one corner three so far this season after taking 97 last year (1.2 per game). The Magic are taking away or not using one of Ibaka's biggest weapons for whatever reason.
And with Ibaka and Vucevic clogging the paint, that makes Gordon's fit on the perimeter uncomfortable. And it even closes cutting and driving lanes for Elfrid Payton trying to attack the basket. It is so hard having so many non-shooters on the perimeter and then two post players on the inside.
Putting Bismack Biyombo in the lineup complicates the offense further. He has to be in the paint on offense so he pushes Vucevic and Ibaka off the block. But on defense, he has to cover the 4 when playing with Vucevic, taking him away from the paint. The Biyombo-Ibaka duo has defensive promise but has not come to fruition.
Even Evan Fournier is showing some struggles at the 2. His defense has been passable but not strong. He has struggled to handle the quickness from other shooting guards in the league.
It seems any lineup the Magic put together does not have a perfect fit. Someone will have to sacrifice a skill to make things work. And, of course, the team also just has to execute better on both ends to make things work overall.
Perhaps the "dream lineup" is to have Payton with shooting players in Fournier and Mario Hezonja and then Gordon at the 4 (still probably his best position offensively) and Ibaka or Biyombo at center. Or the Magic need to find a stretch-4 who can play the perimeter on offense to better suit Gordon at the 3 in more switch-heavy lineups.
The Magic do not have the perfect personnel. The puzzle pieces do not quite fit. Orlando and Vogel will have to make due with what they can. And that explains why the team opted to make the lineup change they did — or any lineup change like this one.
Someone was going to be sacrificed. The obvious starting lineup for long-term growth was not working for this team for now. The Magic made a decision for change.
It is clear the Magic still need to experiment to find the right combinations.
More from Orlando Magic Daily
This article originally appeared on