Orlando Magic's quick fix: Implement the press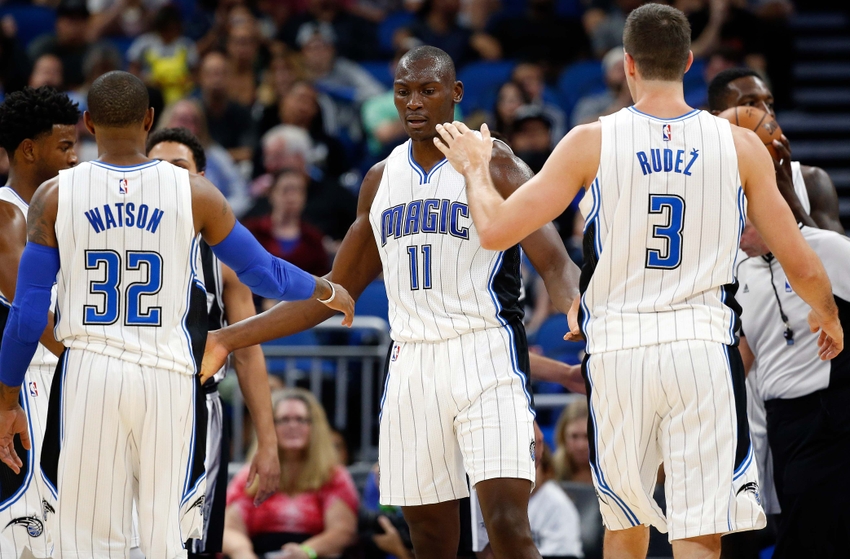 The Orlando Magic left Cleveland with a moral victory after a comeback effort. The defensive-minded team should keep an open mind and start pressing opponents in opportune time.
The Orlando Magic currently sit in familiar position to most fans — at the bottom of the Eastern Conference. And the results have not been particularly pretty.
Regardless of what strategy for a quick fix to make this team resemble a playoff team — the team is winless — it should look to a new strategy to invigorate its struggling defense. Perhaps the best fix for the Magic is to implement a pressing defense and pressure opponents more.
With the new defensive-minded additions of Serge Ibaka and Bismack Biyombo, this team has the defensive players to meet their goals and be a top-10 defensive team. Serge Ibaka and Bismack Biyombo should provide a backstop for the Magic to apply more pressure defensively. That is the theory of having rim protectors.
So far, though, that has not come to fruition.
Orlando currently sits 19th in the NBA in points allowed and 24th in the league in defensive rating, giving up 107.8 points per 100 possessions.
Biyombo and Ibaka have certainly had their share of disappointments. But the whole team has lacked an edge defensively.
If the Magic do not improve soon, they may have to experiment with something outlandish to hit a new level or spark the team. The quick fix for the Magic's defense might just be to use more pressing and trapping defenses. That is not necessarily in Frank Vogel's wheelhouse — his defenses are usually more solid, constricting space with rim protection and solid, fundamental effort.
But something has to wake this team up.
Implementing a pressure defense when key players are in the game may open up significant opportunities for the younger players that like to run the floor.
For instance, players like Aaron Gordon, Mario Hezonja, Jeff Green, Elfrid Payton and Bismack Biyombo all thrive on getting steals and running fast breaks. Elfrid Payton and Aaron Gordon specifically play better in transition because their skill sets are used effectively when they are attacking the basket. Add Mario Hezonja in that equation as well. He has shown to be an athletic wing player on a fast break.
The team has more players who thrive in transition. These five players are young and probably the most athletic group for running more pressure defenses. The same athleticism Frank Vogel wants to use on offense in transition can be used to spark those chances on defense.
Implementing some sort of press defense will create pressured passes to take place throughout the game. Also opponents would have another thing to prepare for before facing the Magic.
At the very least, the Magic need to put more pressure on the ball and disrupt offenses more at the point of attack.
There is only one problem. The Magic's starting lineup is not a press defensive lineup. It does not have the athleticism to go for a full-court press or scramble around to trap. The Magic would not start off the game just pressing their opponent. A press would only be a change of pace — something the Magic appear to have needed in second quarters this year.
But even this lineup could use to put more pressure on ballhandlers and make life harder for their opponents.
The best times to use a press in the losses were when the team went through offensive droughts and could not buy a bucket during certain stretches. Ramping up the pressure would have helped create turnovers and generate easy offense to break those slumps. Not to mention bring added energy and focus to the team.
Instead of the team worrying about the missed shots, their focus would be on applying pressure to create turnovers to get out of that funk. Putting pressure on ball handlers would disrupt the opposing offense and give the Magic a better chance of getting a stop and generating transition offense of their own.
Orlando Magic's first win will provide trust in the process
The attitude would certainly have changed after each made bucket and more of a focus would have taken place on the defensive end.
This attitude would leak to other teammates. Everyone would focus more on stopping the opponent instead of outscoring the opponent. The offense would flow from the energy the defense created rather than having to go up against a set defense.
Again, a press would probably not work with every opponent on the Magic's 82-game schedule. But the defensive strategy so far has not netted any victories either.
At least you would see more effort from the players on the defensive side of the ball.
The Magic have a long way to go. But it is even longer if they do not start using their defense to its fullest potential.
If this team has the pieces to implement any sort of press defense or to ramp up their on-ball pressure to disrupt offenses more, then it is Vogel's responsibility to do so.
Vogel has a "blueprint" for this team, as he describes it, along with an established defensive system. He has said he wants to see if his system can work. But slowly, he must adjust and find a system that will help this team succeed.
That may very well mean ramping up the pressure and allowing players to take more risks defensively. That may be uncomfortable for Vogel for what worked in Indiana, but it may be this team's best path to success.
More from Orlando Magic Daily
This article originally appeared on