Orlando Magic's offense needs a confidence boost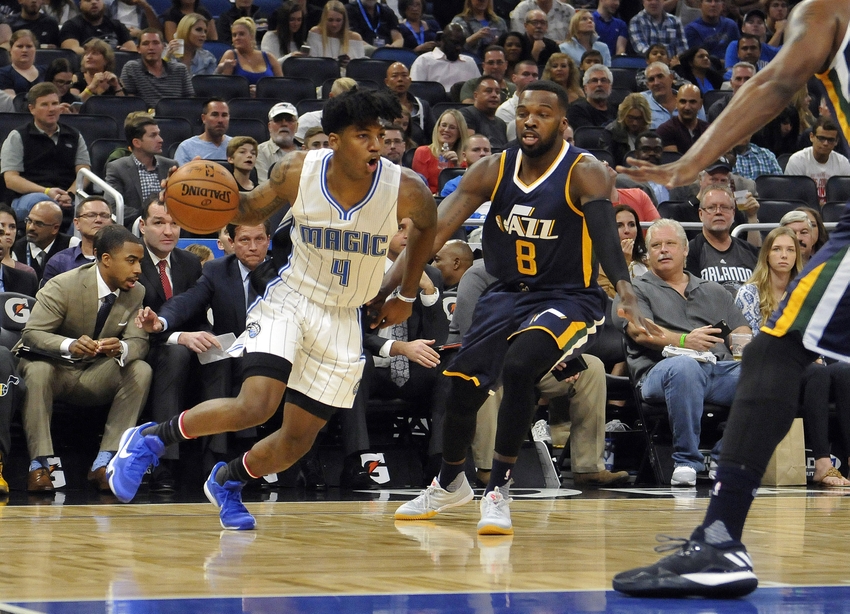 The Orlando Magic's offense has gotten to a slow start. An abysmal start, really. But they are confident they can right the ship with a change in momentum.
The Orlando Magic are not going to shy away from ugly games. Frank Vogel made it a selling point during his press conferences during the summer. He was committed to the team playing defense, and that sometimes means having to win low-scoring games.
As inconsistent as the Magic have been, they are finding some solace and some success on the defensive end of late. An 88-86 win over the Washington Wizards, a close-ish 87-74 defeat to the Utah Jazz and, yes, even the 88-69 loss to the Indiana Pacers. The Magic have been better on the defensive end recently (19th in the league in defensive rating in the last four games with an obvious outlier weighing everything down some).
The raw numbers defensively at least look good. But that has not helped the Magic a whole ton. And that is because the offense, despite that 119-point outburst against the Oklahoma City Thunder, is still getting dragged through the mud.
An otherwise strong game against the Jazz last Friday was derailed by 12 consecutive missed shots in the fourth quarter, allowing the Jazz to take control and win the game running away.
"We're confident players," Nikola Vucevic said after Friday's loss to the Jazz. "We know what we are capable of doing. As a team, we haven't ben shooting the ball really well. Evan [Fournier] has been probably our most consistent offensive player. I've been kind of up and down. I think it is something you have to work through. It's a long season. Sometimes it just happens and you have to work through."
Those moments, where shots simply will not fall and the team stagnates trying to dig itself out of the hole it continually builds, have become far too frequent. Even in Sunday's game against Oklahoma City, Orlando had a long drought that allowed the Thunder back into the game after thorough domination in the first half, building as much as a 21-point lead.
The reality is the Magic have one of the worst offenses in the league by almost every measure. They are 28th in the league in offensive rating, scoring 96.7 points per 100 possessions. They are last in the league in field goal percentage at 41.0 percent.
Droughts and poor scoring performances have become all too common with the Magic. They have had an offensive rating worse than 90 points per 100 possessions in three of their past five games, according to Basketball-Reference.
The Magic's offensive problems run pretty deep.
"We've got to play unselfish and we've got to trust the next guy," Bismack Biyombo said after Friday's loss to the Jazz. "It's just the bottom line. It is kind of frustrating to see at this point we're playing like that somehow. We have the abilityt o understand what winning is. It's a little bit questionable because if we are making some plays that are not really unselfish, then we are not about winning. We have to be about winning basketball games. We have to be willing to sacrifice and do whatever it takes."
Vogel, in criticizing or analyzing Magic offensive performances, has implored his team to trust the pass more. That is the going phrase for the team. And Biyombo agreed following Friday's game, saying the team needed to take higher quality shots and work to pass more.
Often the team team does get dejected with their offense and goes into isolation mode to try to beat set defenses. And that only makes matters worse.
The Magic are still searching for that best offensive formula.
"We just got to continue to look to get great shots," Elfrid Payton said. "Against Indiana, I felt like some of the shots we get were good looks and we just missed them. We got to find a way when those shots are not falling to really lean on our defense."
Vogel said his team is always looking for ways to do better the next game regardless of whether the team is playing at a high level or a low level. That is part of Vogel's positive approach. Even in games they have struggled, Vogel has been sure to point out positive things that have happened in games.
Orlando Magic needs Serge Ibaka to play like every team is Oklahoma City Thunder
They are there, believe it or not. Even in the game against Indiana.
The general message though remains the same for the Magic. They have to play with pace and work together offensively. Without a clear one-on-one player, the Magic are fighting something of an uphill battle. And so it will take moving the ball and playing off each other more to break the spell and get defenses to collapse.
The Magic are struggling to create easy baskets at times and isolate too much. That is not the path to the Magic's success.
"We've got to move the ball more," Bismack Biyombo said. "We've got to take some better shots. We've got to take some quality shots. And in the end, this has to be about winning. That's the bottom line. When you play to win the game, you start doing things differently, you start trusting the next guy, you start doing the right thing."
Buildling some energy and momentum will get the Magic to turn things around, even if briefly.
Nikola Vucevic and the team seem confident that if they can get the offense to click for one game or get that big highlight play to energize them, the team's confidence will grow and they will right the ship offensively.
More from Orlando Magic Daily
This article originally appeared on