Orlando Magic's answer is simple: Just make shots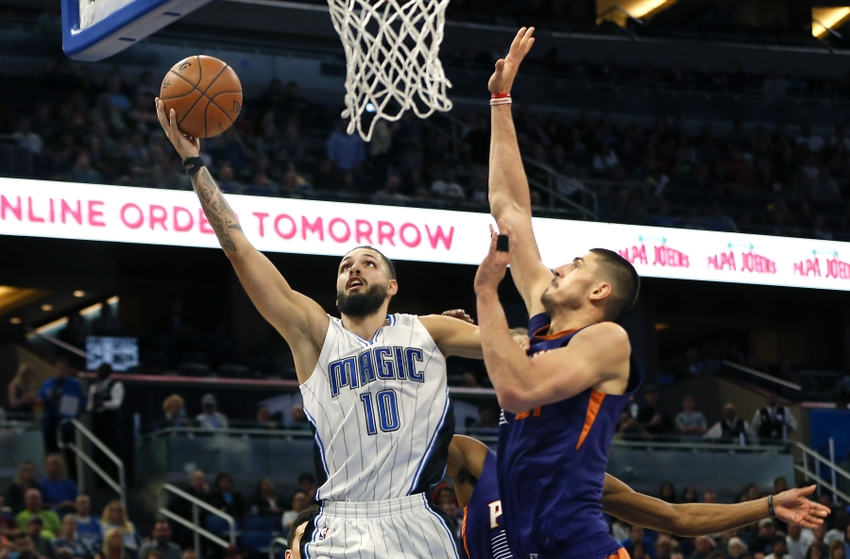 The Orlando Magic lost another game where the defense played strong, holding a strong offense far below their average. The only thing missing? Making shots.

92

87
The answer to the Orlando Magic's problems throughout this season seems so simple. The team does it fairly often every game.
They even can do it after the buzzer when it does not count.
Just not when it matters. Not consistently enough anyway. That simple act of putting the ball in the basket has proven to be the most difficult one for the Magic. Nothing seems to go their way in trying to accomplish this goal.
Needing a comeback with about three minutes left, the Magic worked the ball inside and kicked out to Evan Fournier, their best shooter. He pump faked to side step a closeout, took a foul and fired anyway. The shot went down and the crowd erupted.
But the referee had blown the play dead. Evan Fournier missed his first free throw and the Magic failed to cut deeper into the six-point deficit. Devin Booker scored on a floater to make it a seven-point lead the Magic had to scramble out of.
It was a symbol of all that could go wrong for the Magic. They could not make a shot.
In a game where the Magic shot 36.3 percent from the floor, every make mattered and every offensive possession was a grind. That has been the way things are for the Magic.
No matter how good their defense is — and it was good once again, holding the Suns to 92 points — the offense just seems unable to muster the points to support. The Magic are struggling in every aspect, but most importantly in that most basic one — making shots.
"We don't get easy buckets," Fournier said. "We don't have any go-to play where we know we have a good situation. We are looking for each other, but it's not working. We have to stay at it, keep working, keep watching film and getting better."
Fournier said the offense has struggled with its ball movement and spacing. The timing for the group offensively is off. And without a bail-out player, one man being off can have a massive effect on the rest of the team.
Without that star player, the Magic's offense has to resemble more of a watch, with each intricate part fine tuned to perform a specific function. And when one of those functions is off, the whole thing does not work properly.
The common complaint from the Magic about their offense throughout this season has been a tendency to go one on one too much and let the ball movement get stagnant.
Coach Frank Vogel said the team has to get some very fundamental aspects of the game down too. They have to screen better and cut better, working harder to get open shots for each other.
Jeff Green said even if the play is called for an individual player, that does not mean he is getting the shot.
That might very well be what is happening right now with the Magic. As one of those big pieces, making shots — open or not — is not working well at all.
"We didn't have a great flow," Vogel said. "We had some real good possessions and created a good shot and didn't knock it down. We have to continue to work at it."
Vogel was exceedingly coy with his answers in trying to explain the offense. He said the way out of the Magic's poor shooting was to keep working on it.
He has previously said the team has looked better on offense than the results show on tape throughout the season. The team is just missing open jumpers — indeed the Magic are shooting just 36.7 percent on shots where the closest defender is 4-6 feet away, according to NBA.com. In Wednesday's game, the Magic made just 6 of 21 such open shots.
Orlando is missing open shots. There are some seemingly deeper problems with the team that needs some resolution. The Magic just cannot hit shots.
Sir Charles In Charge

1 d
NBA: What Every Team Should Be Thankful For In 2016-17
The solutions to the Magic's problems then are pretty simple. Especially if they can keep up their defensive intensity. It is not a question of effort. It is a simple task again.
"We fought," Vogel said. "We held a team that scored 100 points in 13 of the last 15 games to 92 points. We're doing what we need to do on the defensive end. We need to make some shots and find an offensive rhythm."
That never quite came in Wednesday's game.
Nikola Vucevic did bounce back from his shooting slump to make 21 points on 10-for-15 shooting. Fournier scored 25 points. D.J. Augustin added 12 points.
No one else scored more than 10 points. Fournier and Nikola Vucevic made 19 of 35 shots (54.3 percent). The rest of the team shot a combined 14 for 56 (25 percent). For a team that needs supreme balance to succeed offensively, this is a major problem.
And it has lasted across multiple games.
The Magic know the problem persists. They have been ongoing for weeks. And there has been no end or correction to date.
Orlando knows these games matter. Their good defensive efforts went to waste. Again.
For a team trying to fight and claw its way into the Playoffs every one of these games matter. And that should increase the urgency to fix this basic problem.
"There is only so much time we have," Jeff Green said. "We have to figure out a way to correct things and get better. It's November, but these wins and losses do count. There is a lot of teams playing better. We have to get going now if we want to be in the picture in Feburary, March and April. We have to correct things now.
"We can continue to say it's still early, but we have to come to a point where we have to fix it now in order for us to be there in the end. We have to go back tot he drawing board, but Friday we have to fix it. For me, that's a must win. And we must win Sunday."
To do that, shots have to fall. It is that simple.
More from Orlando Magic Daily
This article originally appeared on