Orlando Magic Rumors: Nikola Vucevic not on market for now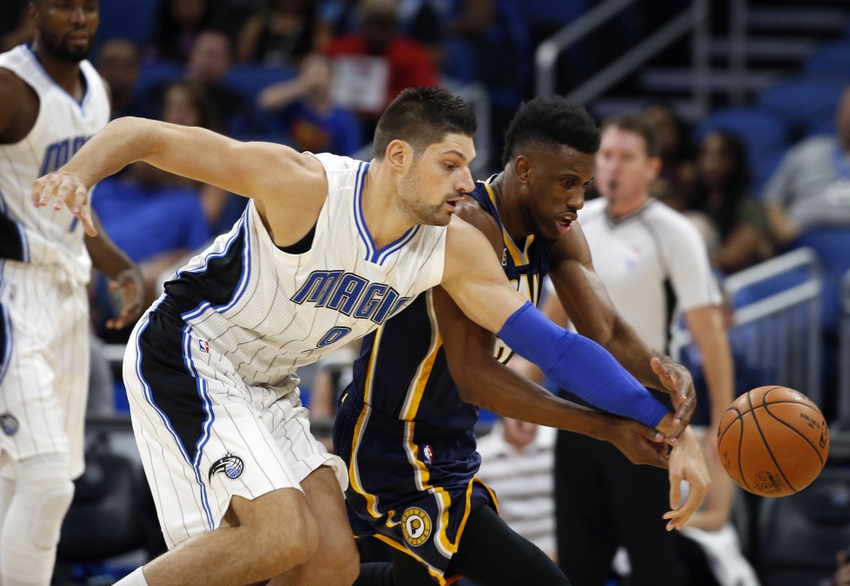 The NBA season has not begun and already there are talks about trades. For now, the Orlando Magic are not listening when others call for Nikola Vucevic.
Ever since the Orlando Magic acquired Serge Ibaka in a draft night trade and then doubled down on the inside by signing Bismack Biyombo, the questions have circled incumbent center Nikola Vucevic. His future seemed very much in doubt.
It was easy to see and view him as easy trade bait for the Magic considering the money they had just invested in players who seemingly played the same position.
Those talks may come again. But they are not for now. Not with the season about to start and the Magic still figuring out who they are as a team.
Steve Kyler of Basketball Insiders reports Magic officials have told him Vucevic is not available for trade and the team intends to give the three-headed post monster a chance to gel and work.
The name many keep suggesting will be moved is center Nikola Vucevic. Magic sources flatly deny any interest in moving Vucevic, pointing to his team friendly contract and ability to create his own offense. The hope from inside the Magic was that offseason additions Bismack Biyombo and Serge Ibaka would cure the defensive issues around Vucevic and allow him to focus solely on being an offensive weapon. Time will tell if that's smart basketball.
This is predictably definitive language from the Magic. At the very least, a chance to show other teams it will take a lot to get him off the team — Kyler reports the Magic would probably only consider trading Vucevic if it nets them a proven All Star. Or it shows the Magic are not going to jump the gun before their experiment has a chance at least to get started.
Magic coach Frank Vogel has all but said Vucevic will start on opening night and beyond (Bismack Biyombo is suspended for opening night due to flagrant foul accumulation in the Playoffs). There are no public indications the Magic are ready to move on From Vucevic in any way.
At this point, the Magic know what Vucevic can do. They need his offense and consistent scoring to buttress some of their shooting problems. But Vucevic is seemingly still figuring out his fit on this team. Vucevic is averaging just 8.0 points per game on 34.9 percent shooting. A significant decrease.
Vucevic though admitted following Tuesday's game he is perhaps trying to help everyone fit in more and not looking for his shot. He has struggled offensively, but has been a solid playmaker and fulcrum from the high post, averaging more than three assists per game. He certainly has enough trust built up from his performances the last four years that the Magic should not be concerned about his rounding into form as he gets comfortable.
Still, that is no guarantee the Magic keep him long term.
Vucevic's contract is very team friendly and he is a skilled offensive player. Other teams will come calling when the trade market begins to open up.
While the Magic are (rightly) not looking to move Vucevic now, that could change. With the Magic's pressure to win now and make the Playoffs in 2017. If they feel they need to make a big improvement to the roster, Vucevic is most likely their most valuable trade chip.
These trade talks may be quiet now. But they will rise again. Especially if the Magic struggle and need a boost to get back into the Playoff race.
More from Orlando Magic Daily
This article originally appeared on