Orlando Magic promised it would be ugly, and they are winning that way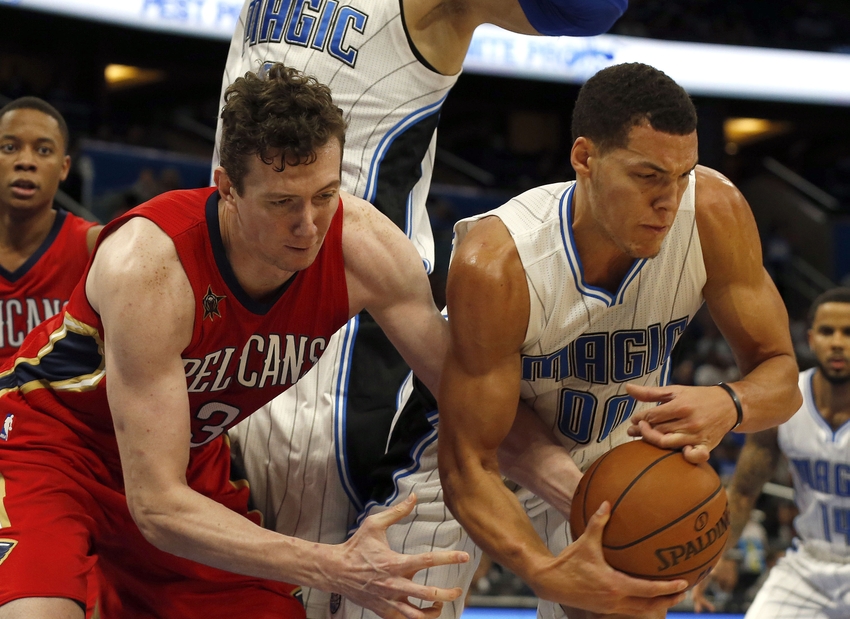 The Orlando Magic are still seeking consistency and building their identity. They may have found one in playing ugly and winning low-scoring games.

82

89
The Orlando Magic did not make a field goal for the first 4:21 of their game against the New Orleans Pelicans. It was going to be one of those games. Even without Anthony Davis, the Magic were not hitting shots.
That part has been normal. Orlando has the worst field goal percentage in the league and one of the worst offenses in the league. The Magic kept that troubling trend going by shooting 38.6 percent from the floor Wednesday and a 93.3 offensive rating.
It was the kind of game where a four-point lead seemed like a lot.
The Magic have played a number of these games already offensively. And the offensive struggles just continue.
Where the Magic have let go of the rope is on defense, never really giving themselves a chance to stay in or get back into games. The offensive slip has led to worse defense and the cycle repeats.
The margin for error remains small. But hope has slowly begun to rise. The Magic are bringing teams to their level. They are beginning to dictate terms more defensively and build that identity. The wins and losses are slowly coming their way with it too.
At least the Magic give themselves a chance.
And now in four games the Magic have held their opponent to less than 90 points. Mixed in with the other disappointing defensive efforts that saw teams put up a ton of points, it is a sign the defense can get on the same page.
The Magic have held their opponent to fewer than 90 points in three of the last four games. That is not an easy thing to do. In their last four games, the Magic have a 96.1 defensive rating, the fourth best int he league for each team's last four games.
Orlando Magic needs Serge Ibaka to play like every team is Oklahoma City Thunder
As ugly as it may seem, Orlando appears to be righting the ship. And, at times, embracing and figuring out this defensive mentality.
"We're going to keep fighting and keep trying to find a way," Nikola Vucevic said. "We're not playing really good basketball right now. It's not easy to get stuff going and get in the flow. We've just got to try to find a way to win until we figure that out and make our job that much easier."
Things are certainly not easy. These low-scoring, ugly affairs are never easy on the eyes or the hearts for fans or even for the players. The Magic have been involved in several games already where both teams struggled to break 90.
It is almost as if the Magic have to find a way to get teams to stoop to their level considering their early offensive challenges. They are, perhaps unintentionally, embracing an ugly, grinding style of basketball.
If this is how they have to win, so be it.
"We have to," Serge Ibaka said. "We have no choice, especially when we are playing at home we have to."
It is perhaps that urgency that still gives the Magic a certain amount of pause. There have been times this year when the Magic have had to play ugly and scratch and claw for every point. And probably more times they have not had to and succumbed to their own inconsistencies, especially on offense.
This would mark the second game Orlando has played where it did not break 90 points against an opponent missing its top player. Against the Washington Wizards and the New Orleans Pelicans, the Magic receive a little bit of a cushion with their top players out. Those were both teams the Magic should have beaten much easier — considering both the opponent and how they played for much of the game.
Ugliness is both a badge of honor and a reminder of how they have to play better.
The Magic started Wednesday's game off ugly, but eventually took as much as a 15-point lead. But they could not pull away.
Aaron Gordon said the Magic were complacent and lacked energy throughout the game. New Orleans, with nothing to lose without Davis, took advantage of that to get back into the game and make things difficult for the team.
In this case, ugliness was not a badge of honor for the Magic.
"It was good to get the win, but that was not a sign of much," Aaron Gordon said. "I think we need to get each individual player in the right spots with the right shots where they can do well and stick to their strengths. If we can do that and we trust each other, scoring is really going to take a jump."
The Magic are still working to figure out their offense. And the team seems to recognize that the team's offensive struggles are feeding into defensive inconsistencies and preventing the team from really breaking out.
It seems the team is closing in on a breakthrough. Especially if the defense can carry the team a little bit while longer. That will give the team a chance to win most nights. Any time a team gives up fewer than 90 points, that should be enough to win. The offense still has to work to carry its weight.
And that is where the frustration comes from Wednesday. The offense consistently did not carry its weight. Just when it seemed the Magic were ready to carry things forward and win a game running away, the offense let go. Orlando reverted to playing isolation and having the ball get stuck.
The kind of offense that has the team at the bottom of nearly every statistical category. And even against this Pelicans team without Davis, allowed them to get back into the game. The Magic are not good enough to rest on their defense alone, as much improved as it has gotten.
The Magic still have a lot of work to do to improve. They will continue to do so it seems. Orlando has gotten better, even as the games have gotten uglier.
There is still a lot to figure out on both ends.
But the Magic are proving they can win ugly and win without their best. At some point, their best needs to show up.
Perhaps ugly is the way the Magic need to go.
More from Orlando Magic Daily
This article originally appeared on