Orlando Magic Grades: Utah Jazz 87, Orlando Magic 74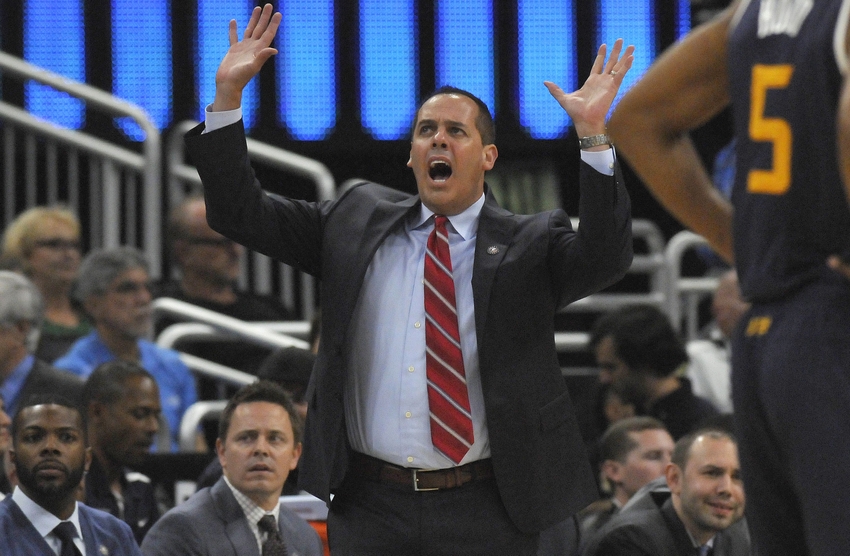 The Orlando Magic fell to the Utah Jazz in a tough, defensive oriented battle. Orlando's defense was better, but the offense cannot possibly get any worse.
VS.
| | | | | | |
| --- | --- | --- | --- | --- | --- |
| | 1 | 2 | 3 | 4 | T |
| Jazz | 23 | 19 | 18 | 27 | 87 |
| Magic | 17 | 21 | 26 | 10 | 74 |
The Orlando Magic fell to the Utah Jazz in another grind-it-out game in front of the Orlando fans. The Magic were only able to score 74 points in what was one of the worst offensive performances in recent memory.
The Magic struggled on the offensive end all night. And if it were not for big performances from D.J. Augustin and Evan Fournier, this could have been a lot worse.
The Magic had the lead going into the fourth quarter, but hit a dry spell and only managed to score 10 fourth quarter points — including missing 12 consecutive shots as a four-point lead turned into a 12-point deficit.
This type of offensive performance has become the norm for the Magic and there does not seem to be an end in sight.
"You get up on a team, they are going to pick up their intensity," coach Frank Vogel said. "We did have some good looks that didn't go down in that stretch, we just hit a dry spell."
The Magic did not get the spark they hoped for offensively from moving Jeff Green into the lineup for Aaron Gordon. But they did keep the game close.
The Orlando Magic got off to another slow start Friday night as the team only managed 17 points in the first quarter. The decision to start Jeff Green ahead of Aaron Gordon had no effect as the Magic defense still looked discombobulated.
When Gordon was in with the second team, the Orlando Magic looked quite strong. D.J. Augustin, Damjan Rudez and Aaron Gordon did some nice things. However, the back end of the second quarter was just as ugly as the start of the game. Orlando could not get anything going.
By halftime, Elfrid Payton and Nikola Vucevic had two total points on 1-for-9 shooting. The rest of the team did not fair much better. Take Evan Fournier out of the equation and the team shot 9 for 29 from the field in the first half. That lead to another measly 38 first-half points.
The third quarter was not much better offensively. Other than a late run, the Magic and Jazz played an ugly brand of basketball. But that style of play does play to the Magic's advantage. Orlando turned in a strong defensive game.
"I think it's where we want to be," D.J. Augustin said. "We played good D on a really good team. We held them to not as many points as we normally been giving up the last few games. We've just got to do a better job."
Although it was ugly, the Magic forced so many stops that their fast breaks led to some much-needed points. Orlando would head into the fourth quarter with a four-point lead and a chance to win.
That hope did not last long as Orlando shot up brick after brick to let the lead slip away.
Aaron
Gordon
F,
Orlando Magic
C+
When Frank Vogel decided to bench Aaron Gordon in favor of Jeff Green, there was one question on everyone's mind: How would Aaron Gordon respond?
The answer was one of hope for Magic fans.
Gordon played pretty well against the Utah Jazz and was able to continue his high level of play on the defensive end. Once Gordon entered the game, he made an immediate impact. He forced a pair of turnovers and added some scoring on top of that.
Again, the defensive effort Gordon displays on a nightly basis is other worldly. Gordon is able to force some really talented players into some tough spots more often than not and it really changes the Orlando's defense as a whole.
Offensively, Gordon left some things to be desired. He missed some open jumpers and had some other chances to make things happen. Even so, Gordon showed some flashes. Hitting a few mid-range jumpers as well as a beautiful driving layup.
Gordon responded well to being moved to the bench and it looks as if he will not be in that situation for long.
Evan
Fournier
G,
Orlando Magic
B+
Yet again, Evan Fournier led the Magic offensively. Fournier had a solid start to the game as he dropped 13 points in the first half. Fournier was able to score all over the floor including from beyond the 3-point line. His play in transition was also pretty strong. Orlando was able to force a ton of turnovers and misses that allowed Fournier to lead a bunch of fast breaks.
Fournier ended his night with 21 points, four rebounds and four assists.
Defensively, Fournier was much better than he was against Minnesota. He was able to contain his matchup and even pick up a few steals on the night. Fournier seemed to be motivated on defense in response to his strong offensive performance.
Nikola
Vucevic
C,
Orlando Magic
D
Nikola Vucevic struggled tonight. When he is not scoring, Vucevic is not that much of an asset. For the most part, he was invisible Friday night and really seemed to fall in love with his mid-range jumper. That jumper just has not fallen for Vucevic all year. It is such a big part of his game and if this trend continues, these type of nights could become more frequent for Vucevic.
Additionally, he could not defend, and Rudy Gobert took advantage. Gobert was able to get multiple second chance points and was able to have a surprisingly strong offensive performance.
When Gobert was guarding Vucevic, he had similar success. Vucevic shot 1 for 7 in the first half and his offense was dearly missed as the Magic only mustered 38 points in the first half.
The second half was much of the same for Vucevic as he finished with just four points on 2-for-12 shooting. He was quiet and did not see the floor much. He re-entered late in the fourth and Vucevic was a victim of the "Stifle Tower" yet again. Gobert dominated Vucevic all night and the stat sheet shows it.
D.J.
Augustin
G,
Orlando Magic
B+
As Elfrid Payton was struggling, D.J. Augustin was thriving.
Augustin was a spark plug off the bench all night. He heated up the offense early in the second quarter and did not look back. Augustin dropped 19 points against Utah and made some big highlight plays. Augustin was automatic behind the 3-point line, and he added a few nice drives as well. This was definitely Augustin's best game in an Orlando Magic uniform and it was a great sign to see him step up with Payton struggling.
The only downside of Augustin tonight was when he ran out of gas in the fourth quarter. It is not fair to put the team's offensive struggles in that quarter on him, but it was obvious he is not conditioned to play those kinds of minutes. He ended the night with 19 points which was enough to put him as the second highest scorer of the night.
Utah
Jazz
6-4,
5th, Western Conference
B
The Utah Jazz are a really solid basketball team. They were a team many felt would take a leap this season. So far, they are living up to the hype despite injuries throughout the roster. Led by Rudy Gobert and
Gordon Hayward
, the Jazz have a very balanced roster that still has room to grow.
Gordon Hayward was the best player on the court tonight. He ended the night just shy of a triple-double as he poured in 20 points with 10 rebounds and eight assists. Hayward caused problems for the Magic all night and was a catalyst as the Jazz were able to come out with a victory.
They had a chance to put the Magic in a big hole early, but the shots were not falling. It allowed for Orlando to hang around.
The only problem with the Jazz tonight was their inability to hit shots. Orlando was solid on defense tonight but when they made mistakes, Utah did not take advantage. Utah was also very sloppy and turned the ball over far too often. The Jazz had the Magic on their heels a few times during this game and it took until the final few minutes of the fourth quarter to put the Magic away.
Philip Rossman-Reich contributed to this report.
More from Orlando Magic Daily
This article originally appeared on