Orlando Magic Grades: San Antonio Spurs 95, Orlando Magic 89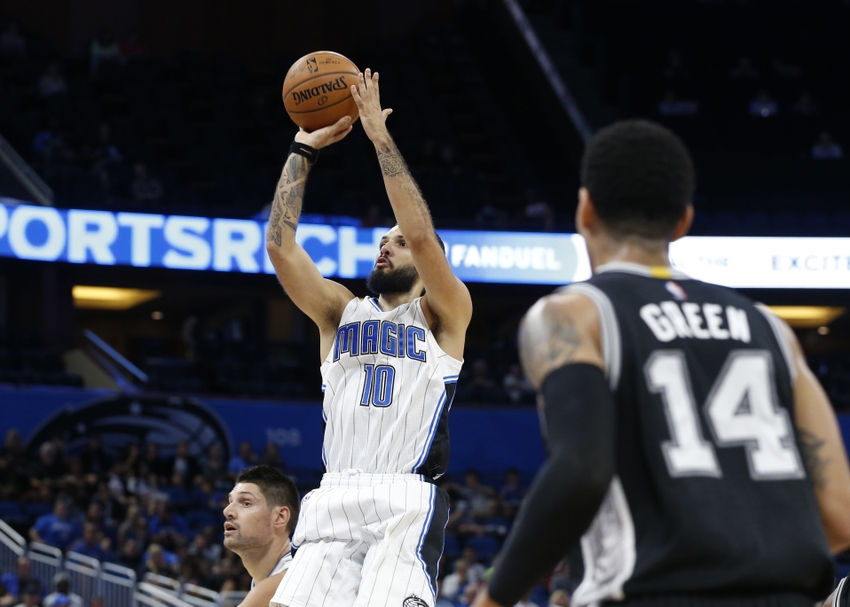 The Orlando Magic returned home and looked to be starting over a bit in their third preseason game. Bouts of inconsistency showed the team has a ways to go.
It felt like a new debut for the Orlando Magic. The Magic were stepping on fresh onto their home court for the first time. They had their full lineup for the first time all preseason.
This would be the Magic's true debut. The foundation for them to build off for the rest of the season.
Coach Frank Vogel warned the team was still a work in progress. They still had a long way to go. But this would be another opportunity to learn. An opportunity too for Elfrid Payton, Serge Ibaka and Aaron Gordon to get their legs under them.
Undoubtedly it was rough as the Magic eventually fell to the San Antonio Spurs 95-89 at Amway Center on Wednesday.
The Magic gave up the first seven points of the game to the Spurs. Their defense looked a step slow and disorganized. The offense seemed forced and rushed. Players may have been overeager to show off for their fans.
Evan Fournier got cooking with 11 points and 5-for-8 shooting in the first quarter. The Magic though had a total of 15 points and everyone outside of Evan Fournier missed all their shots (12 as a team, in fact).
The Magic eventually settled down. The reserves brought the Magic back. And by the time the starters cycled back in, the Magic were rotating better and moving the ball more comfortably within the offense.
There were still breakdowns. Plenty of them.
There were moments of brilliance. The Magic rotated quickly to contest and block shots. Bismack Biyombo and Serge Ibaka made a difference. Nikola Vucevic was solid standing his ground.
Evan Fournier was the biggest offensive threat. The Magic offense though came in spurts. The team is not quite transition mavens yet or completely in sync with their reads and cuts.
There is still time to fix all of that though.
Evan
Fournier
SG,
Orlando Magic
A-
Evan Fournier is on a straight tear through the preseason at the moment. He follows good game after good game. And it is hard to find any fault in the way he plays.
Fournier was about the only good thing for the Magic offensively in the first quarter. He scored 11 of his 20 points in the first quarter. And it just looks like Fournier is in regular season form already. He is moving and cutting with purpose and making his shots.
Defensively too, it seems like he has a lot of trust. Frank Vogel is using him sometimes as a bit of a free safety, giving him the freedom to trap late in the shot clock and aggressively smother pick and rolls.Fournier makes the right plays on offense and is extremely patient and already seems to have his coach's trust to play aggressive on defense. It is hard to find fault with Fournier right now.
Aaron
Gordon
F,
Orlando Magic
C
Frank Vogel warned before the game that Aaron Gordon still had a long way to go. His conditioning was not quite up to the level it needed to be at certainly for the regular season as he recovered from missing four weeks with a sprained ankle. Gordon was still integrating himself and working his way back into the lineup.
That lack of conditioning certainly showed. Gordon scored six points on 3-for-10 shooting and added 10 rebounds. It felt very much like one of Gordon's early games. He just did not have everything together. Gordon looked like a player still coming back from injury.
Gordon though had some flashes. He split two defenders and finished in traffic in transition. Gordon still has a long way to go learning how to dribble and drive from the perimeter. He still needs to learn his reads off pick and rolls. But that will come in time with practice and repetition.
Serge
Ibaka
PF,
Orlando Magic
C+
Serge Ibaka is expected to have a larger role for the Orlando Magic this year. Even Frank Vogel was not hiding that fact. He said the Magic intend to put Ibaka in some unfamiliar offensive positions. And early on, Ibaka definitely looked like he was trying to force it.
Ibaka made just three of eight shots to score seven points and grab three rebounds. It was not a strong statistical showing for Ibaka. And he looked every bit the player who has missed a lot of time with injury. Ibaka was rushing things and trying to do too much.
Once he settled down in the second half though, Ibaka showed why he can be a gamechanger defensively. He changed shots and recovered well to help the Magic lock down the paint. He was simply a hard guy to move. Offensively, he slowed down and picked his spots better. Ibaka certainly looked the part in the second half. He just needs to get his timing down better.
Jeff
Green
F,
Orlando Magic
B+
Jeff Green
continues to produce, plain and simple. He scored 18 points off the bench on 7-for-12 shooting. He attacked when he needed to and hit shots when he was open. Green has proven to be a reliable wing player coming off the bench.
Green has a reputation for inconsistency, of course. So these are the games that make everyone believe in him until he lets everyone down again. But Frank Vogel singled him out and said Green has been a pleasant surprise throughout camp. And he has produced at least in the box score in every preseason game so far.
Green is certainly not the most spectacular player. But he is one of the few players right now that looks ready for the regular season and seems to have a natural fit into what the Magic are trying to do.
The San Antonio Spurs are the San Antonio Spurs. They ran their stuff and certainly challenge the Orlando Magic plenty with their ball movement and motion offense. That is simply what they do.
The Spurs probably enter the preseason ready to play. But there were a few hiccups. They shot just 38.8 percent from the floor and looked inconsistent at times. The Magic took it to the Spurs in the second quarter especially. The Magic had some very strong stretches against this team. It was not a banner shooting night for anyone, but that just might be how the Spurs go about things.
Unlike the Magic, there is certainly faith the Spurs are pacing themselves and know what they are doing entering the preseason. So this seemed like a ho-hum game where the Spurs showed up, put some work in and then scaled things back.
More from Orlando Magic Daily
This article originally appeared on