Orlando Magic Grades: Orlando Magic 89, New Orleans Pelicans 82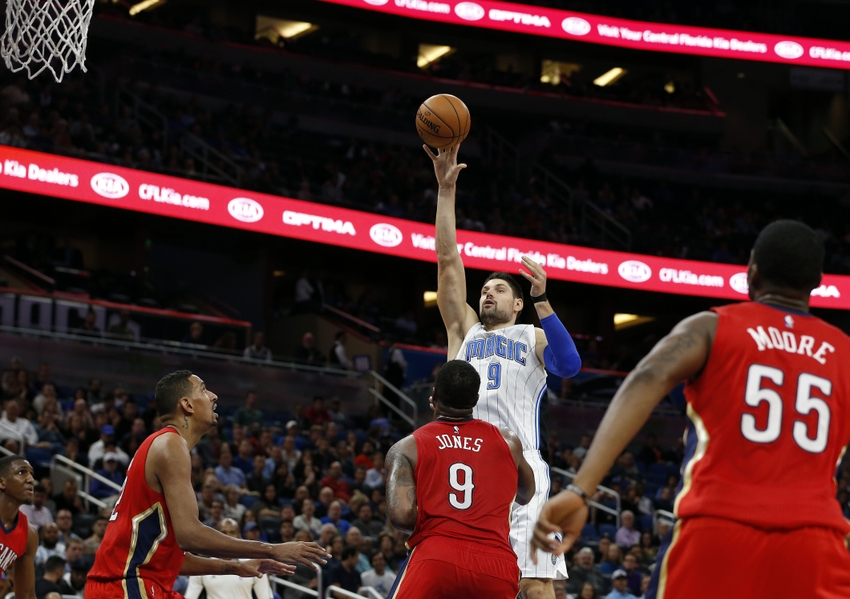 It was ugly and probably a bit disappointing, but the Orlando Magic found a way to gut out a win over the undermanned New Orleans Pelicans.
VS.
| | | | | | |
| --- | --- | --- | --- | --- | --- |
| | 1 | 2 | 3 | 4 | T |
| Pelicans | 19 | 21 | 23 | 19 | 82 |
| Magic | 21 | 31 | 13 | 24 | 89 |
Nikola Vucevic has struggled to shoot throughout the season. It is a recurring storyline that the Orlando Magic's best returning scorer just has not been able to find his touch as shots have redistributed elsewhere and the team has struggled to keep him involved.
And this has become even more poignant as the Magic's offense continues to struggle.
When the offense is struggling though, the team has to go to its most reliable well. Or the ball has to find its way there.
Vucevic, who shot 5 for 12 in the game, got the ball when it mattered most. He collected an offensive rebound and scored a put back to get the Magic up four points with less than two minutes to go. And then scored on the ensuing possession to ice an 89-82 victory voer the New Orleans Pelicans at Amway Center on Wednesday.
The score was ugly. The game itself was ugly. The Pelicans played without uber-star Anthony Davis. But the Magic won.
"A win is a win in the NBA," Serge Ibaka said. "But we have to clean up a lot of things on defense and offense. A win is a win. We're going to take that win, watch tape tomorrow and get better the next day."
Orlando's offense struggled for much of the game but burst for 31 points in the second quarter to hlep the Magic take a 15-point lead. Orlando's defense was stifling a New Orleans team that did not have a first offensive option and was really missing its star in Davis.
The inevitable drought for the Magic came in the third quarter. They made just 5 of 26 shots in the quarter including 3 for 15 in the paint. That made it a game the rest of the way.
The Pelicans took the lead on one occasion and the Magic fought back and retook it but never quite pulled away. New Orleans stayed in the fight throughout despite their poor shooting and general lack of cohesion. They strung enough shots together to make the Magic sweat.
But Orlando gutted it out in the end.
"It's good that we got a win," Nikola Vucevic said. "Obviously we didn't play the way we needed to. We have a lot of work to do to improve. We did win, which is good, but there is a lot of work to do."
Nikola
Vucevic
C,
Orlando Magic
B+
Nikola Vucevic is still struggling to shoot the ball. Things are not coming easy for him to find his shot or to make the shots he does get. Defensively things are better, but the flaws become more exposed if he is not producing much on the offensive end.
Vucevic though came thorugh when it mattered most. Two of his five field goals came at the end of the game to help the Magic stay in the lead and pull out the win. He scored 10 points on 5-for-12 shooting.
More importantly he was strong on the defensive end. He rotated well to his spots to cover for teammates, even going to the weakside on several occasions to secure rebounds. He had 14 rebounds total, including 11 defensive rebounds. Add on three blocks, and Vucevic contributed singificantly on the defensive end for the win.
Elfrid
Payton
PG,
Orlando Magic
C+
Elfrid Payton
still can command a lot of respect and a lot of attention in transition. When he is aggressive and attacking, the Orlando Magic are simply a better team. When he can get downhill, and pick up the pace, the Magic offense suddenly comes alive.
He did that for a good portion of the game, but not all of it. Payton shot 2 for 9 from the floor and was plenty confident getting his shots and taking jumpers. They were not falling. He had four assists too. And Payton played pretty solid defense on Tim Frazier and E'Twaun Moore when they were matched up.
But the pace and control of the game falls on the point guard often. When the Magic got stops in the second half, he was unable to the team back into the rhythm that helped them build the lead. Payton is still learning when to use his pace and when and how to attack. It can still harm the Magic and lead to these long offensive droughts.
D.J.
Augustin
PG,
Orlando Magic
B
D.J. Augustin
continues to prove to be the change-of-pace point guard the bench needs, able to provide some instant offense and spark the team. This is his role in the second quarter and fourth quarter. And he played that role well in leading the Magic to a win.
Augustin scored 11 points on 4-for-10 shooting. He was able to get into the lane well and the threat of his shot was important. As was his driving ability, particularly in the open court in transition.
Augustin did have his struggles. The poor shooting was not something to look too far past. But everyone shot poorly. Augustin proved himself a good back up in this game and could have easily closed the game and been a comfortable option for the Magic.
Jeff
Green
F,
Orlando Magic
F
It is getting harder and harder to justify
Jeff Green
's presence in the starting lineup over
Aaron Gordon
. Yes, he is a veteran, but production-wise, Green does not give a whole lot more than Gordon, if they are even equal at all. Green missed all nine of his shots for the Magic on Wednesday and failed to score.
Green was, after all, brought in to be something of a scorer and driver for the Magic. But so far, he has failed to deliver.
Worse than that, Green's defense and overall energy were very low. Maybe it was a sign of the entire team, but Green is a veteran and should be able to produce much more than that. The Magic need more from their veteran forward. More than he is brinign right now.
New Orleans
Pelicans
2-10,
15th West
B+
The New Orleans Pelicans had a tall task ahead of them without Anthony Davis. Davis is essentially their entire offense — think
Tracy McGrady
with the 2004 Orlando Magic (almost literally). Somehow the Pelicans, the gutted and gritted their way back into the game and never gave up. They had every chance to win this one, even if a two-point lead seemed like a large hill to climb.
Terrence Jones scored 26 points and Langston Galloway scored 15 off the bench. But the scoring was not so important in such an ugly game. The Pelicans shot just 36.6 percent.
Their effort and spirit was there all night. Any opportunity the Magic left open, the Pelicans seemed willing and able to squeak through. It never truly felt like Orlando would lose the game. But the Pelicans at least showed up and fought without their biggest star.
More from Orlando Magic Daily
This article originally appeared on