Orlando Magic Grades: Orlando Magic 69, Indiana Pacers 88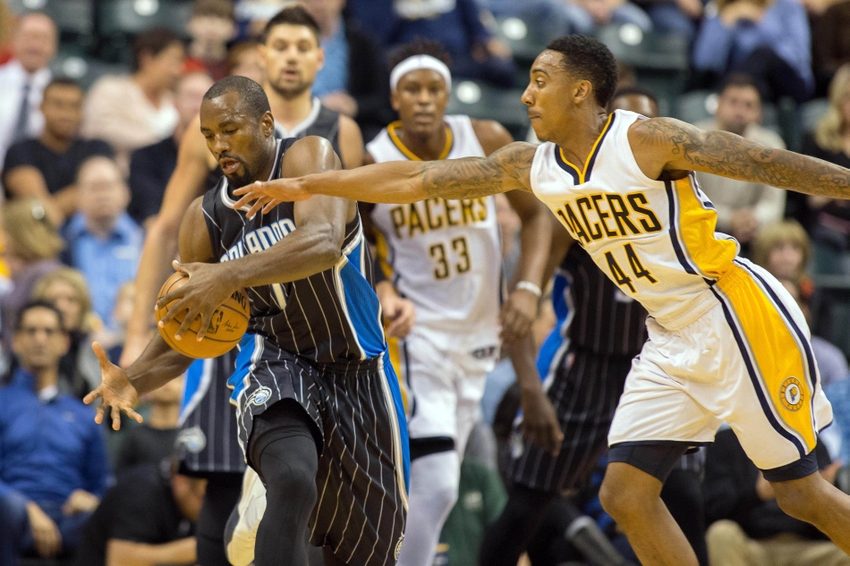 The Orlando Magic were blown off the court in the second half in Indiana against the Indiana Pacers. And most of the team struggled severely.
VS.
| | | | | | |
| --- | --- | --- | --- | --- | --- |
| | 1 | 2 | 3 | 4 | T |
| Magic | 19 | 18 | 20 | 12 | 69 |
| Pacers | 16 | 25 | 30 | 17 | 88 |
The Orlando Magic came into Indiana right after an emotional win in Oklahoma City. They played about as well as most would expect on the second night of a back to back on the road against a team with playoff hopes desperate to turn their fortune around.
The Magic hung in with the Pacers for the first half. But soon after the third quarter began, the Pacers gained momentum and never looked back, making the game out of reach for the Magic pretty early in the fourth quarter.
Nikola
Vucevic
C,
Orlando Magic
D
Nikola Vucevic
was off right from the start, and never turned it around. The Magic tried going to Vucevic early and never could get him established.
He shot 1 for 10 from the field for two points and finished with a team worst -19 plus-minus rating. He did not provide much rim protection either, so overall did not help this team. The Pacers were able to attack the paint easily, and Vucevic did not do a great job of stopping penetration.
A positive is he did have 12 rebounds. But, hopefully, he will contribute more going forward or else this team is in trouble. Vucevic shot 2 for 10 against Oklahoma City too. His role has been limited the past two games. Vucevic's defense has not improved significantly, and if his offense is not strong, he will not play many minutes for this team, as Coach Vogel has shown the past two games.
Jeff
Green
F,
Orlando Magic
D
Jeff Green
did not contribute much either. And it leaves questions whether he will be able to keep his starting spot going forward. He shot 1 for 4 from the field for three points and a -17 plus-minus.
His shot was off, and he did not have much of a role offensively. He was brought in to be a shot creator, and he did not succeed in this role at all tonight. Coach Frank Vogel limited his minutes because if Green is not dominating the offense and creating shots when his teammates are off, then he does not bring much else to the team.
He did not contribute on either side, and he was overall fairly detrimental to the team. He was put into the starting the lineup the past few games to give the team a scoring boost and veteran leadership. He has not fulfilled Vogel's expectations. He will need to contribute more going forward or he will lose his starting spot.
Bismack
Biyombo
C,
Orlando Magic
B+
Bismack Biyombo
was probably the biggest bright spot for the team tonight. He played a solid game on both ends of the floor. He protected the rim well, racking up three blocks and deterring more. He grabbed nine rebounds, finished all of his inside shot opportunities and had nine points on 4-for-4 shooting.
He did not have a problem catching the ball, which has been a weakness of his in the past. Thus, when his teammates delivered him passes in the paint, he was able to finish strong, even putting in a baby hook shot.
He also set some solid screens to open up scoring opportunities for teammates. His screens give his teammates a little extra space to drive and a little extra time to find good passes, and this can continue to be a weapon going forward. Bis played a fairly strong game that will go unnoticed due to the blowout loss.
Indiana
Pacers
5-6,
9th East
B
The Indiana Pacers did not have a good game offensively, only shooting 38.9 percent from the field on a lot of contested shots. They did, however, put in a strong defensive performance, which is encouraging for a team trying to fix their 18th-ranked defense.
The Pacers had high expectations for this season, both from inside and from many media members. Some had them finishing as high as third in the Eastern Conference, but they have started off pretty slow, coming into the game with a 4-6 record. Although the Magic were not at full strength energy wise, this win was an important one to get them back on track towards their goal of making the playoffs. It was a good win against another team that is hoping to be a part of that bunch fighting for a bottom seed in the East playoffs.
This was somewhat encouraging for Indiana, coming out with a comfortable win without getting their offense going.
More from Orlando Magic Daily
This article originally appeared on