Orlando Magic Grades: Minnesota Timberwolves 123, Orlando Magic 107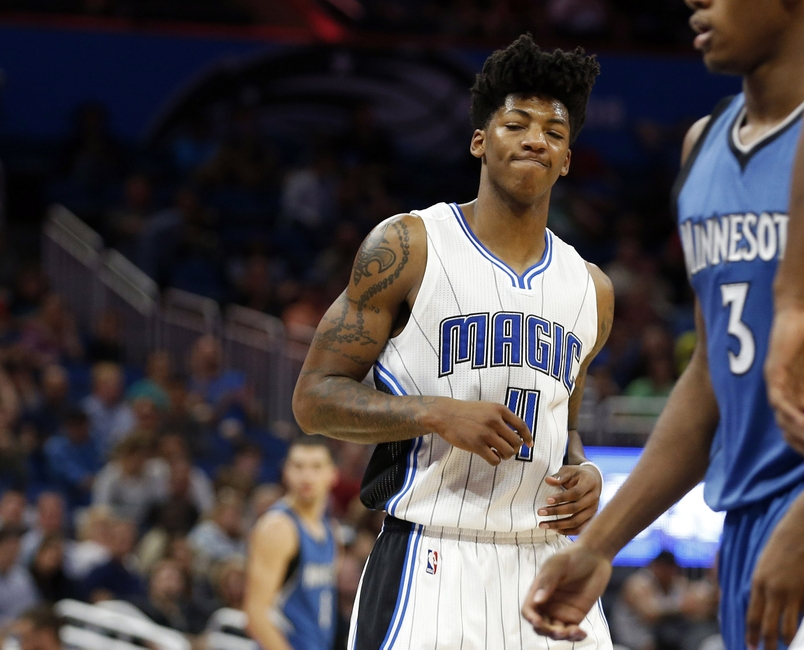 The Minnesota Timberwolves dominated from the beginning, carving up the Orlando Magic's defense to a 30-point lead. The rest of the game was moot.
VS.
| | | | | | |
| --- | --- | --- | --- | --- | --- |
| | 1 | 2 | 3 | 4 | T |
| Timberwolves | 39 | 35 | 23 | 26 | 123 |
| Magic | 17 | 30 | 30 | 30 | 107 |
The game was over quickly after it began. And not in the way the Orlando Magic expected or wanted coming off Monday's disappointing game where players were admitting their own lapses in effort.
The Minnesota Timberwolves took it to the Magic from the opening tip in a 123-107 victory at the Amway Center on Wednesday. They opened as much as a 30-point lead, making the Magic defense look like mincemeat. The Wolves attacked the basket at will and collapsed the defense enough to free up for 3-pointers. They had nine 3-pointers in the first half and finished with 13 in the game on 23 attempts.
Minnesota ended up shooting 51.7 percent for the game. Orlando? The Magic struggled on offense and continued to do so Wednesday, shooting 43.9 percent in the first half, salvaged somewhat by a 30-point second quarter. Orlando was missing shots around the basket and could not build any momentum.
Even on made shots, Minnesota was rushing down court and beating them for dunks. After made baskets.
That is a sign of a lax effort and a team in need of a jump start of some kind.
"They've got some big-time shooters who got red hot," coach Frank Vogel said. "And we didn't stay with them well enough. They were more upset with their 1-5 start than we were with our loss to the Bulls the other night. They had more desperation and urgency and that was disappointing."
Orlando did not seem to snap back to some form of life until the second half when the deficit was already a ridiculously large amount. They cut it down to 11 points behind Nikola Vucevic's second-half resurgence, the Timberwolves cooling down and the Magic finally playing with a measure of intensity.
Winning the second half is only a small consolation, if any at all. Orlando got outplayed at home and run off the floor essentially.
No team should give up 39 points at home in the first quarter. The Magic again put themselves in a deep, deep hole that they could not dig themselves out of. They fought back, but the deed was done by halftime as boos began to rain down from the Amway Center.
"They had every right to boo us," Nikola Vucevic said. "We played terrible. We were down by a lot and weren't playing with enough effort and enough pride. They had the right to boo us."
Evan
Fournier
SG,
Orlando Magic
C-
Evan Fournier
has had a rough season on the defensive end. His struggles keeping his man in front of him has put extra stress on the defense behind him and has made things difficult for the Orlando Magic throughout. He had his offense as one of the few shooters as a saving grace and supposedly strong rim protectors behind him. But Fournier again got blown by and out flanked time and again.
Fournier had the primary responsibility on Zach LaVine. And LaVine went for 37 point on 7-for-9 shooting from beyond the arc. His shooting changed the game and the Magic did nothing to knock him off rhythm or stop him at all. Not all of it falls on Fournier. But LaVine went off and Fournier was largely a bit too far to stop him from getting into rhythm.
And he could not make up for it on offense. Fournier scored 13 points on 4-for-11 shooting. During the Magic's second-half comeback, Fournier was good for a few 3-pointers. He has an important role there as one of the Magic's few shooters. But Fournier was not efficient and not aggressive enough to make a difference for the Magic.
Nikola
Vucevic
C,
Orlando Magic
B
Nikola Vucevic was one of the few bright spots for the Orlando Magic in Wednesday's game, ending with 24 points and 14 rebounds on 11-for-19 shooting. He was active around the basket, engaged and aggressive in his pick and rolls and post ups and in good defensive position for most of the night (
Karl-Anthony Towns
did score 20 points and grab 11 rebounds however).
The Orlando Magic's third-quarter comeback and offensive efficiency throughout the second half was largely because they kept feeding the ball to Vucevic and letting him direct the team. Orlando played through him and it worked. Vucevic scored 16 points on 7-for-11 shooting and 11 rebounds, including five offensive rebounds.
On a team where the Magic were lacking effort much of the night, Vucevic's energy was extremely noticeable. And it was effective in turning the tide some and giving the Magic something positive to take from the game.
Aaron
Gordon
F,
Orlando Magic
C
Aaron Gordon
does one thing really well at the 3. He is an incredible on-ball defender. And despite
Andrew Wiggins
scoring 29 points on 10-for-18 shooting with six assists, it seemed every time Gordon could get his feet set and guard him one on one, Wiggins was going nowhere. Gordon has the makings of being a truly special defensive player.
The rest of his game though remains a bit rocky. He does sometimes lose his man when he is off the ball and working in help side defense. He got caught on a couple closeouts. And Gordon is certainly late on weakside rotations at the basket. His on-ball defense is superb, but his technique and angles off the ball are still something the young player needs to learn.
And Gordon's offense seems to be hitting a small rut. He scored seven points on 2-for-9 shooting, missing all three of his 3-pointers. He was the only Magic starter not to reach double figures. Teams continue to let Gordon shoot and they have no reason to stop.
Elfrid
Payton
PG,
Orlando Magic
B-
Elfrid Payton
seemed to get himself back on track some in Tuesday's game after a couple of uneven efforts offensively. He scored 18 points on 8-for-14 shooting and added seven assists.
Payton was able to get out on the attack and get to the basket. In transition he remains an incredibly gifted finisher in transition. The Magic actually won fast break points and had 10 of their 15 in the second half.
Payton is getting better at figuring out when to shoot his jumper and when to pull back. And more importantly he is getting into his attack sooner. Payton was about the only good thing offensively in the first half.
Minnesota
Timberwolves
2-5,
13th Western Confernce
A
The Minnesota Timberwolves were 1-5 entering the game. They have struggled on defense despite their high-scoring trio of players. And they have given away games because of their youth. They traveled overnight after losing in Brooklyn last night.
Yet Minnesota looked to be the fresher team and looked to be the more focused and dominant team for the entire game. The Magic got outplayed bad. The Timberwolves wanted this one more.
And they played a very strong game. They made 13 of 23 3-pointers, making tough ones and playing with confidence. The Magic did little to knock them off their game or disrupt their offense.
When three players score 20 points rather easily and dominate all facets of the game, it goes without saying they played well. Towns had 20 points and 11 rebounds. Wiggins had 29 points and six assists. And LaVine scored 37 points with seven 3-pointers.
The only knock for Minnesota was allowing Orlando to score 90 points in the final three quarters combined. But that is a small consolation considering the enormous lead they built by blitzing the Magic in the first quarter.
More from Orlando Magic Daily
This article originally appeared on