Orlando Magic Grades: Chicago Bulls 112, Orlando Magic 80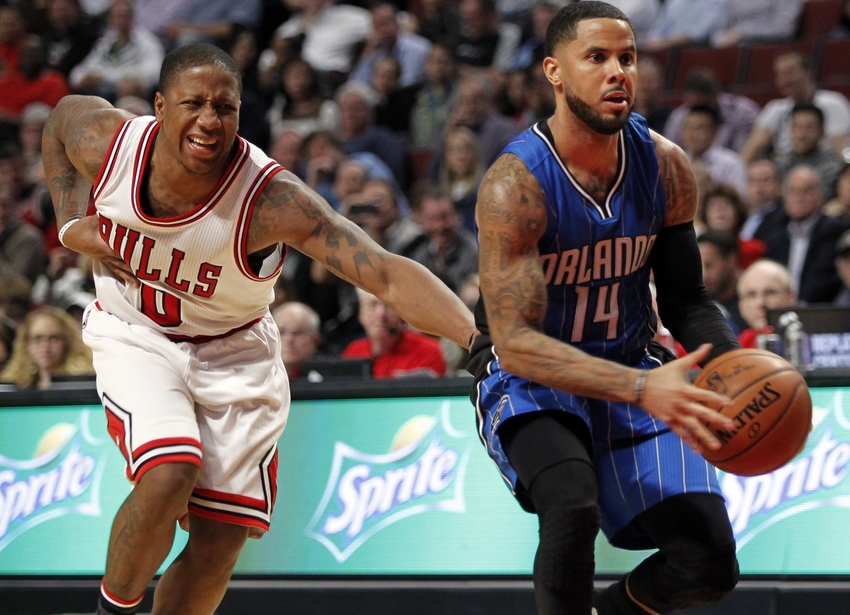 The Orlando Magic laid an egg against the Chicago Bulls. Their offensive and defensive execution were not strong at all and it was another puzzling game.
VS.
| | | | | | |
| --- | --- | --- | --- | --- | --- |
| | 1 | 2 | 3 | 4 | T |
| Magic | 24 | 28 | 11 | 17 | 80 |
| Bulls | 37 | 24 | 27 | 24 | 112 |
The Orlando Magic had been living on the edge it seems with their first three wins. They had to fight back in each of them, putting together killer fourth quarters to eke out and hold onto the win. They always found that extra gear to stay in the game.
Of course, that was what happened in the first three wins. In the first three games — all losses — the Magic could not find that extra gear. Their opponents overwhelmed them when they struggled to make shots and took advantage of their frustration for fast-break points.
When the Magic lose, they are losing spectacularly.
Orlando cut a 17-point lead to five points early in the third quarter. It looked like that fight would be there and the Magic would again grit their way to a victory (or at least a close game). Then the lids sealed shut on the basket and the Magic could not figure out how to get things going offensively.
The defense was a mess from the beginning of the game. The Magic were digging themselves deeper into the hole with their own poor decisions and bad shot making.
The Chicago Bulls won 112-80 at United Center, holding the Magic to 26 points in the second half. This is the Orlando Magic team everyone feared would show up. And perhaps it will show up from time to time throughout the season. The reality is this team is not very good offensively.
And that offense still can affect their defense and defensive intensity. Of course, the Magic never really had that. Needing some strong offense to keep pace early before the Bulls pulled fully and finally ahead.
Chicago was the more aggressive, assertive and physical team on both ends of the floor. And it showed as they dominated throughout the game. The Magic never had a chance so long as their defense remained as disconnected and porous as it was tonight.
Serge
Ibaka
PF,
Orlando Magic
C-
There are moments when
Serge Ibaka
really looks like the player the Orlando Magic need. He had a clean block on
Taj Gibson
that only he and maybe a few other players could pull off. He can be a terror around the basket when he is in position and disciplined on pump fakes.
Those times seem few and far between. Ibaka is not the last line of defense the Magic need right now. Oftentimes, he is not even on the last line of defense. Ibaka has looked a step slow sliding into help on rotations. Either that or the effort is not there to cover for his teammates and defend the rim. Ibaka's defensive problems continue to be a big issue for him and the Magic.
Ibaka had his moments. He scored seven points and grabbed seven rebounds in the game. He showed some activity around the basket on offense and hit a few jumpers.
But Ibaka's defense continues to stick out like a sore thumb. And frustratingly so.
Aaron
Gordon
SF,
Orlando Magic
B
Aaron Gordon
is still figuring some things out offensively. His fit at the 3 is still a major question mark. But Gordon is going to figure it out it seems. Or at least he is going to continue improving at some of these small forward skills for when he inevitably moves back to the power forward position.
Gordon led the team with 15 points on 6-for-15 shooting. He looks more and more comfortable taking shots off the dribble and even driving to the basket. Gordon is making some things work. It is not quite efficient yet. But slowly teams will respect his shooting more and more.
And then there is his defense. Gordon still sometimes leaves his feet on pump fakes. Those will continue to decrease with experience. Still there is the foundation for one of the best defenders in the league. He had several possessions defending Jimmy Butler where he locked him down. And those possessions are becoming more frequent.
On a night when few players played defense, Gordon was the one guy who looked like he was ready to commit on that end.
D.J.
Augustin
PG,
Orlando Magic
C-
Throughout the Orlando Magic's three-game win streak, the second unit has proven itself to be a major catalyst.
Bismack Biyombo
's defense would spark the team's offense and
D.J. Augustin
's attacks and shooting would bring the Magic back into games and energize the team.
The exact opposite happened in the second quarter of Monday's game. The Magic's second unit was lifeless, unable to defend and unable to generate offense. Augustin was constantly getting blown up on screen and rolls and unable to initiate the offense. He was turning it over and the Magic could never find their rhythm.
Augustin scored six points on 2-for-10 shooting. He was not credited with any turnovers, but his poor play at point guard hurt the Magic as they fell further and further behind.
Nikola
Vucevic
C,
Orlando Magic
B-
Nikola Vucevic
came out in the first quarter like gangbusters, scoring 10 points early on. He was good on his jumper. He got into the lane for post ups. The Orlando Magic were giving him the ball and feeding him time and time again.
Vucevic finished the game with 11 points on 5-for-8 shooting. All of his production came in the first quarter. Defensively he contested Robin Lopez, but often gave up deep position. He did about all he could in help side.
But Vucevic has to demand the ball. When Orlando is struggling on offense, Vucevic has to be the guy they turn to for buckets. He is efficient in the post and a solid player in screen and rolls. Yet the Magic did not go to him. At all. He was invisible after his big first quarter
Vucevic is an incredibly important player for this Magic team. They need him to be a presence. He was in the first quarter. He was not thr rest of the game.
Chicago
Bulls
4-3,
7th Eastern Conference
A
The Chicago Bulls started the game on fire offensively. This was a team determined to make up for a bad performance Saturday night against the Indiana Pacers. They did that and more.
They did not play defense well to start the game, but they were the ones to buckle down. The team with one of the worst defensive ratings in this early season shut down the Orlando Magic. And they did all this while only making three 3-pointers.
The Bulls perfectly played the Magic defensively to create fast break opportunities. They did not have to be efficient, they just had to be patient and aggressive. Orlando wilted, struggling to keep Chicago drivers in front of them and struggling to keep pace in what turned into a track meet. That is the kind of game the Magic are not likely to win.
More from Orlando Magic Daily
This article originally appeared on