Orlando Magic dissect Tuesday's disaster, vow to change focus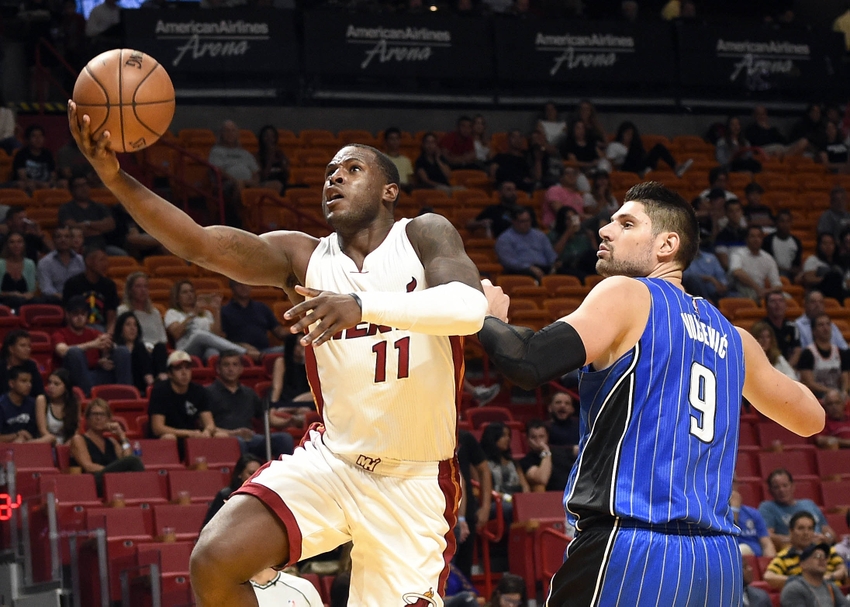 The Orlando Magic had a difficult and frustrating performance Tuesday against the Miami heat. With the preseason closing, the Magic are focused on fixing it
Frank Vogel has never hidden his team from expectations — both internal and external. He walked onto the court at Saturday's open practice virtually promising the Playoffs to a fan base hungry for success.
He was not going to hold any punches back dissecting his team's disheartening, disappointing and, frankly, embarrassing performance in Tuesday's 107-77 loss to the Miami Heat.
The Orlando Magic were not going to skip their film session before Wednesday's practice. They were going to watch every minute of that performance and make sure they know everything that went wrong.
"Oh no, we watched it," Vogel said. "You've got to get better when you perform like that. That's not an acceptable way for us to play. We watched it and hopefully learned from it today."
There will continue to be a development process for the team. But the chances to get that valuable, low-pressure practice of preseason games are quickly running out. Vogel said he will treat Thursday's preseason finale against the New Orleans Pelicans as something of a dress rehearsal. He will approach it like a regular season game with normal rotations.
That was not necessarily the case against the Heat on Tuesday.
Part of the reason the Heat found success is Vogel stuck to his preset rotation even as the Heat downsized. His adherence to a two-big lineup against the smaller Heat group certainly put his team at a disadvantage. The Magic just were not going to deviate from the groups they wanted to see together.
That is expected in the preseason where coaches are not trying to make adjustments to opponents but keep the focus on them and what they want to do. In a regular season game, perhaps the Magic would have gone with smaller lineups.
But what was unacceptable was the overall effort from the Magic. It was a game that saw the team stagnate on offense and give little resistance on defense.
"Coach is right," Serge Ibaka said. "We were soft last night. That's not us. That's not how we work here. We work hard every day here. We give everything to play not soft like we did last night. We have to pick it up. The season will start soon. We have to be ready."
It is a harsh assessment, but hard to argue with the way the Heat got any shot they wanted and were flowing with confidence.
The results of individual preseason games are not so meaningful. The Magic still might have lost that game by a lot. But effort is certainly something the team can control.
Vogel said it is OK to make physical mistakes and aggression mistakes at this point. The Magic are still making their defense second nature. There is still a lot of thinking going on  that causes them to be a step late.
But Orlando has to make sure something like that effort does not happen again.
"We know the way we played last night is not how we're going to play," Ibaka said. "But we have to change our mindset. It starts from here in practice and from watching the film. It's not about watching the film, it's about changing our mindset. Are we going to be that type of team?"
Next Magic Game
Full Schedule
10/20

New Orleans Pelicans
Good teams, as Serge Ibaka put it, come back to practice the next day and put in a good practice and then a good game the next time out. They do not get knocked down and stay down. They bounce back quickly.
The Magic are concerned with how this preseason has gone — the defense has notably struggled with consistency and has not had a great preseason statistically — but that concern means the team cares. Fixing those concerns before the regular season begins next week is the big task ahead of the Magic.
That starts with putting lackadaisical efforts like Tuesday's game well behind them. And making those a thing of the past.
"We all have high expectations for this team," Vogel said. "This is not going to be one of those years hopefully where we have many performances like last night. We're not always going to play well. My thing is we want to have that group where even when our shots aren't falling or the execution offensively isn't there, our defense can carry us. Our defense was just as bad last night."
Ibaka said it may take a while for the team to get everything on the same page, but mindset and toughness should always be there. That was the big message in Wednesday's practice following Tuesday's disastrous effort.
As the preseason comes to a close, Vogel said the team does things that encourage him, but also frustrate him. The perimeter defense is still lagging behind the interior defense for the Magic. Orlando still needs to sharpen that up.
The Magic still have plenty of belief. Vogel said the team is not going to overreact or underreact to Tuesday's game. The team got back to work Wednesday to correct those mistakes.
"It's more of a learning process," Bismack Biyombo said. "There were mistakes that were made defensively and offensively. I think we also worry more about how things are going for us offensively more than defensively. And we are a defensive team. We have to have that mindset each and every night to be successful."
More from Orlando Magic Daily
This article originally appeared on