Orlando Magic deconstruct another disappointing effort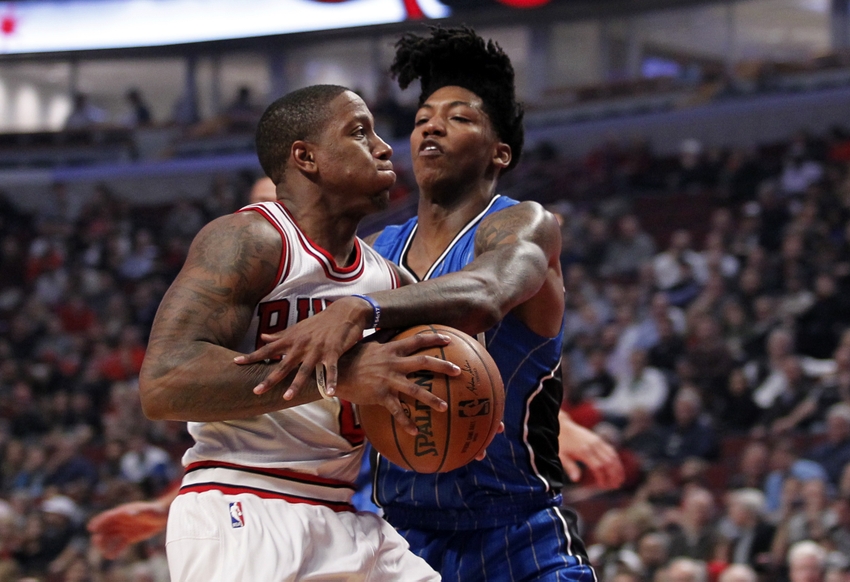 The Orlando Magic lost a disappointing game where they fell behind and their defense betrayed them. The questions they are asking are some very basic ones.
The scene has been fairly familiar — unfortunately familiar — in the early part of the season. They did it following the penultimate preseason game against the Miami Heat. Again following a blowout loss to the Detroit Pistons. And then again Tuesday against the Chicago Bulls.
Another blowout loss to diagnose. Another day spent looking for answers. And another day trying to figure out why this identity for this team will not stick cleanly.
The film sessions were the same breakdown. Coach Frank Vogel's approach and the way he breaks down the game in front of the team will not change. He has his process and his approach.
But something in the way the team is playing clearly needs to change. It could end up being a lineup shift. Or it could end up being something much simpler than that.
As the team broke down the tape of another blowout loss one thing became clear. Something that is more simple than being in the right spot or knowing where someone is going to be on defense. The team's effort was not there.
"Lack of effort," Aaron Gordon said of the commonalities of these blowout losses. "Execution, but it's just effort. Being mindful and being aware of what we're trying to get accomplished out there as a collective. It all boils down to effort and how bad we want it."
Aaron Gordon said many of the lapses come from lacking physicality, intensity and that bugaboo, a lack of trust in each other. Everything kind of falls like dominos to send the Magic into a tailspin. And when the offense struggles things begin to collapse defensively.
This is something that has repeated itself throughout the early part of the season. The team is struggling to string together a consistent 48 minutes. And the same problems pop up.
Vogel said the list is long of things the Magic needed to work on coming out of Monday's game. Orlando was slow in transition to react to turnovers, allowing Bulls players to run past them and get ahead in the break. They were struggling to find their man and get on the same page defensively.
The issue Monday, according to players, was simply failing to succeed in their assignments. The Bulls beat the Magic on one-on-one plays and collapsing the defense. The team's coverages were fine, but there were far too many, basic individual breakdowns.
This is not a problem the coach can solve. Gordon's analysis that the problems were about effort. That is not a word anyone wants to hear from any team at any point in the NBA. The Magic are struggling with something very basic.
"It's just effort and pride like he said in film," Nikola Vucevic said. "We're at a level where he can't teach us how to stop our guy one on one. Those are effort things that you have to put your mind that you want to do it and that is how it is. Those guys are tough to guard. You can't stop them, but you can limit them."
Orlando has faced another similar problem. The team has allowed offensive mistakes to bleed into their defense. Whether that is taking bad shots that turn into long rebounds and transition attempts or allowing strings of missed shots to affect their effort on the defensive end.
Both the coaching staff and players have recognized this problem. It is all part of that same coming together and building chemistry that has dominated storylines throughout the early part of the season.
"I feel like we still all need to get on the same page," Gordon said. "We're learning each other. And learning each other, we are on different pages. Effort can mean one thing to somebody and mean a completely different thing to someone else .Effort to me is being fully locked in the moment and being present in this play and giving all for your team and sacrificing."
Mario Hezonja's early pro basketball experiences slowing his growth
The Magic are still figuring out exactly what it takes to play the way they know they must to be successful. Vogel said the Magic's three wins were not the best games from the Magic, but they found a way. And he is not going to overreact to one loss.
Neither will the team. They just have to get back to work and try to fix things before the next game — Wednesday against the Minnesota Timberwolves.
The Magic went back to practice Tuesday after reviewing the tape and drilled what went wrong schematically. Vogel said players will typically do what the coaches drill in practice. It seems the Magic may be in line to have a better defensive effort.
"You never want to get too high when you are winning, and you never want to get too low when you are losing," Bismack Biyombo said. "The season is going to be like that. We're not going to be perfect, but we've got to find a way to be consistent with how we play. Obviously playing Chicago wasn't our best. But I think a lot of guys learned from it. We go back and think about it and we correct it."
Bismack Biyombo said it is good the Magic are learning these lessons and addressing these issues now at the beginning of the season. Better now than later in the season.
But there is also no time like the present either. And effort is a very basic thing that is assumed, more than expected. The Magic are still fitting those puzzle pieces together.
Facing another blowout is another sign of how far the team still has to go.
More from Orlando Magic Daily
This article originally appeared on