Orlando Magic Daily Roundtable: Meeting first quarter expectations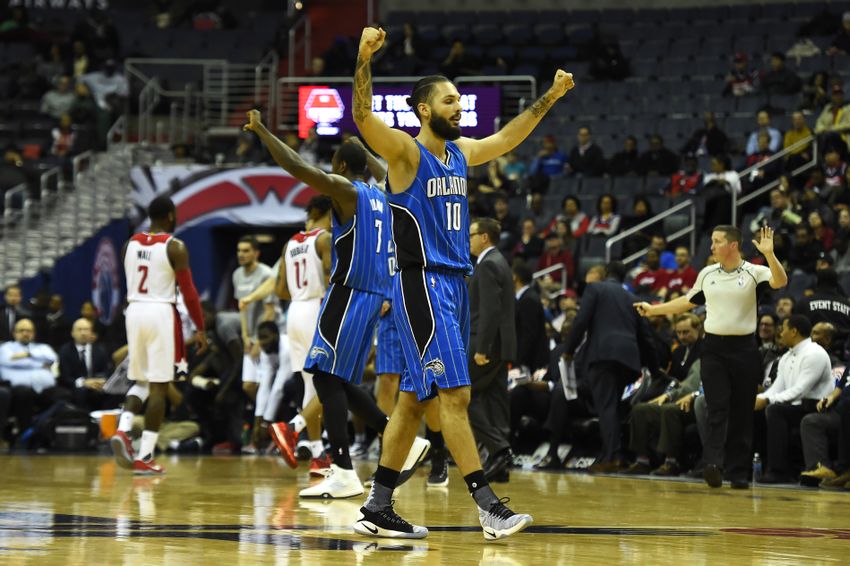 The Orlando Magic have completed the first big road trip of the season and the first quarter. Things are looking up. But plenty of questions remain.
The Orlando Magic's season has passed its first milestone. The team has finished the first quarter of the season and finished its first long road trip.
Getting through that at 4-1 and sitting just past the 20-game mark at fourth in the league in defensive rating. Orlando has not only won some impressive victories but have formed a consistent and strong identity. For the first time in five years, the Magic are good at something compared to other teams in the league.
Orlando has plenty of questions. The team is still 10-12 and outside the Playoff race — still a game and a half out of the final Playoff spot, and it is still too early to do any standings watching. The important thing is the Magic are not out of the race at all. And they can still develop and improve in the course of the rest of the season.
Despite the positive outlook toward the rest of the season, there are still problems bubbling under the surface. Questions that still need answering. Particularly on the offensive end.
And much of the Magic's preseason questions are still left unanswered. The offense is still a huge question mark. No true star has emerged for the team. Aaron Gordon is still stuck in neutral at small forward.
Frank Vogel has already had to shuffle the lineup a few times to find balance in this somewhat mismatched roster. Orlando still has a lot to work on as this season begins its second quarter.
There is a bit more confidence about the Magic's future at this point than there was two weeks ago. But as the Magic showed in the last month, they are capable of playing superb defense and playing as one of the top teams in the league and are capable of looking hapless and getting blown out. They have often looked like both within the span of a week.
That is where the Magic are at this point of the season. Optimistic, growing, but still facing some questions.
The Orlando Magic Daily staff got together to discuss the season's first quarter.
Have the Orlando Magic met your expectations for the first quarter of the season? Are they on track to meet them?
David Iwanowski (@davidiwan1): To be frank, they have not met my expectations at all. The team has not had a gauntlet of a schedule at all and has looked lost at times. The team is on pace for about their over/under prediction for wins, but that would not be enough to make the playoffs in a season where that was the clear goal. If they do not turn it around, I am not sure where the team goes from here.
Muhammed Jumani (@MuMuJumani): In my opinion, yes they have. They have met my expectations, not exceeded them, however. They had a completely new roster, bringing in nine players and a new head coach. They are lucky to be 9-12. Before the season began, I thought it would take the Magic about 25-30 games to get to know Frank Vogel's system well enough to gut out some wins. The first 5-7 games were a disaster. Magic were in the lower part of the league in defense. It is a good sign they are figuring it out.
Zach Palmer (@FmrTankCommandr): From a record standpoint they are pretty close to what I expected before the season. But from a results-on-the-court perspective, they have absolutely underwhelmed me. You knew it was going to be tough to incorporate this many new players so I expected a slow start but the offense had been on pace to be one of the worst offenses in NBA history. Just about every single player on the team was shooting a career low and the offense itself was stagnant and cramped. The exact opposite of how winning teams player in the current NBA climate.
Philip Rossman-Reich (@omagicdaily): Yes and no. I figured the Orlando Magic would have some struggles at the beginning coming together. The team would need to build an identity — something that had not happened in four years with virtually the same roster, let alone with more than half the roster turning over. But things have come together slowly. Frank Vogel has established a defensive identity. The team is on track for that top-10 defense everyone felt the team needed. But that was also under the assumption the team would be at least near the league average offensively. Being one of the worst offenses in the league? I knew this team would be bad there, but not this bad. And that part has to change dramatically.
What is the biggest strength for the Orlando Magic through 20-plus games?
Iwanowski: The defense has certainly turned it around, and I have been impressed lately. They are third in defensive rating, only 0.3 points per possession behind the No. 2 Atlanta Hawks. That comes from having the elite interior defense we had hoped they would build around. Elfrid Payton, Bismack Biyombo and Nikola Vucevic all have positive defensive real plus-minus ratings and Serge Ibaka and Aaron Gordon are approaching that range, which shows the balance in defensive abilities. If the Magic keep pressuring and contesting well at the perimeter and deterring shots inside, they will win more and more of these grind fests and may be able to pull out enough wins to make the playoffs.
Jumani: Defense. In the last 3.5 weeks they have a defensive net rating of 95.8, which sets them at the best in the league and it is not even close. The second-best defensive net rating is held by the Utah Jazz at 100.5, that shows us how great Orlando has been since figuring out Frank Vogel's defensive schemes. With wins over the San Antonio Spurs and Detroit Pistons, it shows defense will get the Magic wins against tough teams. Vogel has improved Nikola Vucevic, who had a bad reputation on the defensive end his whole career, but he has looked stellar thus far this season.
Palmer: The defense has unquestionably been the best part of Orlando's team thus far and there is no reason it should drop off. Early on the Magic struggled defensively and a lot of that seemed to be on Serge Ibaka's shoulders. Well, Ibaka has picked it up in an unbelievable way. And the Magic have gone with him. Nikola Vucevic deserves an honorable mention here, I give the guy a bunch of flak but coming off the bench and showing a level of focus defensively we have not seen out of him is a huge thing for he and the team.
Rossman-Reich: The defense, and specifically the rim protection and interior defense. That was the strength everyone expected for the Orlando Magic this season. But it has really become a strength. Serge Ibaka, Bismack Biyombo and Nikola Vucevic really do a good job covering for each other when someone gets beat. And they do a fantastic job doing just that. There is a reason they have risen to the top five in defensive rating. The interior defense is a big part of it.
What areas do the Orlando Magic need to address and improve upon in the second quarter of the season?
Iwanowski: It is not enough just to say the Orlando Magic need to improve their offense, which is 0.3 points per possession away from being last in the NBA. They need to move the ball as a team more and generate more possessions that take advantage of their balance and athleticism. They are 25th in the league in free throw attempts and pace and bad at shooting overall. I would like to see them try to run more and move off the ball more to try to get cheap buckets, which is what an offensively challenged team can do. Isolations are not effective plays for any of these perimeter players on the team. They clearly do not have the personnel to be an elite offensive team, but if they can go from awful to mediocre it would probably be enough to make the playoffs.
Jumani: Magic need to improve their offensive pace. They are 25th in the league in that category, and it has been seen a few times this season the Magic are best when they play fast. They have the young bodies to do that, but it is Frank Vogel's preference they play slow. The Magic are not a team, where they can isolate and rely on one player to score 25-30 points on a nightly basis. They need points from every player and it is easy to score if you play faster offense, which leads to more field goal attempts per game, which is needed on an inefficient offensive team like the Magic.
Palmer: I think it has already started a bit but the Magic need to change how their offense is being run. Lately, we have seen Serge Ibaka being used a lot less in the post and more as a stretch forward and it has done a lot for Orlando's spacing. Additionally, the Magic should look to push the tempo more. With D.J. Augustin and Elfrid Payton as your point guards, there is absolutely no reason that the Magic should be walking the ball up the court like they have.
Rossman-Reich: They have to find a way to create some consistent offense in the half court. Yes, it would be nice if they could get out in transition more and speed up the pace of play. But really, the Magic need to do a better job creating offense in the halfcourt. That means moving the ball around and creating secondary options. Right now the offense is very simple and when things break down, the Magic have nowhere else to go.
What surprised you about the Orlando Magic in the first quarter of the season?
Iwanowski: The Magic have joined the stretch-5 club! The team knew that if they were going to score 90 points consistently, they would have to get more range out of some of their bigs. Although Aaron Gordon has not come along there, Nikola Vucevic and Serge Ibaka are both shooting 40 percent from three on the season. Vucevic seems to be looking for that shot more often than he ever has in his Magic career, following the trend Marc Gasol and Brook Lopez set. If that shot remains consistently in the 40s, the Magic may have just enough spacing for their slashers to thrive, and that could help this offense rise toward the bad level rather than sink at the league-worst range.
Jumani: The one thing that surprised me was that Serge Ibaka is shooting 40-plus percent from the 3-point line. I thought his numbers would dip this year because teams would not leave him open at times like last season because they were worried about Kevin Durant or Russell Westbrook. He has had a bigger offensive load this season and he has done a terrific job of handling that role. At first, he really struggled and the Orlando Magic looked like fools by trading Victor Oladipo. But, if Ibaka signs an extension with the Magic, they will clearly be winners of that shocking Oladipo-Ibaka trade on draft night that upset many Magic fans.
Palmer: As of late? The level of defensive improvement from Nikola Vucevic. He is no Bismack Biyombo when it comes to rim protection but Vucevic is now typically in the right place at the right time. Vucevic is now contesting shots he normally just looked at and seems less confused about his role on that end. He may not be the best pick and roll big on defense but he's certainly no longer an absolute negative on that end.
Rossman-Reich: I suspected Serge Ibaka could develop into a star-adjacent player when given more time. And perhaps it took longer for him to get there than I thought he would. But Ibaka has indeed gotten there. He is making shots at an incredible clip. He is popping well to make his jumpers. His post-ups are down and he is finding more effective ways to score. More importantly, he has turned things around defensively and become like he was earlier in his career defensively. All this with an expanded offensive role. Ibaka is starting to look like the player the Magic wanted when they traded for him.
What disappointed you about the Orlando Magic in the first quarter of the season?
Iwanowski: The lack of patience and development of their young assets. This stems from the summer, but I wanted to see the remaining young guys be put in a position that could help them develop, and so far that has not occurred. The biggest question is with Mario Hezonja. I get he has not impressed most of the time since he was drafted, but I would still like to see him have a role on the team, specifically when the alternative is a forward who angered all of his former teams and fans with disappointing play. Aaron Gordon and Elfrid Payton had also been pulled out of their starting roles at points in the season, as neither work well playing in a slow style based around big men. It is possible the three recent top-10 picks will not develop in a Magic uniform, and I fear the potential they trade one of those guys (Mario Hezonja probably) to a favorable situation and watch them break out (see Maurice Harkless).
Jumani: The Orlando Magic have not shown the belief in their young players. Mario Hezonja has been shoved to the bench for good, it looks like. Now Hezonja is going to have even a tougher time with Jodie Meeks back from offseason surgery. Hezonja has proven he can deliver big performances when given a chance. Last season, he had 21 points against the Chicago Bulls on March 2 when he started the game due to the injury to Evan Fournier. The Magic have to let him make mistakes and learn from them. That is how young players develop, as opposed to being afraid to make mistakes. This has caused Hezonja's confidence to go down, he often second guesses himself during games and passes up a shot that he is capable of making. As David mentioned, I also fear Hezonja will break out if the Magic trade him to a team that believes in him more than the Magic. They also moved both Aaron Gordon and Elfrid Payton to the bench, which was disappointing to see.
Palmer: I wrote an entire article about it but I do not like the way that the Magic have handled Mario Hezonja. The leash he got was extremely short and based on how the rotations are playing out I do not see him entering the rotation barring a couple of injuries. Mario Hezonja is young, but I am not sure how he is going to work out the kinks in his game without experiencing the NBA speed without getting the playing time to gauge it. Hopefully the Magic hang onto Hezonja, though I am worried after Josh Robbins of the Orlando Sentinel noted the Magic would be looking for a scorer in the trade market. I still believe Hezonja is an extremely valuable piece to this team's future and trading him now while his stock is low would be a huge miscalculation.
Rossman-Reich: It would have to be Aaron Gordon for me. I admittedly had high expectations for Gordon to take a leap offensively. Even if it was just a small leap and his fit at the 3 still looked incomplete, I expected Gordon to be a lot more effective offensively. Maybe that is still coming as he gets comfortable. The Magic are using him less in pick and rolls now and trying to get him offensive opportunities where he could be successful now. Gordon wants to attack off the dribble and that is still not his strong suit. His offense has seemingly stagnated.
This article originally appeared on