Orlando Magic Daily Roundtable: Lineups and rotations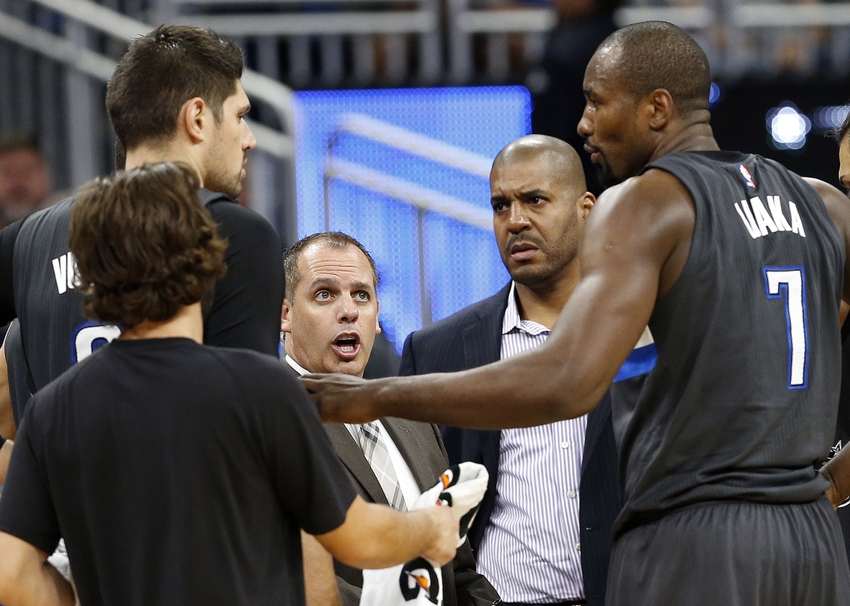 The Orlando Magic have faced lineup and rotation questions so far this season. The Orlando Magic Daily staff too kits turn trying to answer these questions.
The Orlando Magic did not waste time creating controversy and stirring debate among its fan base.
Forgetting the team's inconsistent 6-8 record so far and the fact the team still has to come together for this year, the Magic have induced various states of panic already.
Whether it be crushing defeats — and there have been a few; an anemic offense that ranks near the bottom of the league in every major category; or the change in pushing aside of some young players to paly veterans, the Magic have left plenty for fans to ponder on as they head toward Thanksgiving and the season's first big road trip.
The Magic are 6-8 but it does not feel that way. Statistics suggest they should have only four wins at this point. Orlando is still figuring out a lot of things still. And they have plenty of room to get better still.
Thanksgiving is a landmark on the calendar in that this is about the time teams begin to settle into who they are. There is enough of a sample size behind them that their identities are set. And the grind of the season is still ahead as teams find their pace for the marathon still to come.
And with the Magic implementing so much change already this season, there is a lot of second guesisng. We have spent a lot of time on Orlando Magic Daily discussing these changes.
There do not seem to be any clear answers. Not at least until the trade market picks up in December and the Magic can begin tinkering with personnel once again.
Orlando keeps marching on until then, trying to make the best with the roster it has.
That will not stop us from trying to break things down and where they stand right now. With the holiday coming up, the Orlando Magic Daily staff got together to answer some of the big questions facing the Magic.
Was moving Aaron Gordon out of the starting lineup the right move? What does this say about the team so far this season?
Philip Rossman-Reich (@omagicdaily): I think moving Aaron Gordon out of the starting lineup was a very bad decision. Gordon is still the best chance the Magic have for a superstar and, even while trying to win, they need to put him in positions that will challenge him and help him develop. Gordon has taken the "demotion" in stride and he has been a bit more effective with Damjan Rudez in the lineup with him. But that is more a clue of how the Magic should build their roster if they really want Gordon playing the 3. Gordon's demotion though symbolizes the team moving away from relying on their youth. And to me, that extreme short-term focus does not bode well for the franchise's future.
Muhammed Jumani (@MuMuJumani): In my opinion, moving Aaron Gordon out of the starting lineup was a bad idea, because the replacement, Jeff Green, had not been playing well prior to his move on to the starting lineup, and Aaron Gordon's season was shaping up to be a pretty decent season thus far. Gordon has the most potential of all the players on the Magic right now to become a superstar. His jumper is improving, his rebounding has always been good, his shot blocking has been better. It did not make sense to replace a young superstar in the making for a struggling vet.
Ryan Doyle (@RDoyle27): I hate it. Jeff Green has been bad. There is no two ways about it. Green has been mediocre on defense and has not done enough on the offensive end to make it worthwhile. Aaron Gordon needs those minutes. Gordon is the only hope the Magic have at a successful future. I love Gordon's defense and athletic ability. If the Magic give him the chance to truly develop, I could really see Gordon become a star. That will not happen if Green is in his way.
David Iwanowski (@davidiwan1): I do not like it, specifically because of who was put in at his position. Aaron Gordon has struggled offensively, but he is still the best perimeter defender on the team and was the only wing starter who could consistently guard other teams' scorers. Not only does Jeff Green not bring what Gordon does defensively, he has not been good offensively either. If the alternative is not clearly better, I would stick with the young guy who could turn into Orlando's franchise player.
Luka Jelcic (@lukajelcic19): I think Frank Vogel wants to give more minutes to the veterans as the team wants to win now. Having that in mind, I see no improvement having Jeff Green over Aaron Gordon in the starting lineup. I liked the Green signing in the offseason, but his contribution has been questionable so far. This change tells me the team is still searching for the its identity, and there may be more lineup changes.
Alvaro Grullon (@AlGrullonNBA):  I must admit at first I was excited about the lineup change. Something had to change with the starting lineup in order to get this team going. Jeff Green was expected to provide more outside shooting and more scoring to a starting lineup that was clearly lacking offense. Unfortunately, Green has not played to his potential during his time as a starter, which now makes matters even worse. I believe Frank Vogel felt a change was needed and he picked Aaron Gordon because he wanted to stretch out the floor a bit more and add one more shooting threat. It is not clear to me yet why he chose Gordon since he had been playing fairly well, especially on the defensive end. We will see how this ends up playing out in the upcoming games.
Zach Palmer (@FmrTankCommandr): Honestly, I thought moving Aaron Gordon out of the starting lineup was the right decision. Gordon was clearly struggling to find himself offensively at the small forward spot. And it looked like some of the guys in the starting lineup were really bothered by it. Now, Jeff Green is not an ideal replacement. In my eyes, Mario Hezonja makes a lot more sense, especially since it does not sacrifice development of the young guys. On the down side I am pretty disappointed the Magic are not allowing Gordon to come off the bench and play any power forward. He would absolutely shred most backup power forwards. I do not get the love affair with Damjan Rudez, but Frank Vogel is constantly touting his veterans.
If you had to make a lineup change, what change would you make?
Rossman-Reich: I would have replaced Elfrid Payton with D.J. Augustin. The Orlando Magic desperately need shooting. And Payton has been far too inconsistent — particularly on defense. The Magic are undoubtedly better when Payton plays well. But using Frank Vogel's logic of trying to add veteran balance to the roster, Augustin would have been my bet. In actuality, I think it is closer to time to start Bismack Biyombo over Nikola Vucevic. But the team's need for offense right now probably means Vucevic should remain a starter.
Jumani: The ideal situation would have been moving Nikola Vucevic to the bench for Bismack Biyombo. Vucevic's game really took off last year when he came off the bench for three games after suffering a groin injury that sidelined him for 13 games, Vucevic averaged 23.7 points on 68.1 percent shooting off the bench. He brings instant offense off the bench, which is exactly what the Orlando Magic need. Vucevic would be able to showcase his post presence against other team's reserves.
Doyle: Elfrid Payton to the bench. Sorry, how many other teams in the NBA have a shooting guard who cannot hit an outside jump shot? A handful? The Orlando Magic are the worst team in the league at putting the ball in the basket so moving Payton to the bench and allowing a sharpshooter like D.J. Augustin into the starting lineup would be a great idea. I know Nikola Vucevic has been struggling, but if Bismack Biyombo and Elfrid Payton are on the floor at the same time? Yikes.
Orlando Magic Grades: Milwaukee Bucks 93, Orlando Magic 89
Iwanowski: Everyone else has mentioned the moves I would make. Bismack Biyombo brings what modern centers should bring, and he could help solidify the team's defense. D.J. Augustin could help offensively and add shooting to a starting lineup that struggles offensively. If just one move, I would go with rewarding the big man for his consistent effort and toughness.
Jelcic: Definitely D.J. Augustin to start over Elfrid Payton. Augustin has proved to be one of the rare offensive weapons of the Orlando Magic so far. This team needs every bit of offense they can get and Augustin is a clear upgrade in that regard. It is nothing the Magic fans did not already know. Payton is a young player and needs to improve his shooting. He is shooting 21 percent from deep and other teams are using this.
Grullon: I would have replaced Elfrid Payton with D.J. Augustin. I have been preaching for this since preseason, but I do not think this change will happen any time soon. Payton is seen as the Magic's point guard of the future, so they will have to give him as many chances as possible. But Augustin has done a great job so far this season. And it seems like he is a much better fit with the starting lineup. Augustin moves the ball better and is more aggressive on the offensive end, which allows Evan Fournier, Serge Ibaka, Jeff Green and Nikola Vucevic to get more open looks. Payton has been wildly inconsistent on both ends of the floor this season, so based on his inconsistency I would have replaced him in the lineup and given Augustin a chance.
Palmer: I actually wrote an entire column on this so I will just say for more detailed thoughts check that out. The bare bones: Nikola Vucevic needs to sit in favor of Bismack Biyombo and Jeff Green needs to sit in favor of Mario Hezonja. The Magic need better balance in the starting lineup.
Can the Orlando Magic still turn the season around? What will they have to focus on to do so?
Rossman-Reich: Yes, the Orlando Magic can still turn the season around. The first 10 or so games have been a hiccup, but it is not like they are completely out of the Playoff race. At all. They are still right there despite their struggles. Granted, the Magic have played a relatively easy schedule. And the schedule remains light through the end of the month. The challenge gets tougher in December. The Magic have to focus their energies on defense. It is the key to unlocking some easy offense and the team plays its best when it is getting stops and able to set up transition and secondary transition opportunities. The season is far from lost. But the team has to straighten some things out.
Jumani: Of course, the season is only 14 games young. There are still about 70 games left and the Orlando Magic have looked better defensively recently, which is a positive sign that chemistry and habits are building. The Magic will need to continue to focus on one thing they focused on this offseason: Defense. The games Magic win might be ugly, but a win is a win. The Magic have been fortunate thus far in the season, because the Magic have had a relatively easy schedule thus far, which has helped them build chemistry. Defense is what will fuel the Magic's offense, the defensive stops will help a struggling Magic offense score in transition.
Doyle: Things can change, but the optimism is slowly fading. Heading into the season, I had high hopes for Orlando. Now, I am extremely nervous about the offense. I do not think that will be something Orlando gets right at any point this season, so that puts a ton of pressure on the defense. Truthfully, the defense has played really well of late. Bismack Biyombo and Serge Ibaka have looked great down low and even Nikola Vucevic has been able to hold his own. If Orlando can continue to win these ugly games, there is hope that this season can be a success.
Iwanowski: For all the team's struggles so far this season, they are still currently in playoff position with a pretty light schedule coming up. They will need to continue to improve defensively, which they have the past few games. They will also need to improve their ball movement in order to get the offense going. Too many possessions involve isolations and pull-up jumpers, and the Magic definitely do not have the personnel to succeed with that game plan. Perhaps playing inferior defenses coming up will enable them to feel more comfortable with implementing more movement in the offense.
Jelcic: Absolutely. I give them 15-20 games to grow and jell as a team. Have in mind the team went through substantial changes, it is only fair to give them some time. In reality, this is a completely revamped team from last year. The Magic should focus on improving their defense and part of it is just adapting to Vogel's ideas. I have no doubt in my mind this team will improve.
Grullon: The Orlando Magic can certainly turn this season around. It is still way too early to start thinking of whether or not this team can make the Playoffs. When this team was assembled over the summer, it was clear this team was going to need time to come together during the season. They have looked horrible at times. But when things go well, fans can clearly see that this team has some potential. The key for the Magic going forward will be continuing to improve on the defensive end and finding some rhythm on the offensive end. The team needs to do a much better job moving the ball on offense and finding the open man. Too many times the ball is getting caught in one player's hands for the majority of the shot clock or in a situation where no one is moving on offense, which leads has led to poor shots late in the shot clock.
Palmer: There is no question the Orlando Magic can still turn the team around. Scrounging out wins against bad opponents may have been frustrating to watch but it's exactly what Orlando needs right now. You can see that the team is starting to figure it out on the defensive side of the ball and with even more reps they should become the defensive unit that the Magic expected. On the offensive side of the ball I do not see it getting much better. There are some very ill-advised strategies going on. Posting up Serge Ibaka is not smart. Having Ibaka and Nikola Vucevic clog the paint simultaneously also is not smart. The lack of any player movement is really staggering. I do not see much hope on that end unless the Magic hire an "offensive coordinator" at some point this year.
Any time a team struggles, they need change. Which player do you want to see featured or used more to get out of this rut?
Rossman-Reich: I am not sure one player can help the Orlando Magic get out of this rut. But offensively, the Magic need to put Nikola Vucevic back in his normal positions to score. His post ups per game have been cut nearly in half, according to NBA.com's Player Tracking stats, and his shot attempts per game are way down. He is struggling overall, but is still the Magic's best offensive option in the end. His defense has improved (although it is still not great). His offense — both his shooting and his passing — are still the Magic's best weapons and something they need to activate soon.
Jumani: The Orlando Magic need to get out of this mini-slump offensively, and the only guy that can help the Magic in this regard is Nikola Vucevic. As Philip pointed out, Vucevic's shots per game have been way down this season, which is a big reason the Magic are struggling. They need to go to their best scorer and rely on him to get them some buckets on the offensive end. He has been the 'go-to guy' for the Magic offensively since the rebuild started five years ago. He has produced big games offensively throughout the years, and the Magic can really use him right now when times are tough offensively.
Doyle: I think Nikola Vucevic needs to start getting more touches. From the look of it, his confidence is now taking a hit. Those mid-range jumpers that have been automatic in the past are just not falling. He is also drifting farther and farther from the basket. Vucevic could be deadly when he is posting up. So when things are getting rough for the Magic offensively, I would not mind seeing the Magic dump if to Vucevic and see if he could start to get things going.
Iwanowski: This is a complicated question, as the coaching staff will have to be creative to get the offense going. A big observation I have had is that I do not feel Aaron Gordon, probably the most important player to this franchise, is being used effectively offensively. Too often is he playing with reserves and forced to take pull-up jump shots. Because I think he is most effective playing the 4, I would like to see him used more in pick and roll possessions just to see if he can do it effectively. According to NBA.com's stats page, the Magic have used Gordon only once as a roll man, and they got three points on that possession. Instead of trying to mold him to play like the consensus top-10 player on Frank Vogel's old team, I would like to see them just take advantage of the skills he currently has as he continues to develop as a player.
Jelcic: It is quite clear Nikola Vucevic is not getting the number of touches he used to. His drop off in points per game is visible and it is hurting the team. I would like to see more plays drawn for Vucevic, especially his mid range. It makes no sense to have one of the best shooting centers in the league if you are not going to use him. I would also like to see more of Serge Ibaka. He was the third option on a contender last year, and Orlando gave up substantial assets to acquire him. It's time to prove he was worth it.
Grullon: The Magic need to find a way to use Evan Fournier more efficiently. Fournier is the only perimeter player this team truly can count on for offense and at times it feels like the team forgets to run plays for him. Fournier has shown he can shoot the 3-point shot and that he can be a decent scorer, so why are the Magic not running more plays for him? The Magic should feature him more on offense especially coming off screens and using him on pick and rolls with Ibaka and Vucevic.
Palmer: How about just letting Serge Ibaka camp at the 3-point line? I feel like putting Ibaka at the 3-point line spaces the entire floor and makes it easier for everybody else to get going. Most of Evan Fournier's struggles this year are due to not being able to make plays happen in traffic. Nikola Vucevic is not getting nearly as many looks as he normally does from the mid-range because Ibaka is in the same area. That alone would help Orlando's offense tremendously and could break multiple players out of slumps.
How should the Orlando Magic manage Mario Hezonja moving forward?
Rossman-Reich: I do not think sending him to the D-League is necessarily a good idea even though that has been suggested elsewhere. The Orlando Magic have to find a way to play him and trust him with the ball in his hands. Maybe that is asking too much, so his minutes still get limited. But he still needs freedom to make mistakes. I am beginning to think this is the absolute wrong situation for him. Hezonja needed a looser environment, one not so focused on winning, to develop properly. He just was not ready to contribute to a winner immediately like the Magic needed when they drafted him.
Jumani: The Orlando Magic simply need to develop Mario Hezonja,.iI may be difficult for them to trust Hezonja with the ball in his hands, but that is exactly what is best for the franchise moving forward. When Hezonja was drafted, his confidence was a huge part of his success in Croatia. His famous comment when he said, "Let Messi come to see me", when asked if he would ever go watch the famous soccer star Lionel Messi live in action. The confidence was destroyed last season due to head coach Scott Skiles' trust in Hezonja. He got pulled from games if he had a breakdown defensively. Hezonja needed to be brought into a situation like Victor Oladipo's. Oladipo played big minutes and improved by making mistakes. Hezonja may not be able to contribute to the team right away, but he needs at least a little bit of playing time to get some NBA experience and build confidence in himself again that he belongs here.
Doyle: This is tough. I am a HUGE Mario Hezonja fan. But I am not blind. Hezonja has been awful this year, and I think he is in a tough situation. Frank Vogel and the front office are under immense pressure to get this team to the postseason and dealing with Hezonja's growing pains is not in the picture. This may force him to see very limited minutes. Personally, I think he needs some minutes. Get the ball in his hands and try to get him out of this slump. Hezonja is a confident player with swagger. I really think the Magic could use him on the offensive end. Try to get him to hit the outside shots again so he can become a force against second team units.
Iwanowski: Mario Hezonja never truly got his chance that many young players have to work through their mistakes. Last year, he was probably one of two rookies who were really shaken by their head coach's extremely short leash (D'Angelo Russell being the other). While Russell has gotten his chance to develop and has thrived, Hezonja has not had quite the change in situation he was hoping for. He is probably in the worst possible situation for him, as the Orlando Magic are desperately trying to make the playoffs and will not allow a sophomore to severely struggle with the hopes of future development. He would likely be happier if he had been drafted by the Magic a year or two early and was able to play under Jacque Vaughn. While ideally the Magic would give him consistent minutes and hope he improves, especially because the alternative has not been any better and is currently frustrating his fifth fan base, I am not sure what they will do with him.
Jelcic: This is a really tough situation for Mario Hezonja. Not only is he not playing, but Jodie Meeks is returning to the rotation. This leaves little to no minutes for Mario's development. The Magic never really decided what to do with Hezonja. He was clearly a project but was expected to contribute immediately (he was hailed as 'one of the most NBA-ready rookies'). Hezonja probably needed to stay in Europe for a season or two longer to develop his game. In my opinion, Hezonja should be given a steady place in the rotation, 10-15 minutes, or the Magic should consider a trade.
Grullon: Mario Hezonja needs an opportunity to play consistently and he was getting his chance until the team started to play terrible basketball. Frank Vogel was forced to make a change on the rotation and unfortunately Hezonja is currently the odd man out. Hezonja has not helped his cause early on the season averaging only 5.6 points per game and shooting 31 percent from the field and 18 percent from behind the arc. The Magic need Hezonja to be effective and to be a contributor off the bench, so the Magic need to find a way to incorporate him back into the rotation and to give him an opportunity. It is way too early to give up on Hezonja. But the team needs to be careful with how they handle this situation going forward. The last thing that the Magic can afford is for Hezonja to turn into another wasted draft pick.
Palmer: Easy, start Mario Hezonja. I wrote about this earlier but essentially the idea is for the Magic to give Hezonja a consistent role. He does not need many minutes, he just needs to start and play about the first eight minutes of each half. If he is rolling let him snowball some minutes. If he is not, then h ha's gotten his time to play and learn from his mistakes. Jeff Green is afraid to shoot spot-up 3-pointers right now, may as well let Hezonja get those looks instead.
This article originally appeared on