Orlando Magic Daily Roundtable: Breakouts and expectations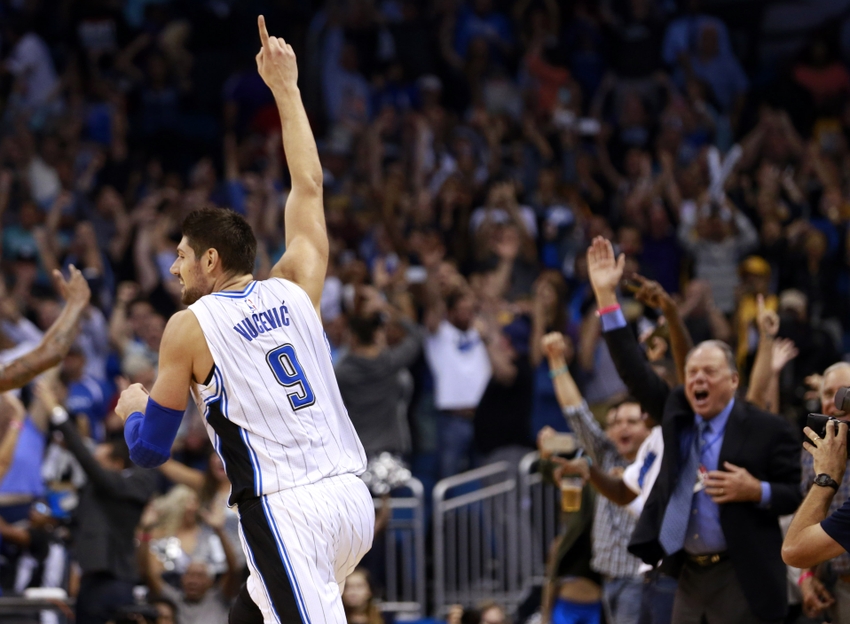 The Orlando Magic face many questions. And things are only just starting. The OMD staff answered some questions about what we're looking forward to.
This is it. The final week without basketball. The final weekday without basketball.
The Orlando Magic season is right around the corner. Literally around the corner. A weekend away.
The team will gather for meetings and Media Day on Monday before getting to work Tuesday for the first practice. Next week we basketball!
The Orlando Magic's offseason has had plenty of ups and downs. It has been a strange journey for sure. The Magic reformed their roster, turning over half the roster. They traded away a former draft pick in Victor Oladipo for an elite rim protector in Serge Ibaka. They spent free agent money on veterans all with a single goal.
And that goal is plainly stated and in print now. The Orlando Magic aim to make the Playoffs in 2017. Period. Full stop.
How they will do that will be one of the driving stories for training camp this season. And then into the regular season itself.
As the players gather together for their first practice, we gathered the Orlando Magic Daily staff together to discuss the upcoming season and some of the things and players we are looking forward to as training camp begins.
1) Who will be the Orlando Magic's breakout player?
Philip Rossman-Reich (@omagicdaily): I think Aaron Gordon will be the breakout player for the Orlando Magic this season. We saw how much Aaron Gordon grew from the end of the 2015 season and Summer League. That Aaron Gordon looked confident driving the ball and scoring. He was the best player of the week. Then a jaw injury slowed him down. It took him a long time to find his footing. And when he was given opportunity after the All-Star Break, he upped his scoring to better than 10 points per game and looked like a player figuring out his talent. Now he has had a full healthy summer (outside of a late-summer sprained ankle). Hopefully his role gets defined a bit more from the coaching staff and Gordon gets unleashed. Particularly him playing the 3 now instead of the 4, Gordon has to be a major player for the Magic this year to have some success.
David Iwanowski (@davidiwan1): I believe Mario Hezonja will be the breakout player for the Magic, assuming breakout means the guy who will make the biggest leap forward. The Magic will be relying on Hezonja a lot offensively, as they lack perimeter scorers and secondary creators. In his second year in the NBA, he should be more comfortable with NBA opposition and adjust to the speed of the game. When the Magic relied on him for a bigger role toward the end of last season, he vastly improved his play. Hezonja should take a significant step forward, and as a focal point of the offense he will see his production improve enough to be considered the breakout player.
Ryan Doyle (@RDoyle27): I am going to go with Aaron Gordon. Gordon is going to see a major uptick in usage and with a full, healthy offseason he is primed for a breakout year. If Gordon can show improvement offensively and take on a larger scoring load. I think that could be the key for Orlando's playoff return. Gordon seems prepared to take this step and emerge as Orlando's best player. This is now his third year in the league and he was very good during the second half last season. If head coach Frank Vogel puts his trust in Gordon, I expect some big things from "Air Gordon" in 2017.
Luka Jelcic (@lukajelcic19): It has got to be Aaron Gordon. Gordon is still very young, he just turned 21 the last week, and he is already entering his third year in the league. All of his statistic metrics went up last year (e.g. PER went from 11.4 to 17.0) when compared to his rookie year, and I expect for Frank Vogel to have more patience with Gordon than Scott Skiles had. He will probably make mistakes as he adapts to a relatively new position (should play most minutes at the 3). On the other side he should expect more than 23 minutes per game and a secure position within the squad, which should provide him with a sense of safety.
Ricky Scricca (@scricca1): Serge Ibaka is already an established player, but I think we might see him really step his numbers up this season. He has been on a downward trend in most statistical categories over the past few years, but getting more touches and minutes in Orlando could bode extremely well for him. Throughout his career, higher usage rates have correlated with improvements in his numbers on both sides of the ball. As the Magic rely on him to stretch the floor on offense and protect the rim on defense more than the Thunder have in years, I believe Ibaka will thrive.
Zach Palmer (@FmrTankCommandr): This is a tough one because the Magic have a handful of players who could possibly break out. But I am going to go with Mario Hezonja. While Hezonja could struggle to find playing time, I believe the Magic are going to need his offensive creativity to be a successful team. I am not sold on Aaron Gordon playing the small forward spot and having a similar level of success as Paul George. In my eyes, Hezonja has a much better chance of being able to play the Paul George role offensively. The real issue comes back to how the Magic get all of these guys minutes and the answer may end up being a trade or two.
Spencer R. Henderson (@SpencerRHenders): I think Nikola Vucevic will be the breakout player for the Magic. He is the player that is under the most pressure to succeed. The organization paid Bismack Biyombo $17 million a year to eventually replace Vucevic. He has to play well. And I believe he will under the current situation. If he improves his defense he will be an All-Star this year.
Which player do the Magic NEED to be a breakout player in 2017? Who needs to step up the most?
Rossman-Reich: Aside from Aaron Gordon (see previously), I think the Magic need a break out year from Serge Ibaka. It is more of a bounce-back year for Ibaka, but the Magic need Ibaka to play near that level. And probably breakout offensively. Ibaka has shown potential offensively with his versatility and ability to hit jumpers. He has never truly been given the chance to be the focal point in an offense though. I think the Magic will give Ibaka that attention. Will that give him the satisfaction to increase his defensive intensity, as some have suggested? That would have to be the hope. The Magic need Ibaka to be their anchor on defense and need him involved on offense to succeed.
Iwanowski: The Magic will need Elfrid Payton to take a big step forward. He will be relied on to create scoring for his teammates, and with the lack of shooting and isolation abilities from the projected starters, Payton will really have to be strong in that aspect. This may be a make-or-break year for Payton, and he will need to bring his defense and creating abilities back to where the Magic envisioned after his strong rookie season. If he does not, this team likely will not see a playoff berth.
Doyle: This is a tough one. However, I am going to go with Elfrid Payton. The Orlando Magic decided this offseason Payton is a player they value very highly. He has the potential to be a very good point guard in the NBA. He just needs to live up to it. Payton needs to play better on the defensive side of the ball and improve his playmaking ability. When it comes to his shooting, I just hope he has some sort of mid-range jump shot. He probably will not be a threat from three this season, but if he can have defenses worry about him from mid-range, the Magic offense could open up a ton.
Jelcic: A lot of burden will fall on Elfrid Payton. The NBA is a point guard's league and you do not have to look outside the Southeast Division to see the position is stacked. Payton will have to hold his own against the likes of John Wall, Kemba Walker and Goran Dragic both offensively and defensively. He had a lot of issues last year, and he is going to have to improve in several aspects of the game. I would say the shooting is most important for now, and if the opponents start to respect his shot, he can establish himself as a NBA starting point guard.
Scricca: This one is hard, because there are at least three or four players for whom you could make compelling arguments. I think if Mario Hezonja can play at a high level more consistently, that could really open things up for the rest of the Magic offense. That will depend a lot upon whether or not he will actually get consistent touches and minutes, because last season he performed significantly better in games where he played closer to 30-plus minutes. I think giving him more chances on offense this season could cause some growing pains, but in the long run could really pay off especially if he can take over at the wing, leading to more lineups with Aaron Gordon at the 4. The Magic might not necessarily be counting on him next year, but he does present some serious opportunity.
Palmer: I have to go with Elfrid Payton here. People will be quick to point to his poor perimeter shooting as the thing he needs to pick up most, but I disagree. Defensively, is where the Magic need Elfrid Payton to step up most. Last season, Payton was as much to blame for Orlando's defensive problems as Nikola Vucevic. He could not fight through any screens and consistently got blown by in isolation. All a far cry from his rookie campaign. Point guard is probably the deepest spot in the NBA, and the Magic cannot continue to get outproduced at that spot night in and night out. If Elfrid Payton can get back to the harassing brand of defense we saw in spurts as a rookie it should help Orlando's defense become an elite unit sooner rather than later.
s I think Evan Fournier needs to be the breakout player in 2017. Mainly because he is the best shooter on the team. He needs to separate himself from the pack by improving on his shooting percentages. If he does improve he will become the Magic's number one option regardless of Vogel's plan to use Aaron Gordon like he used Paul George. Fournier needs to step up the most because he isn't offensively challenged like Gordon and Payton.
3) Which Magic player won the summer?
Rossman-Reich: Evan Fournier won the summer. He got a big contract — five years, $85 million. His main roster competition was traded in Victor Oladipo. He did not get picked to the national team and they floundered without him. He joked with Rudy Gobert incessantly. He had the best looking avatar in NBA2K. Evan Fournier had a pretty good summer.
Iwanowski: Being named to the Team USA Select Team and being featured in a Nike commercial to follow up an appearance on the Ellen Show sums up what was a great summer for Aaron Gordon. His publicity has skyrocketed since the Dunk Contest, and he has a chance to bring the Magic into the spotlight and be that marketable player the franchise has lacked since Dwight Howard left. Not to mention he is now a featured key player for the Magic on the court, and a step forward offensively could make the difference between playoffs and failure for this team. Aaron Gordon laid the foundation to be a noteworthy player in this league this summer, which is a big win for him and the franchise.
Doyle: I have to agree with Phil and go with Evan Fournier. Of course, he got his big money deal, but he had a great offseason on social media. His brilliant tweets sent to the NBA 2K developers were absolutely hilarious. As Phil explained, his 2K avatar is scary looking. The developers made a small improvement, but he still looks very odd. In all seriousness, Fournier is going to be with Orlando for a long time. I'm happy for him and hope he develops more this season.
Jelcic: Damjan Rudez. It is easy. He got a training camp invite and will most likely be signed for the season. He is reunited with the coach that brought him in the NBA in the first place, and also managed to organize his own NBA training camp in Croatia.
Scricca: I am going to agree with Phil & Ryan here — Evan Fournier's becoming "the guy" in Orlando! This offseason, he got himself a big contract, he showed fans his great personality, and he was essentially handed the reigns of the offense (or at least the backcourt) with Oladipo's departure. The only thing that could have made it a better summer for Fournier would have been a solid showing in international play, but maybe it is for the best he stayed away from the French national team this year.
Palmer: How about Serge Ibaka? Ibaka was able to leave Oklahoma City before Kevin Durant left and escaped the Western Conference. There were a few reports saying Ibaka would like to have seen the ball more offensively with the Thunder, and that is a real possibility for him with the Magic. If Ibaka does see an increased offensive role with the Magic and he produces you are looking at a certain max contract for Ibaka.
4) What are you most looking forward to seeing or question you want answered in the early part of training camp?
Rossman-Reich: Can the Orlando Magic play elite defense? This is the main question for the team this year. They have to play defense at a very high level to have any shot at the Playoffs. The Magic do not need to play lock-down elite defense by the time they play the Memphis Grizzlies on Oct. 3 (two weeks away!). But there need to be signs they understand the defensive principles and are making progress on that end. I would imagine the first few days of practice will have very little work on the offense involved. Getting these defensive principles down will be crucial as the base to what the Magic want to do.
Iwanowski: Can the Magic create a consistent enough offense to make the Playoffs? The defense should come, and defense is important. But if the Magic are at the bottom of the league offensively, they likely will not win enough games to break out of the pack in the Eastern Conference. The elite teams are elite offensively and have players who can create offense consistently. The Magic need to hope at least one of their young guys steps up and becomes able to create scoring chances.
Doyle: Nikola Vucevic. I made a post about possible trade partners with Vucevic and a lot of Magic fans found it interesting. What the Magic are going to do with Vucevic is one of the biggest questions the Magic have to answer.
Obviously, the Magic are not going to trade Vucevic any time soon. There is a good chance he does not get traded at all. But I really do not know how he will fit into many of the rotations. Will he be able to play with Bismack Biyombo? Will Serge Ibaka be able to help him defensively? There are so many questions that need to be answered that surround the high-scoring center. That is why Vucevic is my biggest question I want to see answered.
Jelcic: How will the new additions fit with the team? Does Ibaka take over the team? I will especially focus on the battle between Vucevic and Biyombo for the starting spot. It will be interesting to see what kind of lineups Vogel experiments with, and whether the Magic can form their own "death lineup." It is always a battle with time to incorporate a new system when a new coach arrives, and new assignments are handed out. Will there be any issues with the distribution of shots? The season can not come soon enough.
Scricca: I will definitely be looking at what ends up happening in the front court. Nikola Vucevic is likely the natural choice for the starting 5 spot, but is it really that clear who will get more minutes with Bismack Biyombo's big new contract? Will Ibaka spend any time at the 5? Will Aaron Gordon get significant time at the 4? There are a ton of questions here that I am hoping training camp clears up a little bit. But either way I am expecting there to be some trial and error for Frank Vogel at least for the first part of the season.
Palmer: What the *bleep* are they going to do with their rotations? Who is the starting center? How much power forward will Aaron Gordon play? Is Jeff Green going to play a big role with the team? Can Mario Hezonja earn a large role? Are the Magic really going to push the pace? Is it possible for them to keep all of their guys happy? This is about as unsure as we've been regarding Orlando's rotations since Dwight Howard left.
Who are the players you think need to break out this season? What are you most looking forward to this season. Let us know by responding in the comments below or on Twitter by chatting any of us and @omagicdaily.
This article originally appeared on