Orlando Magic: Could Have Had DeMarcus Cousins
Luke Duffy/FanSided via Hoops Habit

Fansided
DeMarcus Cousins is now a member of the New Orleans Pelicans, but the Orlando Magic had the package to land the superstar.
If you're still shocked by the news that DeMarcus Cousins has been traded to the New Orleans Pelicans, you're not the only one.
If anything the move throws up more questions than answers. Why now, and why for a haul that looks so underwhelming on the surface?
Cousins is one of the 15 best players in the NBA today, and he's joining another top 10 talent in Anthony Davis.
The game may be more guard-oriented than ever before, but both guys possess many of the same skills that their smaller counterparts have.
While this move has sent shockwaves throughout the league that could last years, one individual in particular should be feeling the heat over failing to land Cousins.
His name is Rob Hennigan, and he is the general manager of the Orlando Magic. This was your chance Rob, and you absolutely blew it.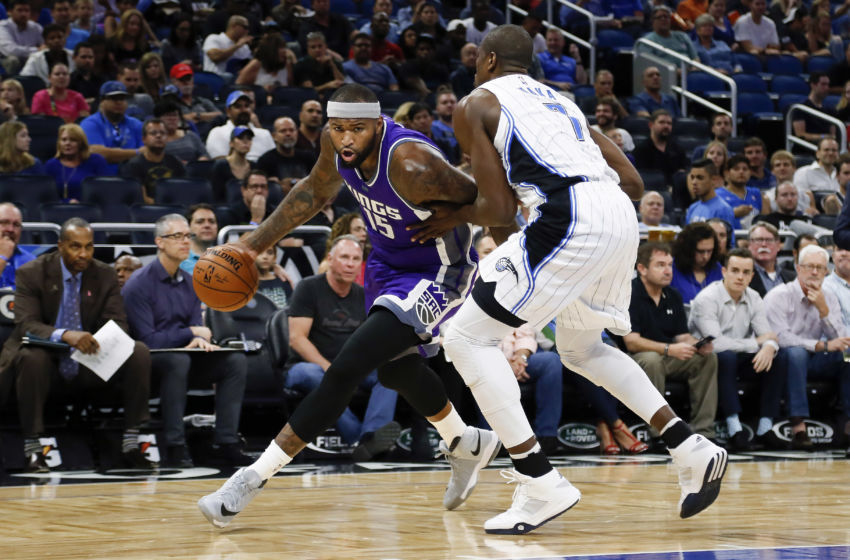 The Magic have steadily acquired young talent and veterans since Dwight Howard left town in 2012.
Although some players were moved prematurely (Victor Oladipo, Tobias Harris), enough assets had been collected to enquire about landing a big-time player.
Cousins was that guy, and the Magic reportedly didn't want to part with Nikola Vucevic and either Evan Fournier or draft picks to get him.
Those are the Magic's two best players right now, but even that is not reason enough to not pull the trigger on this deal.
If draft picks were what the Kings wanted, the Magic should have given them whatever they came looking for.
After all, their track record with picking players in the draft, while not as horrendous as the Kings' recent history, isn't much better.
The team wouldn't even have had to gut their roster in the same way the New York Knicks and Brooklyn Nets had to do for Carmelo Anthony and Deron Williams, respectively.
About the only cause for concern would have been the fact Cousins is an unrestricted free agent in 2018.
Although the Magic would have had the ability to offer him a max deal that other teams could not match, it still would have been a risk.
Let's have a quick recap however, to look at some of the other "calculated risks" that the team have made in recent times, to get a feel for where they're at.
As you can see, none of the above moves inspire confidence that the organization knows what direction it is going in.
Payton has been all right for stretches, and Ibaka was fun there for a minute, but it just didn't happen for him down in Orlando.
All of those moves — all of them — would have been forgotten with the acquisition of Cousins. Can you imagine the buzz, the excitement, around this franchise once more?
The team has a history of dominant big men, and a starting five of Payton/Augustin, Ross, Fournier/Green, Aaron Gordon and Cousins has a great feel to it.
Biyombo would have been hard to move to another team before the deadline, leaving him as an expensive backup to Cousins every night. But that's what he already has kind of become, losing his starting spot to Vucevic and being a non-factor offensively.
Do you know what the worst part about all of this is though? The fact that the Magic's trade package was better than what the Pelicans gave up for Cousins.
The Kings received rookie Buddy Hield, Tyreke Evans, Langston Galloway and a first and second round pick this summer in exchange for the All-Star big man.
Hield shows a ton of promise, but he alone will not be able to fix the mess that is the Sacramento Kings. This is also my favorite stat of this NBA season:
Quick note: DeMarcus Cousins has hit six more 3-pointers than Buddy Hield this season.

— Sam Vecenie (@Sam_Vecenie) February 20, 2017
Evans is a known commodity having won Rookie of the Year honors while in Sacramento. He has failed to do much more ever since. Galloway likely won't stay there, and the two draft picks are useless in the wrong hands (the Kings drafted Jimmer Fredette over both Klay Thompson and Kawhi Leonard).
The Magic could have given them a proven big man in Vucevic, who will consistently get you a double-double, and an ever improving Fournier on a fair contract.
They could have even thrown in something like Jeff Green's expiring contract if needed, and also had the ability to match any offer regarding picks that the Pelicans ended up giving them.
Which is to say, this looks like a hugely wasted opportunity. It would have been a risk, but one that any other rebuilding team would have jumped at.
The Magic took a chance on Ibaka on a one-year rental and it didn't work out, and they lost two members of the Thunder's starting five as a result.
Cousins could have brought them so much more, and if he'd bounced, they would have been down Vucevic (with Biyombo still in town) and Fournier/draft picks (a bad miss, but not irreplaceable).
Why didn't Rob Hennigan pick up the phone? Why weren't the Orlando Magic involved in deep discussions regarding a trade?
It doesn't matter now, as this team drifts once more towards the NBA Draft Lottery this summer.
Everybody is laughing at the Sacramento Kings right now, but the Magic aren't too far behind when it comes to ways not to run a franchise.
This article originally appeared on