Orlando Magic admit they are not where they need to be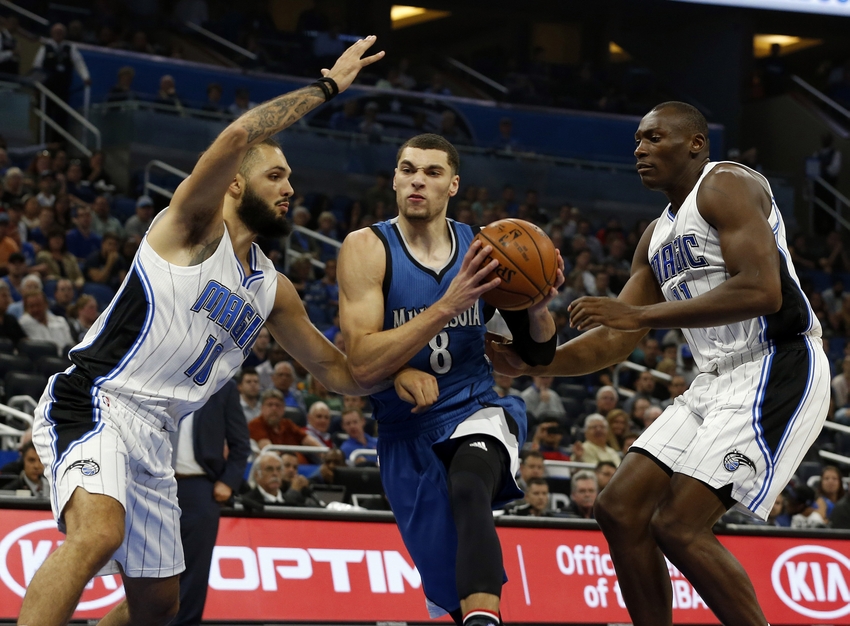 The Orlando Magic wanted to be a strong defensive team as their path to the Playoffs. They have struggled and admit they are not where they need to be.
The Orlando Magic were seemingly powerless to stop the Minnesota Timberwolves. Their base defensive set was continually letting them down and the Timberwolves were hitting tough shots. The lead got larger and larger, topping off at 30 in the game and growing to 20 points in the first quarter.
The Magic were struggling to keep up. Or slow them down.
Zach LaVine was the main offender, coming around screens and firing on 3-pointers. Andrew Wiggins was driving the lane and getting to the basket without help defense meeting him. Giving up 39 points to the Wolves in the first quarter and 37 to LaVine for the game was never part of the Magic's plan.
It was a bad start to a terrible game.
"You want to start the game with a defensive mindset," Evan Fournier said. "And we didn't do that. I take the blame for last night. I was not playing good at all. LaVine kicked my ass. You've got to have pride and a better performance for the next game."
LaVine had his way with Evan Fournier. When Fournier ducked under screens, LaVine fired away, draining shot after shot without much hindrance or redirection. This has been the m.o. for the Magic through eight games of the season. A defense full on potential, but light on actual production.
The Magic have the 29th best defense (that is second worst) in the league at 109.0 points allowed per 100 possessions. That is not quite where Frank Vogel and the Magic expected to be. Then again the Boston Celtics are behind even them and they were expected to have a strong defense too. There is still a long way to go into the season.
But Orlando looks noticeably off. Their rotations are late, their guards get blown by and the second rotation — the help the helper rotation — is often not there. Teams pick the Magic apart by driving inside, getting rebounders out of position and cleaning up the offensive glass.
The Magic have the fewest deflections in the league at 8.8 per game, according to NBA.com (h/t The Ringer). They give up the fourth most points in the paint in the league. All this may not be correlative to a bad defense, but it certainly suggests a team getting out positioned on the glass and somewhat passive on the perimeter.
Clearly Orlando is not where it needs to be.
"I see our young guys still making more wrong things then I thought they would be making at this point of their career," Vogel said after practice Thursday. "Some areas I'm surprised they are not further along.
"We're not tied together yet. We haven't gelled yet. All these little things that we are talking about aren't there. Our box outs haven't been good enough. Our transition defense isn't good enough. Our one-on-one defense isn't good enough."
Those are definitely not encouraging signs or words.
And those inconsistent moments have seen the Magic snowball and allow bad plays to multiply.
A second straight blowout and now trailing by 30 points in three games out of eight is a little bit more concerning. The energy and intensity of the defense has been a major concern after each of these blowouts. And it remains a concern.
"A lack of focus," Aaron Gordon said of the defense's troubles. "We're getting beat where we shouldn't get beat. It's apparent. Some of the technique in our defensive talent is lacking. That comes with trusting each other. It's five people out there, it's not one on one. Together we need to pick up our intensity and our urgency."
With the defensive talent on this team, it has made the defensive struggles all the more puzzling. The Magic acquired players like Serge Ibaka and Bismack Biyombo specifically to address a lack of rim protection on the team.
Those acquisitions have not done much to fix the team's problems so far.
Orlando Magic defensive struggles are huge red flag
Serge Ibaka has a -2.5 defensive box plus minus. The Magic have a team-worst 114.7 defensive rating with him on the floor. Bismack Biyombo 2.0 defensive box plus minus and seems to be delivering on his end so far but the Magic have a 108.0 defensive rating when he is on the floor. Elfrid Payton has been poor too as has Fournier on the perimeter.
Then again, Aaron Gordon has the second worst on-court defensive rating (113.6), but has a positive 0.7 defensive box plus minus. He has generally been good on the defensive end so far this year in one-on-one situations, at least.
Ibaka said the team has the pieces (himself included). It will take a mindset to commit to the defensive end and find that rhythm and trust working together.
"It sounds redundant, but we need to figure each other out," Gordon said. "Figure out our places. We will come together. Sacrifices will be made. Once we figure out who we are as a team, we will get rolling."
That process and how long that is taking is still the biggest frustration of the team. Players are still struggling to gain trust.
Help defense is often too much to cover up for mistakes without help taking care of their responsibilities. It remains a five-man effort the Magic are not getting — from the point of attack to the help side and beyond.
The Magic are confident they will get better no matter what it looks like right now. They see good stretches on tape and reasons to believe the defense will turn.
Confidence remains high no matter how much room the team still has to make up.
"We're fighting," Ibaka said. "It's not like we just sit down. Outside it might look like that, but inside we are fighting. When we watch film, we see a lot of good things on defense. It's to us knowing all the good things we did last night and they still made shots. We have to do the same thing. It's going to work for us too."
More from Orlando Magic Daily
This article originally appeared on