Orlando Magic: Aaron Gordon Needs To Play Power Forward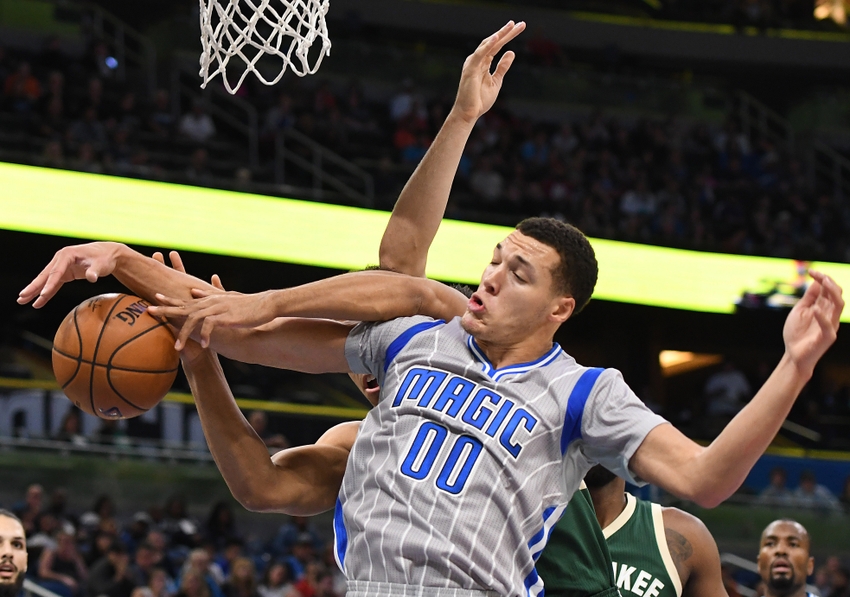 The Orlando Magic have one future star and that is Aaron Gordon. But a number of factors have forced him out of position and it is hurting both Gordon and the team.
Frank Vogel is dooming the Orlando Magic to another lottery selection.
That statement is an example of hyperbole, an exaggeration to make a point. Frank Vogel is not purposefully or literally dooming the Magic. Modern social media users refer to it as a "hot take." Your parents may have said "you're coming on strong." Linguistic lesson over.
The Orlando Magic have a number of issues, from roster construction to cold shooting. There are a number of on-court performance issues that Frank Vogel has little control over. He can work with Elfrid Payton for months on his shot and Payton can still shoot 19.5 percent from behind the arc.
Vogel also has no control over the players given to him by general manager Rob Hennigan and the Orlando front office. He has an inconsistent collection of point guards, one good wing and a full basket of bigs.
The problem with Vogel is that he is taking the player on the Magic with the highest ceiling, forward Aaron Gordon, and chaining him to the floor.
Rather than forming an environment for Gordon to excel, some combination of nostalgia and stubbornness is blocking Vogel from unleashing Gordon on the league.
Aaron Gordon is a 6'9" athletic marvel, the fourth overall pick in a draft that saw Andrew Wiggins, Jabari Parker and Joel Embiid go in the top three. All are looking like future All-Stars at this point in their careers.
Gordon burst onto the national consciousness last February, when he took on the heir to Vince Carter's Slam Dunk throne, Zach LaVine, and battled him to the very end in one of the most exciting contests in NBA history.
Showing up on an international stage seemed to invigorate Gordon and he raised his level of play after the All-Star break for Orlando. He played above the rim seemingly at all times, leaping to tear down rebounds and smash opposing shots.
On offense he slashed to the hoop at will. Former head coach Scott Skiles even played Gordon minutes at center in ultra-small lineups.
Entering this year, the sky was the limit for Gordon. A future star in the East, Gordon was going to win the Dunk Contest and make the playoffs with a gritty, defensive team around him. Unfortunately, that reality has not yet materialized.
The problem with this season as compared to last is simple: Aaron Gordon is a power forward being forced to play out of position as a small forward.
The reasoning is clear, if flawed. The Magic have three starting-caliber big men without including Gordon. Serge Ibaka, Bismack Biyombo and Nikola Vucevic all bring elite strengths to the rotation.
Add in forward Jeff Green making $15 million this year and best suited as a small-ball 4 and there simply isn't room for everyone.
Vogel's decision was to move the hyper-athletic Gordon to small forward. The former Arizona forward can play defense on the wing; he has the lateral agility of a guard and his 7'1" wingspan envelops players that try to drive past him.
But offensively he is completely miscast at the 3, and that is crippling Orlando's ability to score. Gordon is shooting 36 percent from the field, and an abysmal 27 percent from deep.
His scoring is nearly identical (9.3 this season to 9.2 last season), but Gordon needs an extra two shots per game to get there.
Gordon's usage rate is up; virtually every other rate statistic is down, from assist percentage to true shooting to a basement-level 10.7 PER.
Frank Vogel envisioned Gordon playing a role similar to Paul George in Indiana. Like Gordon, George is a hyper athlete with a huge wingspan and plenty of talent. Unlike Gordon, George is skilled in small-player skills — ball-handling, shooting and guiding an offense.
Gordon has proven unable to direct an offense, whether he is running a pick-and-roll as the ball-handler or spotting up around the arc. The Magic have struggled overall with finding players to fill this role, but Gordon is clearly not the option to fill it.
This isn't a failure that should blindside the Magic; the numbers from last season back this up. Gordon played 80 percent of his minutes at power forward and around 19 percent at small forward. During the former he recorded more points, rebounds, steals and blocks per game.
Gordon took only one unassisted three-pointer all of last season. His role is not dribbling on the perimeter; it's leaping over the opposition to slam home a lob or putback dunk.
Vogel's response to Gordon struggling this season was not to open up minutes for his young budding star; instead it was to shove Gordon to the bench. He still plays at small forward, only this time he comes in after Jeff Green.
Aaron Gordon is the future of the Magic, and he has all of the tools to get there. When playing at the 4 he has the quickness to punish slower defenders and the wingspan to deter any shot. His athleticism is overwhelming to nearly every power forward in the game.
But stuck at the 3, Gordon's wingspan simply makes it more difficult to dribble in close.
While one roster move will not solve all of Orlando's problems, the evidence suggests it will help tremendously. Aaron Gordon belongs at the power forward position.
Until Frank Vogel gives up his pipe dream and makes this a reality, the Orlando Magic will continue to flounder in an Eastern Conference that is anything but difficult.
This article originally appeared on