Opposition Intel: Milwaukee Bucks @ New Orleans Pelicans Preview With Brendon Kleen
The Milwaukee Bucks will look to get back to .500 as they visit the New Orleans Pelicans on Tuesday, so we got the lowdown on the opposition from Brendon Kleen.
Welcome to Opposition Intel!
After the first three games of the season, the Milwaukee Bucks have lost to two teams who made the playoffs last season and just sneaked past the Brooklyn Nets. In other words, it has not been the start that everyone was dreaming of.
Still, it's only been three games, so it's far from a time to panic just yet. With a win against their currently winless opponents on Tuesday night, the Bucks can even get back to .500 at this early juncture of the season.
The opponent for the Bucks is the New Orleans Pelicans, who in spite of some phenomenal play from Anthony Davis, are still looking for their first win of the year. To be fair to New Orleans, outside of an opening loss to the Nuggets, they can have no real shame in losing to the Spurs and Warriors. From their perspective, the Bucks will represent a big opportunity to get back on track.
Ahead of the action, we spoke to New Orleans Pelicans writer and friend of the site Brendon Kleen to find out exactly what to expect in the game, and to learn about what matchups we should be looking out for.
Brendon writes about the Pelicans as a site expert over at FanSided's Pelican Debrief, as well as contributing at The Step Back. You can follow him on Twitter at @BrendonKleen14.
Let's take a look at what he had to say.
Protecting The Brow
Adam McGee (@AdamMcGee11): Anthony Davis' start to the season has been truly mind boggling, and at this point the only thing that seems like it could slow him down is his health. Is there extra concern about potential injuries due to the minutes load he'll have to take on for the Pelicans to win games?
Brendon Kleen (@BrendonKleen14): I worry less about the minutes load than the physical burden he's undergoing so far this year. Teams (especially Golden State) have sent aggressive double teams at him as soon as he touches the ball, and he's had some exciting bursts on defense in the first three games that make you fear the worst— that for the Pels to win games, Davis will really have to be a superhero on both ends.
Unless someone steps up next to him, the toll of that pressure on a nightly basis will be a lot to handle for an injury-prone player.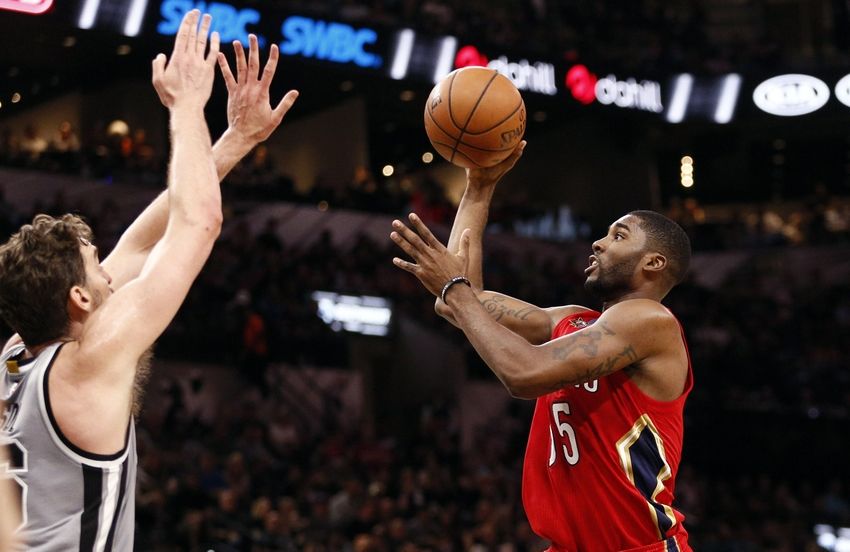 New Faces Trying To Fit In
Adam: I was a really big fan of the signings the Pelicans made this summer, but it hasn't quite clicked early on. Do you feel it's just a matter of settling in, or will those players be better suited to rotation roles if and when Jrue Holiday and Tyreke Evans return?
Brendon: Jrue Holiday will undoubtedly help everything flow more nicely. Everyone will have their ball-handling load reduced, and that figures to be the primary benefit— Tim Frazier can run the second unit instead of the first, E'Twaun Moore can settle into the role he had last year, Davis will be set up smoothly, the shooters will get open looks.
As for Tyreke Evans, it's really hard to tell at this point. This roster is suited better for a high-paced attack, and that's certainly where Evans can do the most damage. Yet it's been a full season since he was at full power, and he's still not healthy. Hard to tell.
Opinion of the Bucks
Adam: What's your impression of Milwaukee's current roster and how do you expect them to fare over the course of the season?
Brendon: I love watching Giannis Antetokounmpo play. A lot. I've been impressed by Greg Monroe's play early on, though I hate the idea of rekindled NOLA-Milwaukee trade talks if he increases his trade value.
If Jabari Parker can settle into a real role and play within himself, I think this team could be something to watch in a few seasons. Also, the less MCW the better, so a thumbs up from me there.
Matchup To Watch
Adam: If you were to single out one matchup as having the potential to be decisive between the Bucks and Pelicans, what would it be and why?
Brendon: Who on the Bucks guards Davis? Power forward is by far the weakest position defensively on the Bucks' roster. Giannis has the length and athleticism to match up with him, but that would be a ton to ask of their offensive focal point. The most impressive thing about AD's early-season demolition derby has been his immediate decision-making; he's going to shoot the second he has a mismatch or an inch of room, otherwise he'll find an open teammate or reset.
Whoever spends time on him will need to be attentive as well as physical, and I don't know if the Bucks have that player outside of Giannis.
Final Predictions
Adam: What's your final prediction for how Tuesday's game in New Orleans will finish up?
Brendon: I think the Pelicans come away with their first win of the season. Two days' rest since their last game, a home matchup after flying back from San Antonio on Saturday, three games' worth of chemistry to work off of— the Pelicans' advantages are numerous here.
And if none of that matters, they have the more talented roster on paper, right?
Thanks to Brendon for joining us and giving us some Pelicans insight. Once again, be sure to follow Brendon on Twitter at @BrendonKleen14 and read his work on Pelican Debrief.
Be sure to check back in with us on Wednesday for all of the reactions to Tuesday's game from the Smoothie King Center, where tip-off is at 7pm CT.
More from Behind the Buck Pass
This article originally appeared on