Opposing views: Memphis Grizzlies vs. Minnesota Timberwolves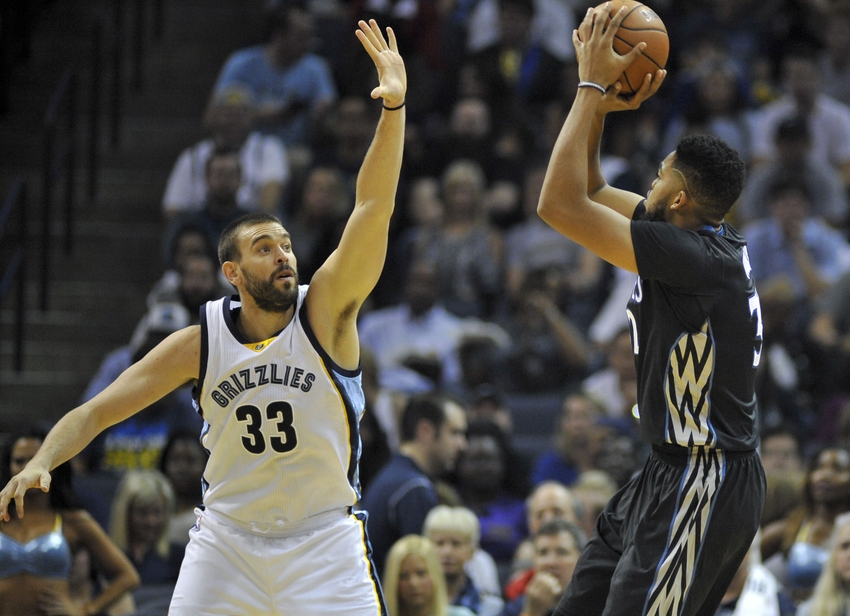 The Memphis Grizzlies have won three straight games. We caught up with Jake Peterson from The Sports Daily's Howlin' T-Wolf for his take on tonight's game.
The Memphis Grizzlies are finally making their way back home after a four-game road trip. After a blunder against the Milwaukee Bucks, the Grizzlies rattled off three impressive wins over an impressive Jazz team, the best version of the Clippers and a depleted Mavericks squad.
Now, the Memphis Grizzlies are looking to carry on their success against the Minnesota Timberwolves. So far in this young season, these teams have matched up twice. The first game, the season opener, was an exciting 102-98 victory for the Grizz. In their second game, the Grizzlies rested Marc Gasol and Mike Conley and got stomped 116-80.
Hopefully, we see both teams at full strength for this game. Marc Gasol and Mike Conley have bounced back this season, both averaging north of 19 points. On the other end, the Minnesota Timberwolves young trio of Andrew Wiggins (27.4), Karl-Anthony Towns (22.3) and Zach LaVine (18.8) have lit up the scoreboards.
Before tonight's game, I had the chance to talk to Jake Peterson from The Sports Daily's Howlin' T-Wolf to hear this thoughts on this match-up.
Follow him on Twitter @jakepetey22.
See what you should expect between the Minnesota Timberwolves and the Memphis Grizzlies.
Under expectations?
Parker Fleming (@PAKA_FLOCKA):
At 4-7, it's not the way Wolves fans expected to start. Have you noticed anything different since Tom Thibodeau took over?
Jake Peterson (@jakepetey22):
Our offensive production is up quite a lot, especially our three-point percentage. We are able to build a nice lead in the first half, then it crumbles in the third quarter. He needs to do a better job of getting key role players more minutes, like Shabazz and Tyus.
The next star-studded Big 3?
Parker Fleming (@PAKA_FLOCKA):
Karl-Anthony Towns is obviously worth the hype. Andrew Wiggins and Zach Lavine have shown out this season. Where would you consider their ceilings to be?
Jake Peterson (@jakepetey22):
Towns is arguably the best center in the league right now. Granted, Marc Gasol and Demarcus Cousins are at that spot as well. Wiggins is showing this year he has more room to grow. He has improved in just about every offensive statistic. In a few years I wouldn't count him out as an elite player in the league. LaVine is something else. There is no limit to his ability. He's a freak at both ends of the floor and has continually shown exponential growth. He also could be considered elite in a few years at his position.
Opposing thoughts
Parker Fleming (@PAKA_FLOCKA):
What do you think of this Memphis Grizzlies' roster? How do you expect them to fare this season?
Jake Peterson (@jakepetey22):
I think the Grizzlies are in line to do great things, especially after watching the Clippers game. Parsons was a great addition, and Gasol has shown he can shoot threes. Randolph coming off the bench has provided a great spark for them to stay ahead when starters rest. They are much healthier than last year which is going to lead to a nice seed in the playoffs.
Key match-up
Parker Fleming (@PAKA_FLOCKA):
There are numerous good match-ups this contest. What match-up would you consider the most important of the game?
Jake Peterson (@jakepetey22):
There are a lot of superstars in this game, but I'd like to focus on the point guard. Rubio vs Conley will be a big factor. Both are good defenders and distributors. All depends on who is able to control the offensive tempo more. The Timberwolves offense thrives when Rubio makes plays with his steals and passing. The Grizzlies strive when Conley is able to score and dish it in the post.
Final prediction?
Parker Fleming (@PAKA_FLOCKA):
What is your final prediction on tonight's game?
Jake Peterson (@jakepetey22):
Our big three has been clicking on all levels this year. The matchup is split 1-1 now but everyone is healthy and rested. 106-102 Timberwolves. After the trade rumors ,the players have something to prove. They'll come out with some fire.
*****
Thanks, Jake, for giving us your insight on tonight's game. Toss him a follow on Twitter @jakepetey22. I'll be at tonight's game reporting live tweets from @BealeStBearsFS and post-game quotes from my personal account @PAKA_FLOCKA.
Will the Memphis Grizzlies top the young, talented Minnesota Timberwolves? Find your answer on NBA League Pass or Fox Sports Southeast.
#WeEnnis
Want your voice heard? Join the Beale Street Bears team!
More from Beale Street Bears
This article originally appeared on