Opinion: Trade Jimmy Butler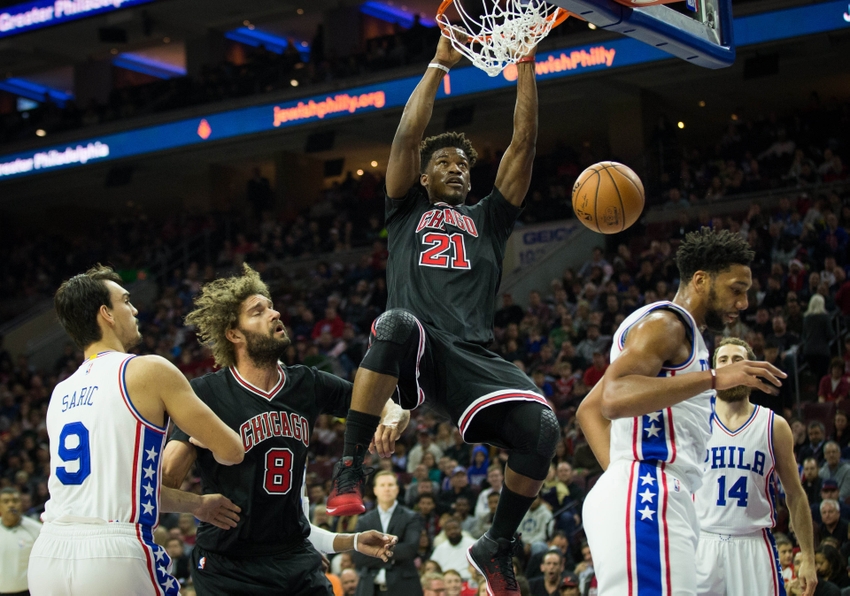 Last night's loss to the Los Angeles Lakers might just have confirmed my suspicions that Jimmy Butler will be the same ball hog, stat padding player he was last year at the expense of the team. His game is a complete turnaround from the first 3 games the Bulls won. For Chicago to be able to play as a team, Gar might need to trade Jimmy Butler.
The rumored trade offer for Jimmy Butler from the Minnesota Timberwolves, which might have included Kris Dunn, a first-round pick or a player like Shabazz Muhammad looks mighty special right now. Jimmy is losing games the team can win.
All by himself. The team cannot adjust to playing with him hogging the ball and Hoiberg not playing their best rebounder in Cristiano Felicio. It's like a self-destruct program activated itself.
There is no way to say it but Jimmy's hardheaded Thibodeau ISO hero ball style will cost the Bulls plenty of games against teams like the Lakers. And against stronger teams.
The Bulls have slowed down because the team adjusts to him.  If it were the other way around, Jimmy Butler would fit his game for the team. Instead of gunning for a scoring title at the expense of the team. Nikola can't get his game going, Cris Felicio is stuck to the bench for some ungodly reason we cannot fathom, and the team isn't playing their Hoiball shooters like Paul Zipser, Denzel Valentine, and RJ Hunter. All of those players can get their game going if the pace and space game is adopted to the letter.
Those guys can fill Jimmy's production if they get playing time and a system to display their skills.
If Jimmy gets his numbers, it's at the expense of the team.  The Chicago Bulls lose and Fred Hoiberg is a patsy for a selfish bully who won't back down to anyone getting the limelight.  He talks the talk but his game shows just how self-centered he is.
In the same situation, Dwyane Wade would look for opportunities for his teammates to score and get their games going.  Wins are easier to come by when the whole team is in sync rather than when Jimmy is sweating to be the best "effing" player in the NBA.
Does the Bulls front office toss this season for Jimmy to have fat stats?
More from Pippen Ain't Easy
Chicago is not supposed to lose to the Los Angeles Lakers, a team that does not play defense.   Jimmy was 4 out of 18 in that game, and he tired out in the closing seconds, shooting an airball for the last Bulls shot. The next stretch of games in December is going to reveal just how bad a fit Jimmy Butler is right now. Chicago has tough games against Cleveland, back-to-backs with Milwaukee and a match with the San Antonio Spurs.
If Jimmy plays the way he played against the Lakers, expect the Bulls to lose all of those games.
In all honesty, I'd rather Gar Forman offer Dwyane Wade a four year mega-deal extension and ship Jimmy out because the entire team is slowed down by his ball hogging. When he is lazy, Jimmy takes bad mid-range jumpers that brick. He gets lazy on defense. And his game is not as assured as having a player like Denzel Valentine take money shots. Valentine already won games in the Summer League and in team practice as the money shot player. And he plays within Chicago's team concept too. Jimmy lost the home game against the Lakers by playing the way he did last year. Hogging shots and touches. The team is out of sync because of him.
Mirotic is playing bad because the starters just want him to rebound and shoot the ball when they can't. That's unholy. It means they expect someone else to cover for their mistakes at the last second if they can't get a shot off. Nikola can score 30 a game easily if you play to his strengths.
Where did the Bulls of the first three games go, a team that demolishes weak NBA teams?
This article originally appeared on