Opinion: The Kings Lead the NBA in Technical Fouls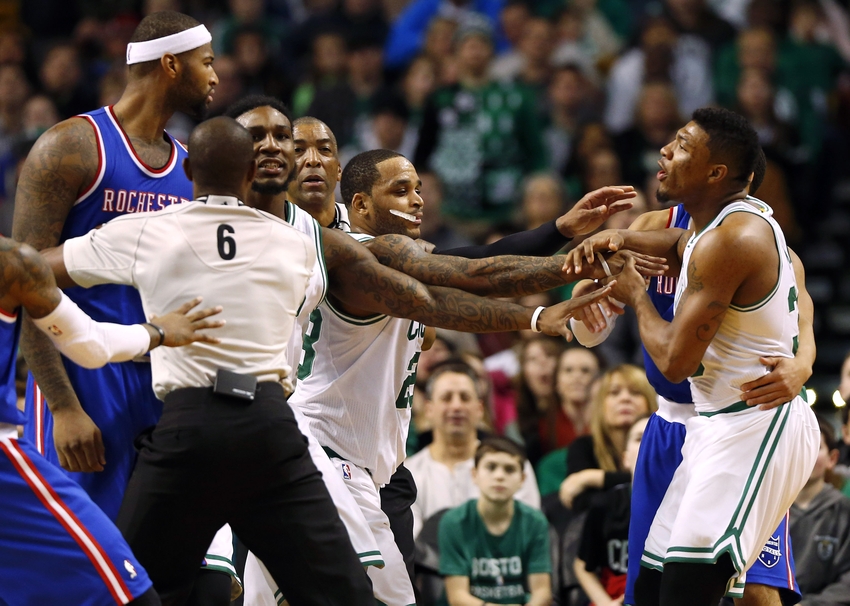 The Sacramento Kings finished tied for 7th in the NBA in technical fouls as a team last season.  This article examines why the Kings will lead the league in that category this season.
The Sacramento Kings have finished top 7 in the NBA each of the last 3 seasons in technical fouls.  This is the season where they lead the league in that category.  It took 84 T's to lead the league each of the last two seasons.  Let us examine how the Kings reach that threshold.
Technical Foul Breakdown
Team and Bench Technicals: 22 Technical Fouls
According to Sporting Charts, this matches last year's total and the fouls are given out for various infractions such as 3 seconds in the paint.
Demarcus Cousins: 19 Technical Fouls
Demarcus Cousins has led the NBA in 4 out the last 5 seasons in technical fouls.  He sets a new career high with 19 technical fouls this season because he stays healthy.  He plays in 75 games and that leads to an increase of 2 technical fouls from last season.  Below is a video of some of Mister Cousins technical fouls and scrums during his NBA career.
Matt Barnes: 14 Technical Fouls
Matt Barnes is never afraid to be the enforcer and get in the middle of a scrum.  With Cousins creating 19 T's that will lead Barnes to reach a new career high for himself.  He will beat his 2014-2015 season with the Clippers by one and earn himself 14 T's.
Coach Dave Joerger: 8 Technical Fouls
Coaching Cousins and Barnes has the tendency to get you a technical or eight.  I think Coach Joerger finds himself on the receiving end of 8 technical fouls this season.
Rudy Gay: 5 Technical Fouls
The Kings hold on to Rudy all season and he produces 5 technical fouls.  He doesn't reach his 2014-2015 level of 8, but he ties for the 2nd most in his career.
Kosta Koufos: 4 Technical Fouls
Model of consistency as Koufos makes it three years in a row with 4 technical fouls.
Omri Casspi: 3 Technical Fouls
Casspi keeps the streak going by adding in 3 technical fouls himself.
Ben McLemore, Skal Labissiere, G. Papagiannis, Malachi Richardson: 2 Technical Fouls Each
All rookies seem to get a few technical fouls and McLemore helps out the team by each player adding 2 technical fouls to the total.
Willie Cauley-Stein, Arron Afflalo, Darren Collison, Garrett Temple, Anthony Tolliver, Jordan Farmar: 1 Technical Foul Each
Temple and Cauley-Stein earn their first technical fouls of their careers as Collison, Tolliver, Farmar, and Afflalo chip in to help the cause.
Ty Lawson: 0 Technical Fouls
Never had one in his 7 NBA season could this be the season where he finally gets a technical?  I am betting on no, but you never know.  All player technical foul stats courtesy of Fox Sports.
Summary
There you have it, 89 technical fouls for the Sacramento Kings this season.  That should be enough to lead the league, so if nothing else the Kings should dominate in the technical foul department this season.
More from A Royal Pain
This article originally appeared on