On the Timberwolves Issues: Some fixable, some not
Chad Udenberg/FanSided via Dunking with Wolves

Fansided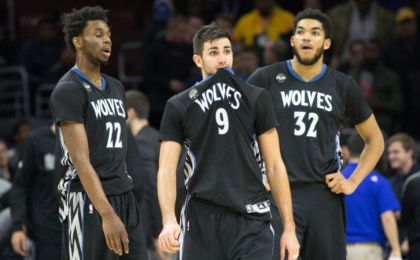 The season is just past the midway point, but it's fair to say that the Timberwolves have a series of things that are fixable, and a series of items that are what they are.
We all know that expectations for the Timberwolves from before the season have yet to be realized.
Some see the sub-.500 record and have given up entirely. Others see that the Wolves are in the hunt for the eighth-seed in a Western Conference that has just seven truly playoff-worthy teams and see hope.
I'm telling you that there is certainly hope but not without help! The following will include temporary issues that should fix themselves or trend in the right direction with a bit of help. Then, we'll look at a few items that could be more permanent issues.
All predictions assume the exact roster the Timberwolves currently have as of February 3rd. Enjoy.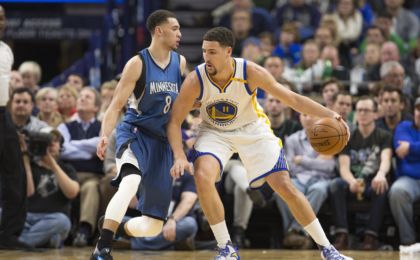 1. Zach Lavine will become a serviceable perimeter defender
I'm here to tell you that, well, he tries! That, paired with the absolute gym rat that he is will create significant progress defensively.
As a rookie, he wasn't a very good shooter, wouldn't drive to the hoop with anyone in front of him, and had next to no versatility. Two years later, he's the Timberwolves' best perimeter option and a true triple threat.
Do me a favor, and watch him defensively. He is still bad, but there aren't a lot of possessions he takes off or doesn't at least try to stick his man. The problem is, he really doesn't seem to know how to defend.
With Thibs as his coach and his obvious teachable mentality, he will surely make marked progress in the next season or two. He'll get stronger, understand the game better, grow in confidence, and take another jump towards stardom.
If he becomes a solid defensive guard, he is a top-five shooting guard in the NBA.
2. Nemanja Bjelica will contribute in almost every facet of the game effectively,
Bjelica was the EuroLeague MVP in 2015. He has won medals, championships, and has conquered the world stage.
He is a jack-of-all-trades on the court. A good shooter, solid point-forward type of player that rebounds and blocks shots. He can guard all five positions if needed and sees the floor more like Ricky Rubio than Shabazz Muhammad.
Manny (a new nickname I'm trying out) is still learning English, his a new coach, and the NBA game all at once. He is going from being the best guy on the court to being the new guy and that usually requires transition time.
The other night, he looked awesome against the Magic during an overtime win. Bjelica is very good and if he (and we as fans) stay patient, he won't disappoint.
3. Tyus Jones will become a rotation-worthy point guard (at least)
Seemingly everyone wants him to play more, and eventually, he will.
The one thing he needs to adopt more is the "short man complex" Isaiah Thomas of the Boston Celtics seems to have — taking over portions of the game off the bench. He deserves to be the backup option at point, and when this happens, Kris Dunn should spend some time on the roster of the newly-acquired D-League affiliate Iowa Energy roster.
In limited minutes, it's been clear that Jones is the better NBA point guard between he and the rookie, despite being a couple of years younger. Tom Thibodeau is invested in Dunn's success, of course, but it would be a shame if Jones went the entire season only being used sparingly.
Next up, we'll take a look at three things that simply won't fix themselves.
1. Ricky Rubio's shot
Sure, Rubio can make wide open shots — sometimes. But I've seen Darko Milicic make 19-of-20 threes while warming up before a game.
Ricky's shot is flat and slow, and he lacks the confidence of a decent shooter. It's not going to get better, based on the evidence we have thus far, and he needs to get comfy distributing.
Don't worry, this is not a huge deal. Not everyone can score, and he has plenty of people to compensate where he lacks. Floor spacing is somewhat of a concern, of course, but we've seen the Wolves make due.
And on top of that, Rubio is a great defensive point who makes everyone around him better. The Wolves can win with him as starting point guard.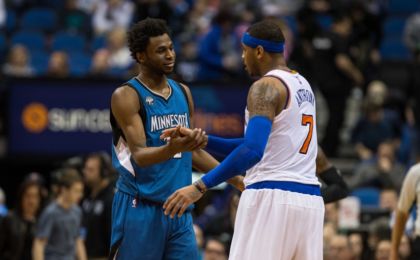 2. Andrew Wiggins' defense
Wiggins doesn't care about defense! Or, at least it seems that way.
It certainly appears as though unless the game is on the line, he couldn't care less. Think… Carmelo Anthony. In the long run it should be okay, but my problem is that it's one of the main things that keeps him from being compared with the likes of Kawhi Leonard, Paul George, and LeBron James (at 21).
I hope and pray that this is simply a wrong perception, but there really isn't a ton of evidence to suggest the contrary at this point in time. Of course, it isn't solely effort; there are some technique issues as well that need to be corrected, and it could take some time.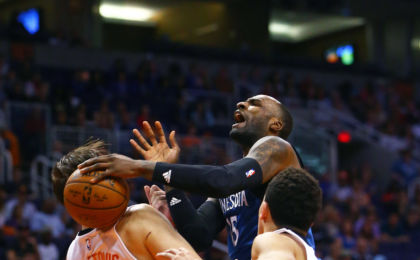 3. Shabazz Muhammad's passing
Muhammad is on pace for challenging the title of being the biggest black-hole of all time.
I love that he feels he has something to prove, but basketball is a team sport that requires relying on the other four guys on the court. He's fun to watch and has been an outstanding three-point shooter since the calendar flipped to 2017, but when he gets the ball, you know he's not about to pass it.
It hasn't been a big deal on the perimeter, of course, as he's been knocking down shots with regularity. But when he drives into the lane or gets the ball in the post, the defense can load up with the assumption that Bazz is about to shoot the rock.
Bonus: Kris Dunn
The rookie point guard has been brutal this year, save for a couple of stretches of strong play. The defense has been there, but the offense has been sloppy and inconsistent. It would be less of a big deal of he was a young rookie, but Dunn is already 22 years old! Here's hoping for a quick turnaround in the closing months of the season.
More from Dunking with Wolves
This article originally appeared on