Oklahoma City Thunder: What's Working This Season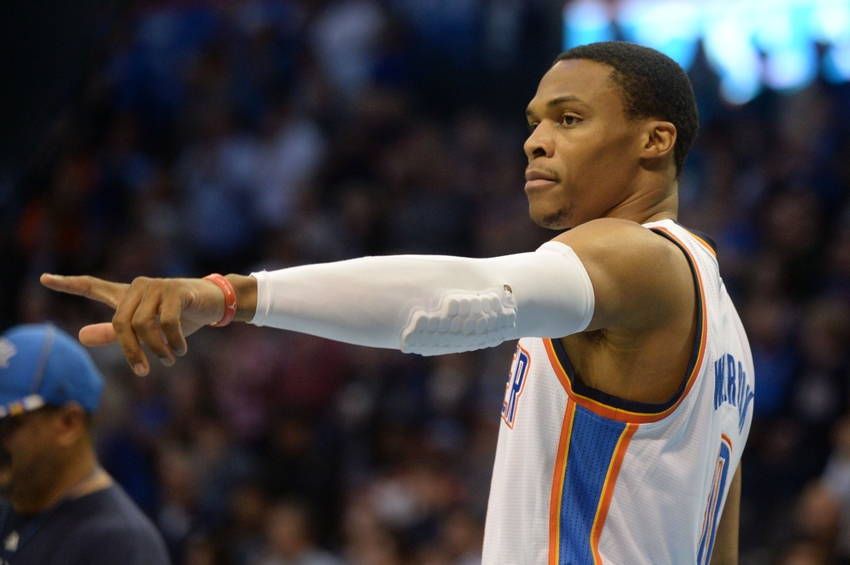 The Oklahoma City Thunder are off to their best start since the team was based in Seattle. Clearly, this team has their sights set on a championship.
The Oklahoma City Thunder have seen early success in this young season. While the magnitude of that success has yet to be measured, it shows that this team is ready to compete for a title. Oklahoma City has had some impressive wins this season.
The win that stands out the most is the road win in Los Angeles against the Clippers.
In that particular game, Russell Westbrook propelled the Thunder to an 85-83 victory with 35 points, six rebounds, five assists. Also noteworthy, Westbrook was the only Thunder player to score in double figures during that game.
Defensively the Thunder held the Clippers to 39 percent shooting from the floor and 31 percent from three.
Currently, Oklahoma City has a defensive rating of 96.4, which is second best in the NBA. They've accomplished this by holding opponents to 97.9 points a game.
The Thunder looked great in all six of their wins and looked awful in their one loss, that one loss being to Golden State on the second night of a back-to-back. In that game, Golden State put 122 points up on the Thunder behind Kevin Durant's 39 points.
The Thunder struggled on offense during that game. Westbrook in particular shot poorly from the floor at 4-for-15. Andre Roberson was as equally ineffective going 1-for-6 for two points in 18 minutes.
What stood out in this game as a whole was the rebounding. Not one Thunder player had double-digit rebounds against the Warriors.
Rebounding has been a critical advantage for the Oklahoma City Thunder. When the Thunder are rebounding, they are victorious. Westbrook and Steven Adams both are averaging eight rebounds a game. Enes Kanter comes a close second with seven rebounds a game.
Rebounding will be key to the Thunder's success.
While the Thunder have scoring with Westbrook, Kanter and Victor Oladipo, one player who must assert himself as a scoring option is Roberson. Roberson is averaging 5.4 points in 28 minutes per game.
A balanced attack offensively is difficult at times for the Thunder as players like Roberson simply don't get enough shots. Roberson averages 4.9 shots a game, which is the fewest among the Thunder's starters.
The addition of Jerami Grant has also been noticeable for the Thunder defensively. Grant serves as a rim protector and a threat in the paint. However, he needs to average more than his two rebounds a game going forward.
The Oklahoma City Thunder have had a light schedule thus far. Playing teams such as Philadelphia, Phoenix, Minnesota and Miami have helped the Thunder to a 6-1 record which places them number one in the Western Conference.
Later this month, the Thunder will see teams like Detroit, Houston, and they'll travel to L.A. to play the Lakers again on Nov. 22.
Assuming the Thunder continue their great play, they'll likely win most of their games this month. The Thunder will play seven of their next 12 games at home.
This will help the Thunder continue to rack up the wins early in the season and set the stage for another matchup with Golden State on Jan. 18.
This article originally appeared on