Oklahoma City Thunder vs. Golden State Warriors Preview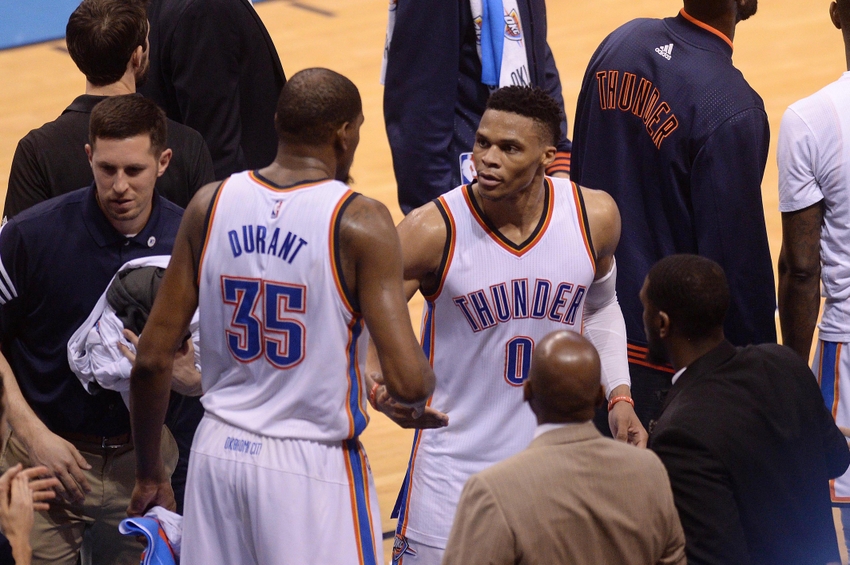 The 4-0 Oklahoma City Thunder
take

on the 3-1 Golden State Warriors in Oakland on Thursday night.

This is the game we've been waiting for. The Oklahoma City Thunder travel to Oakland to face the defending Western Conference champions, the team that knocked them out of the playoffs last year, the team that Kevin Durant loves more: the Golden State Warriors.

Coming off a big 85-83 victory over the Los Angeles Clippers last night, the Thunder have to be feeling good about their 4-0 start, but might be a little tired on the second night of a back-to-back.

The Warriors have gotten off to a slower start than expected. After losing their home opener by 29 points to the San Antonio Spurs, they've won three straight, but their defense appears to be a concern in the early season.

Alright, enough with the formalities. This is all about Russell Westbrook vs. Kevin Durant. That's the reason we're all tuning in. At some point during the game, Golden State will switch on a pick, Durant will be on Westbrook, Westbrook will wave everyone away, and then, who knows that's going to happen.

Literally anything could happen in that situation. Russell might lower his head and just drive right into Durant because, why not? He might blow past him and dunk on the entire Golden State roster. He might lose the ball. He might hit a jumper over Durant. Durant might block his shot. The world might explode. Literally anything can happen when Durant guards Westbrook.

That said, for Oklahoma City, this game can't be all about Westbrook vs. Durant. Even though Russ will say, "it's just another game," we all know that he's lying. He wants to win this game more than anything, but he won't be able to do it alone.
More from Thunderous Intentions
Oklahoma City is 4-0 thanks to their suffocating defense, which is currently ranked 7th in the league and first during the fourth quarter. Despite their early struggles, the Warriors have the highest scoring offense, which is no surprise when you house sharpshooters like Durant, reigning MVP Steph Curry, and Klay Thompson. Thompson has gotten off to a slow start, shooting 10% (yes, 10%) from beyond the arc, but Thunder fans know that he can catch fire faster than anyone in the league, Curry included.
The Thunder must contest shots and make life difficult for the Warriors offense. They have the athletes and talent to do it. Andre Roberson has shutdown everyone he's been tasked to guard, especially late in games. He'll likely see time on Durant for most of the game.
On offense, someone other than Westbrook has to step-up. This is a game that Steven Adams, Enes Kanter, and the athletic wings should dominate in the paint. The Warriors lack a strong rim protecter and are undersized, especially when they go into their Death Star Lineup. Adams and Kanter should be able to feast on the glass while Westbrook and Oladipo can live in the paint.
Having just played a physical and grinding game against the Clippers last night, no one should hold this performance against Oklahoma City. They weren't expected to win this game when the schedule was released and, despite their 4-0 record, they're still an 11-point underdog.
Buckle up and protect your nuts. The game starts at 9:30 central on TNT.
Want your voice heard? Join the Thunderous Intentions team!
This article originally appeared on