Oklahoma City Thunder vs. Brooklyn Nets Preview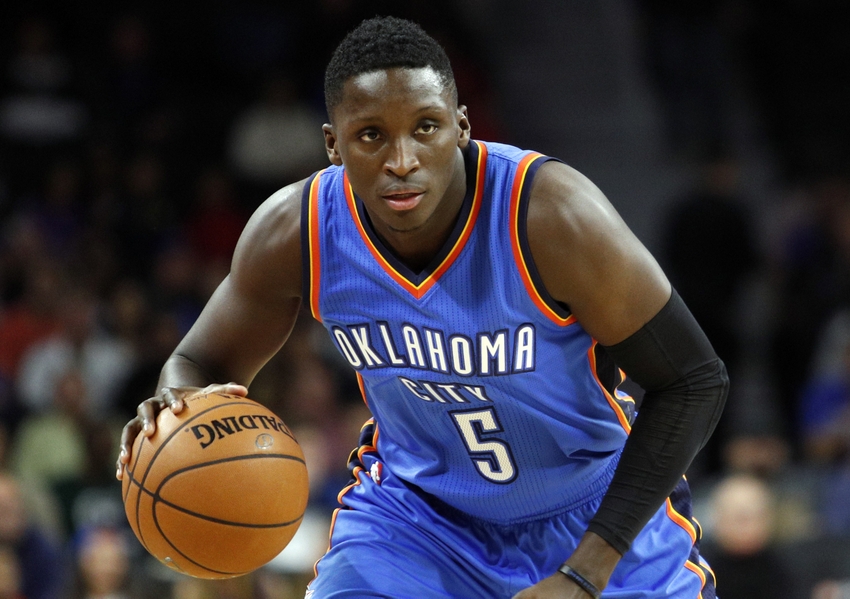 The Oklahoma City Thunder snapped their four-game losing streak on Wednesday night by defeating the Houston Rockets. After beating their Western Conference foe, the Thunder look to stay on the winning track as they take on the Brooklyn Nets.
After struggling over the past week, Wednesday's win definitely has to be a confidence booster for this young team. The Oklahoma City Thunder are still working out the early season kinks, but hopefully this win pushes them in the right direction.
There a lot of positives you can take away from Wednesday's ball game.
For starters, Russell Westbrook and Victor Oladipo dominated. The backcourt combined for 59 points, 17 rebounds and 14 assists, and their offensive output carried the Thunder to victory.
We all knew what to expect from Westbrook, but Oladipo has been playing really good basketball as of late. He seems to be comfortable in his new role with his new squad, and the Thunder can only hope he continues to thrive in this system.
Early on, Oklahoma City has been one of the worst free throw shooting teams in the NBA. Their 73.8% overall free throw percentage ranks 24th in the NBA, and they are shooting a league-worst 66.7% on the road.
On Wednesday, their ability to make free throws helped propel them to a win. On Wednesday, OKC was 13-14 from the line (92.8%) as opposed to Houston's 9-14 (64.3%) from the charity strike. If you can imagine, Dwight Howard isn't even in a Rockets uniform anymore, but the Rockets still struggled from the line!
For a team with playoff aspirations, the Thunder MUST improve at the free throw line. These points can change the outcome of games, and OKC must capitalize on every opportunity they get at the line.
Defensively, OKC really stepped up in the fourth quarter against the Rockets. The Thunder limited Houston to just13 points in the fourth quarter, and held them to shooting just 28.6% during the final frame.
Many times this season we've seen this young OKC team get frustrated when the offense doesn't produce. That has hurt them defensively, as they have had a lot of defensive breakdowns.
The final quarter on Wednesday night showed this team is capable of playing strong defense. Moving forward, they can't let their offensive production dictate their defensive effort.
Let's go back to Westbrook for a second. His three point shooting has been solid thus far, but the number of shot attempts really have dictated how he shoots from behind-the-arc.
Russell Westbrook is shooing 35% from 3 which would be a career high. In games where he takes 6 or more 3s he went 2-10, 5-6, 0-7, 1-6, 3-12

— ThunderousIntentions (@thunderousint) November 17, 2016
Want your voice heard? Join the Thunderous Intentions team!
In the games in which he takes more than six three pointers, Russ has seemed to struggle. Excluding one game in which he was 5-6 from deep, Westbrook hasn't been very successful when he takes more three pointers.
The solution could be very simple. Westbrook needs to capitalize on his opportunities and limit the amount of three point shots he takes. Let's face it: Russ chucks up a lot of ill-advised shots. He's too good of a scorer to force the issue, and needs to realize that before settling for bad shots.
Speaking of shots… a guy who many OKC fans (including myself) would like to see more involved in the offense is Steven Adams. Kiwi is averaging just six shot attempts per-game in November, and his role in the offense has diminished. After only taking three shot attempts against the Pistons, who played without center Andre Drummond, this is a huge cause of concern.
More from Thunderous Intentions
Adams really shined in the playoffs last season, and many expected him to have an expanded role this season. So far, that hasn't been the case, and Billy Donovan must start finding ways to get his post guys involved.
Looking ahead to Friday night's matchup, Brook Lopez is the guy the Thunder must slow down in order to be victorious. Lopez is having a strong start to the year, and health has been a major key for the big man.
The Nets might be 4-7 right now, but they aren't a team the Thunder can overlook. After their rough week last week, OKC must look to get back on track, and winnable games like these are very important in the grand scheme of things.
Tip off will be at 7:00 PM CT at Chesapeake Energy Arena. The game will be televised on Fox Sports Oklahoma.
This article originally appeared on