Oklahoma City Thunder: The Rookie Report – Week 6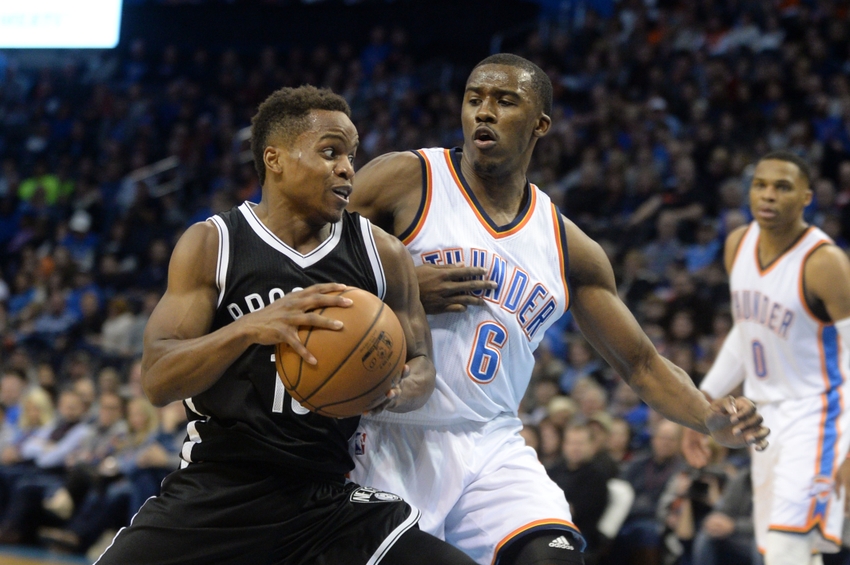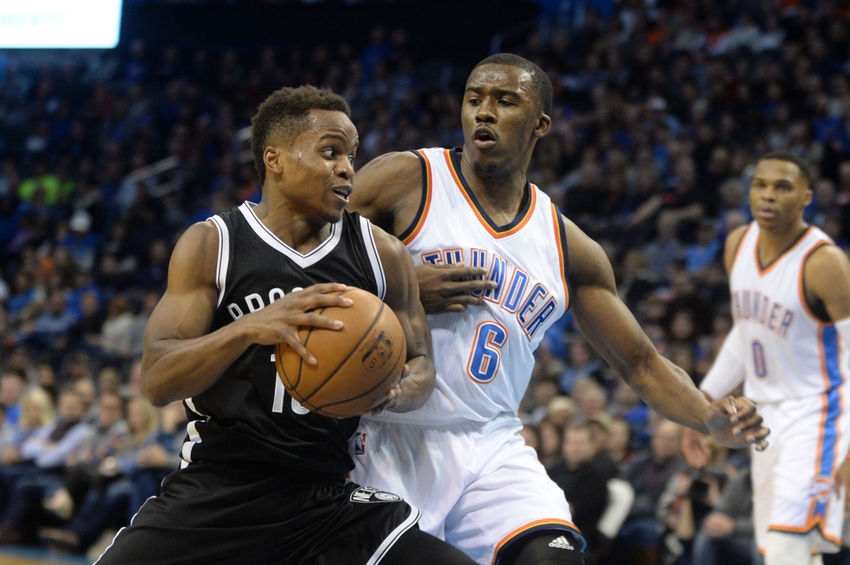 At the quarter mark of the season Thunderous Intentions offers a new segment providing insight on the Oklahoma City Thunder Rookies and their peers.
This series will offer specific insight on each of the Oklahoma City Thunder Rookies in terms of their weekly contributions. Additionally, I'll highlight where the OKC Thunder rookies rank versus their counterparts. Further, I'll look at the rookies around the NBA noting the top weekly performers, overall category leaders and offer my insight on who to keep an eye on.
Want your voice heard? Join the Thunderous Intentions team!
In week 6 of the season the Oklahoma City Thunder played 3 games featuring the New York Knicks, Washington Wizards and New Orleans Hornets. OKC were the victor in each game extending their win streak to 5-games.
As for the Oklahoma City Thunder rookies, only 2 of the 3 saw action. Let's examine their output by game: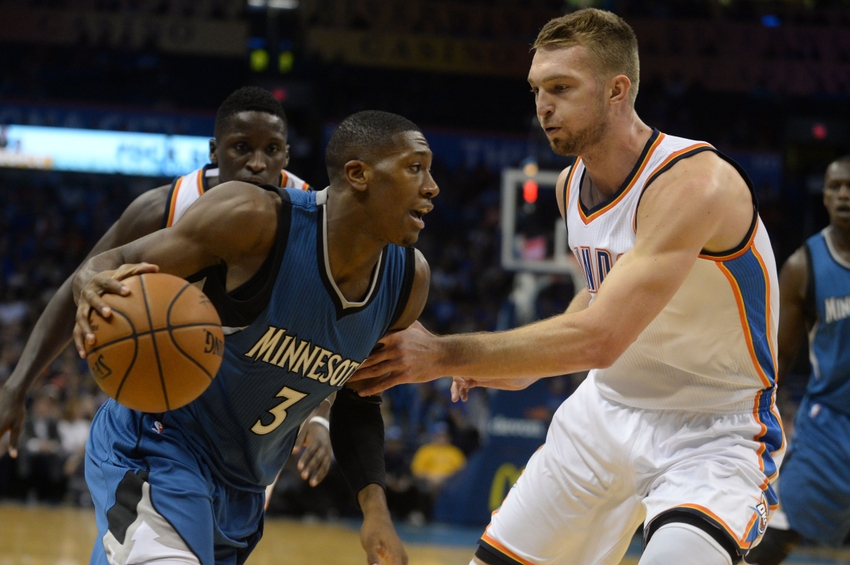 Knicks: Oklahoma City Thunder continued their winning ways versus the Knicks as they posted their third straight victory. Sabonis contributed 5 points and a single rebound in his 15:59 of playing time. Though Sabonis is posting decent field goal percentage (2 of 5) and hit his only 3-point attempt, the lack of rebounding is a concern. His point differential was a negative -8 which speaks to him needing to adjust to defenses at the pro level.
Wizards: A strong outing from the Lithuanian who delivered 10 points, 3 rebounds, 2 assists, 2 steals and a block in 18:37 on the court. Though Sabonis took no 3 -point shots he was perfect from the field shooting 5 for 5.
Pelicans:With the Oklahoma City Thunder continuing their winning streak reaching 5 in a row Sabonis offered 5 points, 2 steals and a block in 24: 32 playing time. Again, the lack of rebounds are becoming a real issue. Despite Westbrook grabbing ridiculous amounts of rebounds for a guard there are still instances where Sabonis is missing out on opportunities. Much of this has to do with him not boxing out his opponent and needing to gain more experience on where the ball will bounce off the rim.
Of note: Scott Howard Cooper of NBA.com placed Sabonis on his top 10 Rookie ladder this week:
Making 42.9 percent of his attempts behind the arc the last five games and 50 percent overall, even if it was while only getting about five attempts per, earns Sabonis another week on The Ladder. It helps, a lot, to be one of the few rookies who can shoot. He is fourth overall from the field and second on 3s while also eighth in minutes as a starter for a 14-8 team. Among the upcoming games: Tuesday at Portland, his first trip as a pro to his birthplace, home while father Arvydas played for the Trail Blazers.
In addition Sabonis ranks among the rookie leaders in several categories:
3rd in three point field goal percent
Tied 3rd in double-doubles (notably only 4 players have registered double-doubles to date)
4th in three point makes and field goal percent
Tied 6th in field goal attempts
8th in rebounding, steals and minutes played
9th in scoring
15th in blocks
18th in assists
When Cameron Payne returns don't be surprised if Christon ends up spending the majority of his time with D-League Affiliate – Oklahoma City Blue.
Knicks: In 11:38 minutes he produced no points missing on both shot attempts. Christon did dish 4 assists, grab1 rebound and had no turnovers. His plus +4 differential was more a factor of who he shared his court time with.
Wizards: Facing Washington, Christon logged 15:19 of playing time. Though his numbers may seem meager (2 points, 1 rebound, 3 assists and 1 steal) his positive differential of+12 speaks to his improving comfort on the court.
Pelicans: With Anthony Davis in town the Oklahoma City Thunder continued to roll. In his 11:04 playing time Christon posted 2 points, 1 rebound and dished 5 assists. Though his differential was in the negative (-2) any game where someone other than Russell Westbrook can achieve 5 assists is a real advantage. Christon ranks 6th in assists, 24th in minutes played and 27th in steals.
Did not play in any of the 3 outings. This may be more a factor of Billy Donovan choosing to utilize Anthony Morrow on a more frequent basis.
Like my site expert partner Tony Heim, I was hoping to see Abrines get more playing time given his natural abilities. After playing ten plus minutes in 10 of 16 games to start the season, Abines has seen the court for just :49 seconds in the last 6 games. The good thing is Abrines can spend time with the Blue to develop his craft, better learn the system, add some size and get his confidence up.
With Cameron Payne set to return shortly, perhaps Abrines will get some minutes off the bench. And, if Abrines can rediscover his sweet stroke from the perimeter he'll become an invaluable asset on a team short of three point specialists.
The 2016-17 Rookie Class:
Domantas Sabonis will likely be the lone rookie to make any all Rookie team. Yet, Sabonis' peers offer an intriguing group of youngsters to keep an eye on this season.  As we move forward with this series I'll highlight the rookies who produce strong weekly performances. For this inaugural article in the series let's examine the rookies who'll factor into the mix this season.
With Ben Simmons injury the Sixers had to regroup and possibly dial back expectations for the season. Every NBA fan is anxious to witness Simmons play-making and determine whether his presence can lift the 76ers out of the lottery basement. That said, there is a good chance the Rookie of the Year will still come out of Philadelphia this season.
And though the early noise seems to point to Kansas big man Joel Embiid as the likely ROY, don't count out his front court mate Dario Saric, who took a few games to get his pro bearings.
Joel Embiid:
'The Process' took 3 years to get to the court, but he's made up for his absence, immediately earning the respect of his peers and fans alike.  Originally the Sixers stated they would limit Embiid to 24 minutes a game until after Christmas. This past week they expanded his minutes to 28 per game. Could this be as a result of Embiid missing out on crucial clutch minutes in games last week that Philly inevitably lost?  The big guy will still sit out one game of back to back sets, but this is good news for fans who are craving more of the process.
Currently Embiid leads all rookies in scoring, rebounding, blocks and double-doubles. Additionally he ranks second in three-point shooting, third in field goal percentage and eighth in free throws.
Dario Saric: Don't sleep on the Croatian being a potential ROY winner. I took a little heat for saying he would be a factor for the award early, but Saric seems to have figured out the speed of the NBA game and is becoming a major contributor for the Sixers. My co-hort Tony Heim is also big on this power forward possibly pushing his teammate for ROY honors. Hey, we both can't be wrong – right?
Saric ranks second in scoring, rebounding, and double-doubles. He's also fourth in three-point field goal percent, minutes per game, and eighth in field goal percent.
Ben Simmons: He won't likely be back this season, but Philly execs haven't ruled out the potential for his return. Perhaps that's just to keep 76er fans buying tickets, but with 'The Process' and Saric producing it seems likely Philly fans are already invested in the future and remain committed to watching these youngsters grow seemingly right in front of them during games..
Should Simmons return to the court this season he'll also be on a minutes restriction. Still, it would be optimal to get him on the floor, just so he can develop chemistry with his future core.
Though neither is likely to find themselves in the Rookie of the Year discussion these two youngsters are playing for a team who is competing for the top Eastern Conference spot.
Pascal Siakam: Just like last season the second player joining the Raptors (Norman Powell) in the draft is the one garnering more minutes on the floor. In a similar situation, injury led to Siakam's opportunity. To wit, when Jared Sulliinger went down with a foot injury, coach Dwane Casey earmarked Siakam as Sully's replacement to keep Patrick Patterson as his first option off the bench.
I was high on this 27th pick by the Raptors because Pascal Siakam is a solid defender, has an extremely high I.Q. along with the ability to quickly translate lessons learned. The long term ceiling of Siakam is through the roof as his upward trending production is proving. So much so, that pundits in Toronto are already discussing whether it's a given Sullinger would start or come in off the bench.
Siakam ranks 2nd in field goal percent and blocks, tied for 5th in rebounding, 11th in minutes played and13th in scoring.
My favorite asset of the Cameroonian is his work ethic and how quickly he takes his lessons and produces results. Case in point, in his first season at New Mexico, he shot just 16 times outside the paint hitting on just 3 shots. In his second season he shot over 300 times and connected on over 44%. Siakam has continued this work ethic in Toronto, spending time with the coaches and now is even attempting 3-point shots. Don't be surprised if Siakam masters the shot by season end and finds himself among the top 10 perimeter rookie shooters.
Jakob Poeltl: Though Poeltl isn't finding the same amount of minutes as Siakam, he offers depth off the bench. Most of his time will be spent with the Raptors 905 D-League squad, but he'll also get occasional minutes with the varsity squad.
Poeltl is tied for 5th in rebounding (tied with Siakam), he would rank 4th in field goal percent, but he hasn't played enough minutes to register in the category- yet. Furthermore, Poeltl ranks 9th in blocks.  Assuming the Raptors stay healthy the Austrian youngster won't see a ton of playing time, but again, he offers a serviceable big off the bench.
Jamal Murray: My dark horse to win Rookie of the Year is Jamal Murray. The Canadian got off to an absolute abysmal start shooting 0-16 in his first 4 games. Since then the Canadian has adjusted to the speed and range and been a factor for the Nuggets. With Emmanuel Mudiay still struggling at times, Murray has been a revelation for Denver with his ability to hit from virtually anywhere on the court.
Denver still has a shot at competing for a lower playoff rung. But, if the Nuggets continue to lose ground, watch for Murray's minutes to increase as Mike Malone endeavors to get Murray more experience playing alongside Mudiay or conversely utilizing him to run the point.
Although he remains a long shot to over take Embiid or Saric as ROY it's not inconceivable the Canadian could give the Philly rooks a run for the award.  One of the key attributes of Murray is his competitiveness. I point you to the Pan Am Games when at just 18 years old he single handedly beat the U.S. squad scoring 22 points in the fourth quarter and overtime.
Another great story is when Murray had his recruitment trip with the Celtics. He was doing a 3-point shooting drill and part way through learned of the record set by Gonzaga's Kyle Wiltjer of 77 out of 100 three point shots made. Murray then calmly drained 8 of his final 10 attempts to beat Wiltjer by 2 and set a new record of 79 successfully made 3-pointers out of 100 attempts.
Thus far this season Murray ranks:
3rd in scoring
4th in free throw attempts
5th in free throw percent
7th in three point percent (but notably is first in attempts) and in minutes played
10th in rebounding (tops for a rookie guard), field goal percent, and assists
Suffice to say, Murray is a rookie to keep an eye on. Given his competitive spirit he'll want to win the ROY, so again, if Denver fall out of playoff contention look for the Canadian to give his best effort to snatch the award away from one of the Philly phenoms.
Juan Hernangomez: Entering the draft I pegged the youngest Hernangomez sibling as a dark horse lottery pick. In the end he missed that by a single selection when he was drafted 15th by the Nuggets. Though he's not logging big minutes this Spaniard has huge upside with his ability to stretch the court and his shooting prowess. Case in point, he is shooting 43.8% from the field and is even better from the perimeter where he averages 45.8% (this average would rank second, but he'll need to add more attempts to be included among the list). Ironically his issue has been free throws where he shoots only 60%.
Hernangomez ranks 11th among rookies in rebounding, 23rd in blocks and 29th in minutes.
Moving forward, should the Nuggets fall out of the playoff race I wonder if Mike Malone will experiment with using Juan at the small forward to build upon their already strong front court of Jusef Nurkic and Nikola Jokic.
Malik Beasley: the third rookie for Denver needs to add size and strength before he'll gain much playing time. With a glut of wings on the Nuggets roster, Beasley will likely spend most of his time developing this season.  Unfortunately, Denver is one of the 8 teams who don't have a dedicated D-League affiliate where Beasley can foster his growth.
Living in Toronto, I've witnessed first hand how much a difference a D-League squad can make (Norman Powell, Delon Wright and this year's rookies). With a D-League affiliate they run the exact same strategies as the varsity squad, so time spent with the affiliate allows rookies the ability to grow within the same system.
Malcolm Brogdan: When Brogdon worked out for the Toronto Raptors this summer, I was impressed with his overall skill set. However, his character and maturity are what left a lasting impression.
It wasn't surprising the Raptors didn't select him given their glut of backcourt talent, but I knew Brogdon would be a factor wherever he landed.  The fact he ended up in Milwaukee makes tons of sense where he can capitalize on the knowledge and tutelage of Jason Kidd. Though Giannis Antetokounmpo appears to be the designated point guard of the future, it's conceivable Kidd could pair these two in the backcourt especially given there aren't a lot of play-makers on the Bucks.
Brogdan has been experiencing a steady rise up the rookie ladder with his copious assets:
1st in three point percentage and assist to turnover ratio
2nd in field goal percent  (11th in attempts and 7th in makes)
4th in assists
5th in steals
6th in scoring
7th in field goal percent
9th in minutes
18th in rebounding
Thon Maker: though Maker isn't getting the minutes Brogdon is, we'll keep an eye on his development.  Like Beasley, Maker suffers from not having a direct D-League affiliate team to work with.  Therefore Maker will have to rely on work in practices and with the development scouts to grow his game. Obviously, his size (7'1″) and ability to stretch the floor is a key for the Bucks who already offer plenty of length with Antetokounmpo (6'11"), John Henson (6'11"), Greg Monroe (6'11"),  and Miles Plumlee (6'11).
Brandon Ingram:  Although Ben Simmons was viewed across the board as the definitive number one pick, Ingram was earmarked as the player who may have the higher ceiling.  His assets are many and it's just a matter of him adding size, strength and gaining experience that will aid in his rise up the ladder.
With the hot start the Lakers got to the season Ingram factored into the mix in a big way. Now that L.A. is dealing with injuries and also appears to have finally recognized losing a top 3 pick in this talent rich 2017 draft would be a mistake, I suspect he'll gain even more minutes.
He currently ranks among the rookie leaders in the following categories:
2nd in minutes
3rd in free throw attempts (12 in FT percent)
4th in rebounding
5th in scoring and tied 5th in blocks
Tied 11th in three point percent (tied 6th in attempts, tied 8th in makes) and in steals
Tied 13th in field goal percent and in assists
Suffice to say, Ingram will continue to grow within the Lakers system behind the creative coaching of Luke Walton. So, while he's unlikely to win Rookie of the Year, the youngster's value will be measured more so in his future seasons as he grows into his body and his obvious talents begin to become a greater factor.
To say the Spurs have found some gems isn't that surprising given their penchant for always discovering talent no one else seems to know of.  Still, with 4 rookies in the mix this season it will be interesting to see how much playing time they garner. Popovich is famous for resting his core, so it's likely we'll see them all at some point over the course of the season as Manu Ginobili, Tony Parker, Pau Gasol and LaMarcus Aldridge each get some time off to rest up for the post season.
Dejounte Murray: Although Murray has yet to make a big mark in his rookie season, most of us watching the 2016 draft night sat shaking our heads at the prospect of him falling all the way to 29th. With Tony Parker on the downside of his career Murray will be nurtured as a point guard of the future for the Spurs, whether as a starter or a back-up. At 6'5″ he offers size at the position and depending on how quickly he develops may be utilized as a combo guard.
Murray will spend the majority of his time with the Spurs D-League affiliate, but if he keeps putting up impressive outings such as his recent 30-point effort, he'll likely end up splitting time between the Austin Spurs and the varsity team.
Davis Bertans: the minute I saw Bertans come into a game and hit a three the obvious comparison to Matt Boner occurred.  At 6'10" he offers a stretch-power forward for Pops to work into the rotation and add versatility off his bench. He's shooting the 3 with aplomb, ranking 6th among rookies. He'll need to work on his rebounding though as ranking 30th among rookies isn't going to cut it, especially on a team who rank 27th in rebounding.
Nicolas Laprovittola: It's said Ginobili was the person who suggested adding Laprovittola to the Spurs roster. Further reports stipulate Manu suggested his fellow Argentinian teammate, but it was up to the 26 year old rookie to impress Pop enough to earn a roster spot. He's ranking among the rookie leaders in a few categories:
11th in assists
23rd in scoring
28th in minutes.
Bryn Forbes: The final rookie is Bryn Forbes who'll likely spend the majority of his season with the Austin Spurs.
Willy Hernangomez: the older brother of Juan (Nuggets) might have read the pundits articles which cited the younger Hernangomez as the most gifted in a family very deep in talent (Sister Andrea also plays, as did their father). The brothers are hoping to have a successful career along the lines of the Gasol brothers.
1st in field goal percent
3rd in rebounding
10th in free throw percent
11th in blocks
16th in scoring
19th in steals (tied)
24th in minutes (tied)
26th in assists (tied)
Marshall Plumlee: Speaking of brothers, Marshall is the youngest of the Plumlee trio of brothers who play in the NBA. Oldest brother Mason is with the Portland Trail Blazers and Miles plays for the Bucks.
Maurice Ndour: Already a stand out in the D-League and  Summer League, I expected Ndour to get quite a bit of run with the Knicks, who could use his energy and grit. Surprisingly, that hasn't been the case. Ndour ranks among the rookie stats tied 27th in steals and is 27th in blocks.
Mindaugas Kuzminskas: Arguably the surprise of the Knicks' Quints has been Kuzminskas who is a 6'9″ small forward that can hit the three with great accuracy.
Tied 7th in three point field goal average
20th in scoring
21st in steals
Tied 23rd in assists
27th in rebounding
Ron Baker: is the final member of the Knicks' Quints, but will be basically getting his time in at the D-League.
Buddy Hield: One of the most surprising aspects of this year's rookie crop is how long it's taking Hield to adjust to the pro level. Earmarked as the best shooter of the draft, Hield had an opportunity to make an immediate statement with both Jrue Holiday and Tyreke Evans out to start the season.
Instead it's taken a much longer time for him to adjust, although there are recent signs he may be turning the corner.  Notably his 28.3% three point field goal average is well below expectations. The fact 8 front court players rank ahead of him in three point field goal percent speaks to how far behind he is. In his first 76 attempts he connected on just 18 or 23.6%.
In his last 4 outings Hield is 10 of 23 or 43.4% from deep. Not surprisingly, this turn came when Hield played the Thunder, when he was back in familiar territory having played his college ball at the University of Oklahoma. Perhaps Hield's recent upswing is a sign he's turned the corner and will once more become a name expected to be among the best of this year's rookie crop.
1st in free throw percent
7th in scoring
Tied 12th in rebounding
Tied 13th in field goal percent
14th in 3-point field goal percent
Marquese Chriss:
In fairness to Chriss his team isn't exactly playing well and he still needs to add size for his position. Like Ingram, Chriss' upside is huge and he'll likely be one of the draftees who has a long successful pro career. Mind you, I'm still a little frosty over Vlade Divac's bonehead move to allow the Suns to grab Chriss instead of letting him fall to the Raptors. Still the upside of Chriss is limitless. As the Suns fall closer to the lottery basement expect Earl Watson to play him more with Devin Booker in an effort to establish their chemistry for next season.
6th in field goal percent
8th in free throw makes
9th in rebounding
10th in scoring
Kris Dunn: Many thought Kris Dunn was the perfect fit for Tom Thibodeau. The problem is when Ricky Rubio was out injured, Dunn failed to utilize his turn on the court to force Thibs hand to keep him as the starter. Granted, the starting point guard and center positions tend to take the longest for rookies to acclimate to, given how much they are tasked with learning. Add in the probability that Thibs has an intense defensive system in place and perhaps his slow burn is understandable.
Dunn has had solid moments, but he'll learn a lot from a full season behind Rubio. Although Dunn boasts a solid defensive box he needs to improve offensively as he's still registering a negative differential result on that end of the floor. Given how much youthful talent the Wolves have it speaks to Dunn needing to spend time in the film room and with the coaching staff.
Should the Wolves reach a point in the season where they are technically out of the playoff race, expect to see Thibs give Dunn more minutes with the starting unit.
9th in free throw makes
Tied 15th in rebounding
21st in scoring
Andrew Harrison: One of the many pleasant surprises of the rookie crop has been the early success Harrison is having with the Grizzlies. In every game, Harrison showcases his strengths especially on the defensive end of the court (+1.5).  With Mike Conley out due to his back injury for 6 weeks Harrison will get an opportunity to showcase even more.  Harrison vacillates between superb and mediocre outings.  Memphis has continued to post victories utilizing the youngster, so  don't be surprised if he continues to make the most of his time while Conley is out.
2nd in free throw makes
8th in scoring
9th in free throw percent
Tied 12th in rebounding
15th in field goal percent
Jonathan Gibson: With the Mavericks toiling at the bottom of the Association, coupled with Deron Williams and J.J. Barea spending time on the injury list expect Rick Carlisle to up Gibson's minutes.
At this point, regardless of what Cuban says, it behooves the Mavericks to gun for the bottom seed so they can get one of the top 3 picks.  Any of Markelle Fultz, Josh Jackson, Dennis Smith  or Jonathan Issac would immediately help improve the future Mavericks. Gibson ranks in a few categories of the rookie stats:
4th in scoring
9th in assists
21st in rebounding
Malcolm Delaney: Though Delaney got out to a hot start his production has been waning. The Hawks sure could use a return to his early success given how poorly they've played of late.
4th in free throw percent
5th in free throw makes
11th in field goal percent
Tied 14th in scoring
Rodney McGruder: being a rookie on the Nets has it's perks. With Atkinson having established an  identity and style, McGruder has been one of the key benefactors on the Nets roster.  Sure, his numbers are falling off, but with the green light to shoot, don't expect him to stop any time soon.
7th in rebounding
9th in field goal percent
10th in 3-point field goal percent
12th in scoring
Most of these rookies haven't been getting consistent playing time. Some will see their minutes increase either as a result of injury, rest for core players, teams falling into the lottery or progression in the D-League. Some, like Patrick McCaw, Thomas Satoranksy and Kay Felder have already been picking up minutes, but look for rookies like Denzel Valentine and Dragan Bender to garner more minutes as the season progresses. Here's the list by position:
Point Guards:
Isaiah Whitehead
Kay Felder
Thomas Satoransky
Wade Baldwin
Tyler Ulis
Bigs:
Dragan Bender


More from Thunderous Intentions

Dorian Finney-Smith
Henry Ellenson
Joel Bolomboy
Kyle Wiltjer
Chiek Diallo
Wings:
 Patrick McCaw
Denzel Valentine
Taurean Prince
Deandre Bembry
Michael Gbinije
Jaylen Brown
So that's the first Rookie Report. Look for the weekly segment as I review the Oklahoma City Thunder rookies progression.
In closing, my top 5 rookies to the quarter season mark are:
1. Joel Embiid
2. Dario Saric
3. Jamal Murray
4. Malcolm Brogdon
5. Pascal Siakam
Check back next week as I update on the Oklahoma City Thunder rookie's progression, top performances in week 7 and my top 5 ranking.
This article originally appeared on