Kevin Durant completely changes his opinion of Kawhi Leonard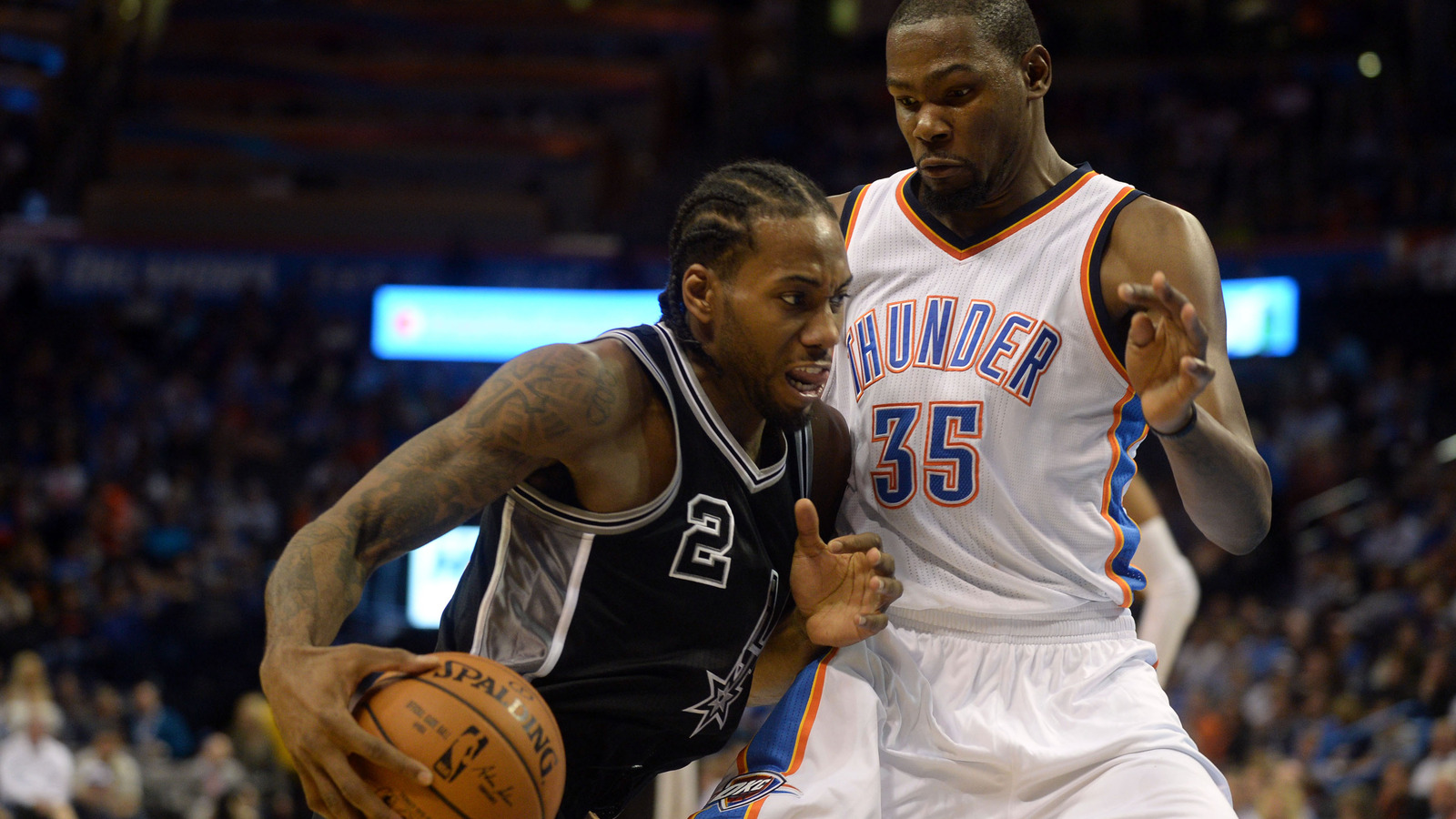 After San Antonio Spurs forward Kawhi Leonard was named NBA Finals MVP back in 2014, Kevin Durant went on Twitter to imply that Indiana Pacers wing Paul George was the superior player:
Apparently Kevin Durant isn't all that impressed with Kawhi Leonard. Tweets have since been deleted. #Thunder #OKC pic.twitter.com/2XJUQKj99l

— Up The Thunder (@UpTheThunder) June 16, 2014
It sparked a forgettably silly controversy and led to Durant posting a non-apology on his Facebook page (transcript via Pro Basketball Talk):
This the last time I'm gonna talk about this. I did not hate on Kawhi Leonard , quite honestly If you knew me or been around me, you would see how excited I was for such a young humble guy. But this world loves conflict I see. I really gave major props to coach pop and the whole staff for putting those guys in great positions to be successful. I've realized u can't say anything about a champion so if I hurt anybody's feelings I apologize(I really don't) but u get my drift
With the Spurs in Oklahoma City on Saturday night, the old topic was brought up once more after the Thunder smashed the Utah Jazz on Thursday. Durant didn't back down from his original tweet but also went out of his way to compliment Leonard's growth:
KD on Kawhi Leonard "He's not a system player" Part 1 pic.twitter.com/hebjZzmgYz

— Travis Singleton (@SneakerReporter) March 25, 2016
KD on if he regrets tweeting Kawhi is a system player (Part 2) pic.twitter.com/9sI8JxFIX2

— Travis Singleton (@SneakerReporter) March 25, 2016
Leonard has evolved into the game's top defender and one of its most efficient scorers. The Spurs are 60-11, and their 24-year-old superstar's true shooting percentage, PER and usage rate are all the highest of his career.
George, meanwhile, is anything but chopped liver. He's still the best player on a Pacers team that's headed to the postseason, but it'd be interesting to see if he could rival Leonard's efficiency in a situation where his team isn't asking the world from him on offense every night.
Over their careers, Leonard is the more accurate shooter and superior defender. We now know the Spurs' system didn't make him great — considering they've shifted their style to make Leonard the focal point — but it'd also be fair to say it has helped make his path just a bit less rocky.