Oklahoma City Thunder Route Detroit Pistons For Second Straight Win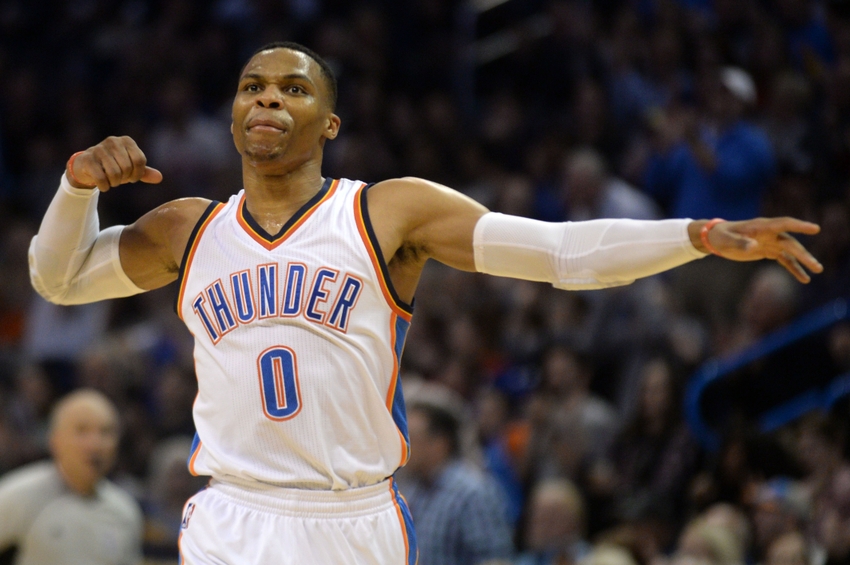 A night after the Detroit Pistons beat the best team in the league and the Oklahoma City Thunder needed overtime to beat a Nuggets team playing with 10 guys, OKC blew out the Detroit Pistons.
I'm pretty sure this means that the Thunder are the best team in the league.
Russell Westbrook led the way with some well designed plays, resulting in 17 points, 13 rebounds and 15 assists on the night. The real star of the night was Anthony Morrow, who had a game-high 21 points off the bench.
Here are your positives and negatives on the night:
Positives
Russell Westbrook's Defense: It's no secret that Westbrook's defense hasn't been good for years. He has the reputation as a good defender, but he often times loses focus or just fishes for rebounds.
Tonight, the Thunder decided to switch on the pick and roll which forced Westbrook to stay engaged instead of dying on the initial screen, giving up in hoping his man missed the shot. When Westbrook decides to play defense, the Thunder can be a top-five defensive team.
They proved it earlier in the season and once again tonight against the Pistons. Sure, the Pistons just played the night before, but so did the Thunder. And this was OKC's fourth game fourth game in five nights. It would have been easy for Westbrook to remain lethargic on defense. Instead, he set the tone and the rest of the team followed suit. Amazing what happens when your best player and leader gives 100% on both ends.
Anthony Morrow: I love Morrow, but really questioned him playing over Alex Abrines in the last few games; it looked like Abrines was starting to find himself on the court. But when Morrow plays like he did tonight, it's tough to question Billy Donovan's decision to play him.
Not only is Morrow a supreme sharp shooter, he also has an underrated midrange game. If he's in an offensive rhythm. I don't expect to see this Morrow every night, and I'd like to see Morrow and Abrines be used together with Westbrook to really open up the floor, but I love when Ammo gets to shooting.
More from Thunderous Intentions
Steven Adams Remembers How To Basketball: It's no secret that Adams has struggled lately. He's either scoring, not rebounding or playing defense; not scoring, rebounding and playing defense; or not doing any of three. Tonight, he did all three and did all three very well.
The Big Kiwi had 16 points, nine rebounds and held Andre Drummond to ten points and eight rebounds. At worst, Adams is the third most important player on the team and by far the most important big on the team. OKC needs him to play a two-way game every night if they hope to push for a playoff spot.
Oladipo With The Second Unit: I love this adjustment by Donovan. I don't think Semaj Christon is very good and when he's on the court, the offense dies. When Cam Payne returns, we'll see what happens, but right now Donovan is doing the smart thing by staggering Westbrook and Victor Oladipo.
While Oladipo isn't Kevin Durant and probably not good enough to carry his own team, he's definitely good enough to carry the second unit against opposing benches. Basically, the less Christon plays, the better off OKC will be.
Jerami Grant Dunks: Always a thing of beauty.
Negatives
Joffrey Lauvergne: Thunder fans have fallen in love with King Joffrey over the past few games, but he wasn't good tonight. I'm not a huge believer in +/-, but when your team wins by 18 points and you finish -13, something went wrong. It's one game, and Lauvergne has proven to be a solid player, he just wasn't good tonight.
Want your voice heard? Join the Thunderous Intentions team!
Andre Roberson's Offense: It was nice that he made the dunk on Westbrook's full court pass, and he's perfected the reverse lay-up in the past two games, but how many possessions die when he catches the ball in the corner? OKC will swing the ball around to a wide open Roberson in the corner, he'll hesitate, the defense will close out, and then the offense will have to reset as Roberson fails to take the shot.
The Thunder are back at it on Monday when they play the super New York Knicks.
This article originally appeared on