Twitter reacts to Thunder eliminating Spurs, possible end of Big 3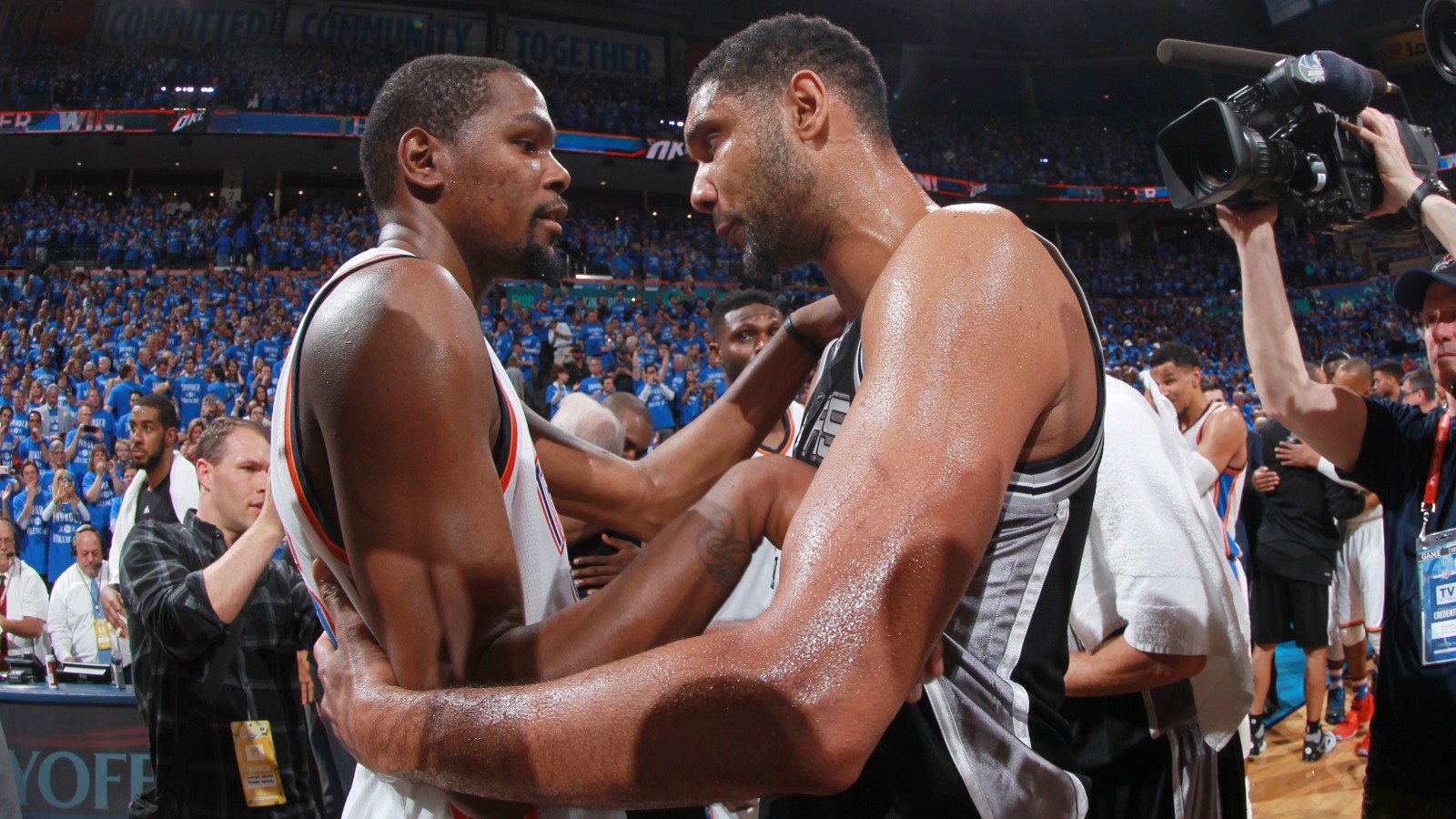 The Oklahoma City Thunder eliminated the San Antonio Spurs, 113-99, in Game 6 of the Western Conference Semifinals on Thursday to move on to the Western Conference Finals to face the Golden State Warriors.
While there was a mix of shock and excitement surrounding the Thunder's upset (it was an upset, if only slightly) and their upcoming matchup with the Warriors, there was primarily sadness and nostalgia regarding the possible end of the Spurs' Big 3 era, as Tim Duncan and Manu Ginobili may not return next season despite the team's overwhelming success this season.
It was a wild night for basketball Twitter. Here's some of the reaction:
td: yo–i might not be back
kawhi: ok
td: i'm proud of you
kawhi: ok pic.twitter.com/EPHSGoJh8R

— alex (@steven_lebron) May 13, 2016
Man we need Timmy and Manu to come back for one more year. This can't be the last memory.

— Yaya Dubin (@JADubin5) May 13, 2016
LaMarcus Aldridge has made it no further than the Blazers in the playoffs.

What were the odds?

— HoopsHype (@hoopshype) May 13, 2016
Tim Duncan is one of the two best leaders and teammates ever.

— Nate Duncan (@NateDuncanNBA) May 13, 2016
Please don't retire, Tim Duncan. I'll buy you some dope khakis.

— Robert Silverman (@BobSaietta) May 13, 2016
Internet: Can we make a pact not to defile Tim Duncan's great career by putting a crying Jordan face on him?

— Ramona Shelburne (@ramonashelburne) May 13, 2016
@ramonashelburne too late! pic.twitter.com/6BEsfJ5eVI

— Chris Jastrzembski (@_JASTdoit_) May 13, 2016
Tim Duncan: First Game & Perhaps Last pic.twitter.com/HVoQaMX4fx

— Darren Rovell (@darrenrovell) May 13, 2016
You get the feeling we'll be seeing these three photos a lot in the next 48 hours pic.twitter.com/bRiaB7RTBH

— Andrew Lynch (@AndrewLynch) May 13, 2016
I hope Duncan and Manu take their time making their decisions, only because I'm not ready for the finality of it. Give us some suspense.

— Zach Lowe (@ZachLowe_NBA) May 13, 2016
I know it's the Spurs and they're special but this is still a massive collapse and choke-job.

— Bethlehem Shoals (@freedarko) May 13, 2016
Sorry dudes, given the season the Spurs had, ending like this is kind of sad and shameful.

— Bethlehem Shoals (@freedarko) May 13, 2016
"Well, the Thunder are playing up to potential" makes it sound like the Spurs had season they did through good luck. This was a great team!

— Bethlehem Shoals (@freedarko) May 13, 2016
All I'm asking is that we apply the same cliches to the Spurs that we would any other team.

— Bethlehem Shoals (@freedarko) May 13, 2016
My honest reaction to the #Thunder giving the #Spurs the business and advancing to the #WCF pic.twitter.com/XbWs1zrHN4

— Warren Shaw (@ShawSportsNBA) May 13, 2016
Crazy stat: Spurs outscored the Thunder in the series

— Dan Feldman (@DanFeldmanNBA) May 13, 2016
This is the fourth Western Conference finals in the last 6 years for OKC. The two years they didn't make it? Westbrook's knee, Durant's foot

— Royce Young (@royceyoung) May 13, 2016
My Spurs autopsy. pic.twitter.com/7dCqYFmOGS

— Andrew Ungvari (@DrewUnga) May 13, 2016
Even if Duncan/Manu retire, they start w/Kawhi & LA. Major issue will be finding long-term solution at point guard/increasing team speed.

— David Aldridge (@daldridgetnt) May 13, 2016
Since last week's piece about the Spurs' free-agent interest in Kevin Durant more than one spy has whispered: They'll court Mike Conley, too

— Marc Stein (@ESPNSteinLine) May 13, 2016
And if you're not a Spurs fan, here's what you can look forward to next round:
Not many series in NBA history have had the sheer combined offensive firepower of the GSW-OKC clash we are staring at assuming this holds

— Zach Lowe (@ZachLowe_NBA) May 13, 2016
Jovan Buha covers the NBA for FOX Sports. Follow him on Twitter: @jovanbuha.