Oklahoma City Thunder: Joffrey Lauvergne Further Bolsters Intriguing Frontcourt Options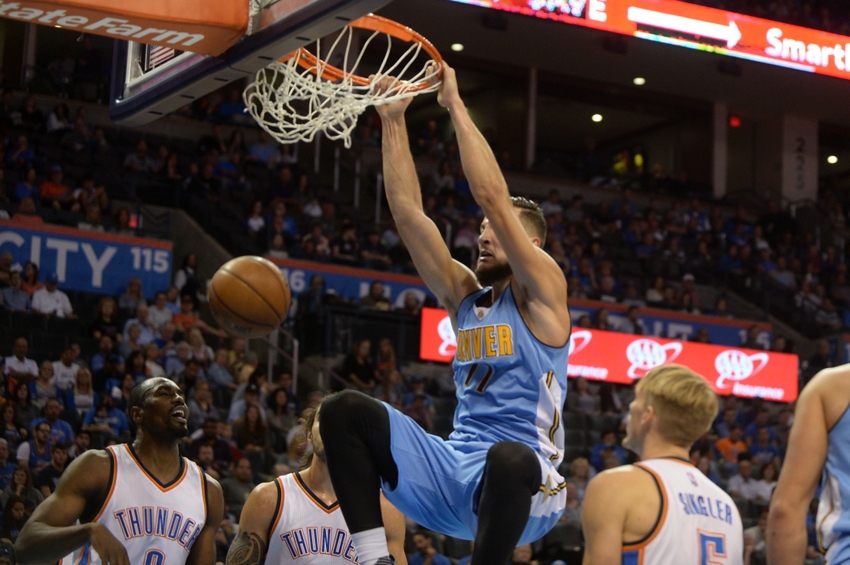 With the addition of Joffrey Lauvergne, the Oklahoma City Thunder's frontcourt options have grown significantly.
Having lost Kevin Durant to the Golden State Warriors, the Oklahoma City Thunder were never going to have a choice other than to undergo a low-key rebuild in picking up new young talent, all the while remaining competitive to satisfy the proven players they already have.
The first significant move in that direction came on draft night when general manager Sam Presti decided to cash in Serge Ibaka, another stalwart of the Durant era, in exchange for younger talents such as Victor Oladipo and Domantas Sabonis.
The next big move followed on Tuesday, as the Thunder traded two protected future second round picks to the Denver Nuggets for the versatile, French big man Joffrey Lauvergne.
In only his second season in the league, Lauvergne averaged 7.9 points and 4.9 rebounds per game last season, while shooting over 50 percent from the field and just under 90 percent from the free throw line.
At only 24 years of age, having started in spots for the Nuggets and showing the versatility to play at either power forward or center, it's not hard to see the appeal of the dynamic youngster.
Although from the outside Oklahoma City's frontcourt is starting to look extremely crowded, adding Lauvergne to the mix creates the right blend of play styles, and perhaps more importantly for a team hoping to stay in contention, it leaves no shortage of young players who could yet grow into their missing pieces.
After a breakout season where he proved to be an elite defender whose unselfish play can mesh well with ball dominant stars, Steven Adams is undoubtedly the shining light in the Thunder's frontcourt.
Joining Adams as a key cog, Enes Kanter was something of a revelation in a bench role last season as his skilled offensive repertoire was ideal for providing Billy Donovan's team with a second unit scoring boost.
For many the departure of Ibaka may have spelled out the need to play Kanter and Adams together as starters, but the acquisition of Lauvergne could certainly negate that need.
Although he has yet to master knocking down three-pointers at an efficient rate, Lauvergne has shown himself to have a trustworthy jump shot and above average range for a man of his size.
Even if he can't quite step behind the arc right now, on 44 shots, Lauvergne made 59.1 percent of his field goal attempts from 15-19 feet last season.
It's not even that the Frenchman has a favorite spot that he needs to shoot from, as an even spread on his shot chart just hints at a general comfort from that kind of range.
Ibaka's ability to step away from the paint and knock down a mid-range jump shot was vital to maintaining space inside for Westbrook and Durant to drive to the rim, and swapping out Durant for Oladipo won't lessen the importance of that aspect of OKC's play in this coming season either.
Although Ibaka has been an effective three-point shooter down the years, his numbers from deep dropped off last year.
The Congolese big man's 32 percent success rate from 2015-16 is still significantly better than Lauvergne's 24 percent from distance last year, but the margin isn't so big as to suggest the Frenchman won't be able to make up the difference this season.
When you consider that Ibaka only managed to make 49.1 percent of his attempts from 15-19 feet last year too, with extended opportunities it's not unrealistic to say that Lauvergne may not even improve the team's spacing at the power forward spot.
Of course, Ibaka's elite defense is something that Lauvergne can't necessarily be expected to improve upon, but he's no slouch on that end and with Adams for company it wouldn't seem like a glaring issue.
Chris Dempsey of the Denver Post highlighted Lauvergne's defensive activity in evaluating the big man's play with the Nuggets last year:
"Very few Nuggets were more active on defense than Lauvergne. He'd hard hedge on screens, jump back to his own man, and challenge shots the best he could. He largely stayed away from fouls, averaging just 1.9 per game.

All of that showed up in his metrics as well. When Lauvergne was involved in defending the roll man in screen/roll, in isolation and in spot-up situations, the opponent shot under 40 percent. He was also solid in post-up situations."
With Ersan Ilyasova, Mitch McGary, Domantas Sabonis and Nick Collison also in the mix for frontcourt minutes, competition for places is tough in Oklahoma City.
There's not a lot to suggest that Lauvergne shouldn't have what it takes to emerge from that group and thrive in a sizeable role though.
Ilyasova may get the edge early in the season if Billy Donovan opts for a steady, veteran presence to tie things together while all of the new faces bed in, but eventually the long-term advantages of starting one of the younger players would seem inevitable to win out.
As a rookie, Sabonis might just be a little too green around the edges to command major minutes straight away, while Mitch McGary's slew of off the court issues have potentially pushed the Thunder to the verge of trading him.
The addition of Lauvergne offers something of the best of both worlds for Oklahoma City, as it should allow the team to continue playing in a similar style to the one which has been so successful in recent years, while alongside Adams and Kanter, the Frenchman now makes up one of the league's highest potential young frontcourts.
There's no doubt that there's going to be an adjustment period for the Thunder this season, but the moves they've made this summer indicate that they're set up to continue being successful in life after Durant.
This article originally appeared on