Oklahoma City Thunder: Is This Mitch McGary's Last Shot?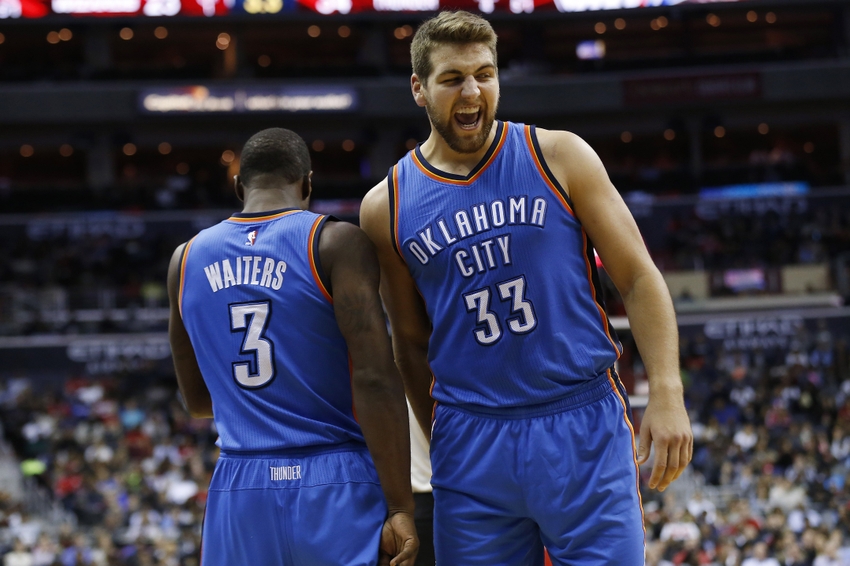 Mitch McGary of the Oklahoma City Thunder has run afoul of the NBA's drug program twice this offseason. Is the former Michigan standout living on borrowed time?
Mitch McGary was the Oklahoma City Thunder's first round draft pick in 2014. He was picked 21st overall but was a projected lottery pick a season earlier after an outstanding freshman season at the University of Michigan.
After starting the season as a rarely used bench player, he developed over the course of that season to being a major force on the boards during the NCAA tournament. He helped lead the Wolverines to a championship game appearance against the eventual champion Louisville Cardinals.
His sophomore season in 2013-14 began with promise. He was the second-ranked returning prospect in the Big Ten behind teammate Glenn Robison III and would have gone early in the first round had he declared for the draft. He began the season averaging 9.5 points and 8.3 rebounds per game, but lasted just eight games before a nagging back injury ended his season prematurely.
With his sophomore season damaging his draft stock, most observers assumed he would return to Ann Arbor for one more season under coach John Beilein. Unfortunately, that decision was effectively taken out of his hands.
McGary tested positive for marijuana during the 2014 NCAA tournament. He faced a season-long suspension which would have wiped out his 2014-15 season. Given that he was still unanimously considered a first-round pick, it was a no-brainer to declare for the draft.
The Oklahoma City Thunder would be justified in thinking they got a steal in the young, talented big man. The ultimate energy and hustle guy off the bench, McGary appeared to be the kind of player who could fit anywhere.
It turns out he didn't fit as well as expected in Oklahoma City. McGary barely cracked the rotation off coach Scott Brooks' bench, playing in just two of the Thunder's first 50 games and totaling just eight minutes on the floor.
Things changed when he was forced into the rotation in February of 2015. In the first appearance in which he got actual minutes, he scored 19 points and grabbed 10 rebounds against the Los Angeles Clippers. He went 8-of-9 from the floor in 23 minutes.
In his follow-up appearance he scored 17 points and pulled down 12 boards in 25 minutes. However, the downside of being the ultimate hustle guy came through in his third appearance. He fouled out in just 15 minutes and was held off the scoreboard, just collecting two rebounds.
Over the course of the rest of the season, he averaged just 15 minutes per game, scoring six points per game and collecting 5.1 rebounds. He only broke the 20-minute mark in seven of the final 27 games of the season.
When Scott Brooks was fired and replaced with Billy Donovan, himself a college phenom as a coach, there was optimism that McGary might get another chance to redeem himself.
That optimism was quickly quashed.
McGary appeared in just 20 games, averaging a paltry 3.6 minutes per appearance. He played more than six minutes in a game just twice. He scored just 26 points and pulled down 18 rebounds over the course of the whole season.
The slide continued into the offseason.
After a solid Orlando Sumer League run in which he averaged 14 points and 4.3 rebounds, McGary was suspended by the NBA on July 8 for a failed drug test.
"I clearly made a mistake and for that I apologize to the organization, my teammates, and our fans," McGary said in a statement. "I realize there are only so many opportunities given to you and I need make sure that as a person and as a player, I take accountability and ensure that this does not happen again."
Unfortunately, for reasons not publicly known, McGary has not been able to keep things in order since then. According to Adrian Wojnarowski of The Vertical, the NBA tacked on another 10 games to McGary's suspension for non-compliance with the league's drug policy.
Wojnarowski goes on to say that this most recent violation is not believed to be another positive test but instead a failure to live up to procedural guidelines set forth by the NBA's drug program.
While it's not another positive, this most recent revelation is no less alarming.
The drug issues are not the only problems McGary has had since coming to the NBA. Last season he took a leave of absence for personal reasons.
In Woj's words:
McGary's career is in peril because of his inability to maintain a lifestyle that'll allow him to play in the NBA. McGary left the Thunder for the final few weeks of the season for what the franchise termed "personal reasons." McGary essentially left the team on his own, league sources said.
McGary has likely played his last game with the Thunder. The organization has 16 guaranteed contracts on the books and a plethora of skilled big men ahead of him on the depth chart. Even without these extracurricular concerns, he would be hard pressed to see much action.
He's owed $1.5 million in 2016-17, but he'll forfeit $191,000 due to the 15 games he will miss without pay. This makes him an inexpensive contract to jettison if the Thunder can't find a suitor for him via trade.
If McGary is released, he could be claimed on waivers. If not, he would become an unrestricted free agent and be able to sign elsewhere.
So the question is not so much whether he'll play again for the Thunder, but more a matter of whether he'll play again in the NBA. Has the talented big man and once impactful center exhausted the patience of not just the Thunder, but the NBA at large?
This article originally appeared on